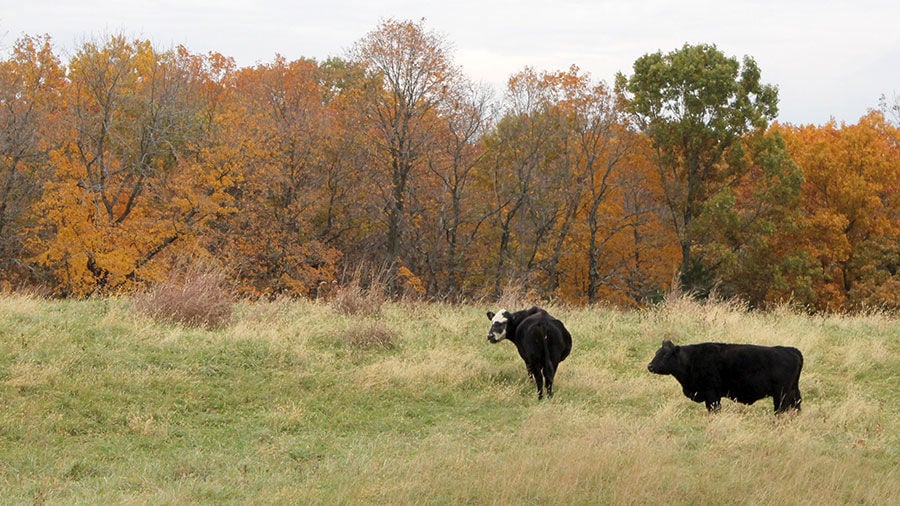 Fall is a time of year that means different things to different people. It's back-to-school season, football season (in a normal year), and it's defined by changing colors in leaves.
For cattle producers, it also means keeping an eye on what their animals are consuming when turned out to graze.
Prussic acid is a problem in the fall, and it's something that can have tragic effects on cattle.
"A lot of people don't recognize it by that name," said Dr. Anthony Tarpoff, assistant professor of animal sciences and Industry with Kansas State University.
Most producers know it as cyanide poisoning.
There are chemical properties in certain plants, including some forage crops, grains and trees that store the right chemicals inside their cells, Tarpoff explained. When vegetation isn't disturbed, the chemicals don't cause a problem.
Prussic acid itself doesn't reside in plants. Certain plants contain an enzyme and a substrate, located in different plant cells.
"They're spatially separated inside the plant," said Daren Redfearn, associate professor in the Department of Agronomy and Horticulture at the University of Nebraska-Lincoln. "When the plants are crushed through grazing, the chemicals combine, and prussic acid is formed inside the animal."
Chewing and ingesting the plants that contain the wrong chemicals can release a lot of prussic acid into their system. Prussic acid becomes an issue primarily in the fall because that's when the first frost sets in.
"A frost will do the same thing that chewing does to the leaves," Tarpoff said. "It will burst the cell walls in the plants, releasing some of these chemicals, which makes it very dangerous to graze for some time."
As long as the plant is undisturbed, when frost ruptures the cell walls, the chemicals are eventually released into the air and dissipate. The chemicals are typically completely gone in seven to 10 days after the first killing frost. Once that prussic acid dissolves into the atmosphere, Tarpoff said the plants are again safe to consume. But producers need to make sure the frost event was an actual killing frost.
One of the most common areas of trouble is in a field of sorghum that's been combined and harvested, Tarpoff said.
"We may turn cattle out to graze the stalks, but unfortunately, the plants can actually sprout again if we don't have a true killing frost," he said. "That means the plant is still viable, and if we get some fall rains and have warm days, those sprouts are extremely dangerous to cattle."
If the new growth of a previously frosted plant is short and consists of only one or two tillers, the likelihood of prussic acid poisoning is minimal, according to Redfearn. However, if there are five or more new tillers with growth of 4-5 inches, then the possibility of poisoning increases dramatically. At that point, there's likely enough new growth that cattle consumption could lead to a lethal dose of prussic acid.
A plant's maturity level is key to whether a plant can be toxic to cattle.
"The prussic acid is very diluted in mature plants," Tarpoff said, "greatly reducing the risk to your cattle."
In addition to sorghum-Sudan grass varieties, other plants to keep an eye out for when you turn cattle out include Indian grass, Johnson grass, as well as the leaves on corn plants. Some of the tree species with prussic acid danger include chokecherry, elderberry. Some wild fruit trees have the potential to harm cattle as well.
If you have wild cherries growing along a fence row, Redfearn said cattle will want to sample the fruit. It doesn't take a lot of prussic acid to cause problems in cattle, so that's why it's important to get the limbs trimmed to the point that cattle can't reach the "forbidden fruit."
"What happens when cattle ingest the plants containing prussic acid, the hydrogen cyanide poisoning interferes with the body's ability to utilize oxygen," Tarpoff said. "The oxygen enters their bloodstream and gets bound to the hemoglobin and circulated through their system. The hydrogen cyanide makes it impossible to pull that oxygen from the hemoglobin into the body's cells."
Cows are being asphyxiated by the poison, he said.
Signs of poisoning in cattle include irritation, excitability, labored breathing, and salivating. If the poison continues to affect them, the animals will grow weak, start to stagger and eventually will collapse.
While there are antidotes that would work to counteract the poison, they are not typically readily available. Local veterinarians don't keep treatments on their shelves because the products need to be compounded. Plus, once the hydrogen cyanide starts to affect the animals, treatment needs to be administered right away. That means once they're infected, the animals are in trouble.
"Caring for cattle is all about preventing their contact with plants containing prussic acid," Tarpoff said. "One of the first and most important tips is don't turn out hungry cattle into a pasture."
He suggests filling them up with some type of a ration or hay first. That will keep them from going out to find new sprouts that could cause trouble. The goal is to keep them from overconsuming those plants.
Another solution is to wait until those types of plants get more mature, he added. It's common to graze Sudan grass, but waiting until the plants are 18-24 inches tall greatly reduces the risk of poisoning because the acid is diluted in more mature plants.
Chad Smith can be reached at editorial@midwestmessenger.com.