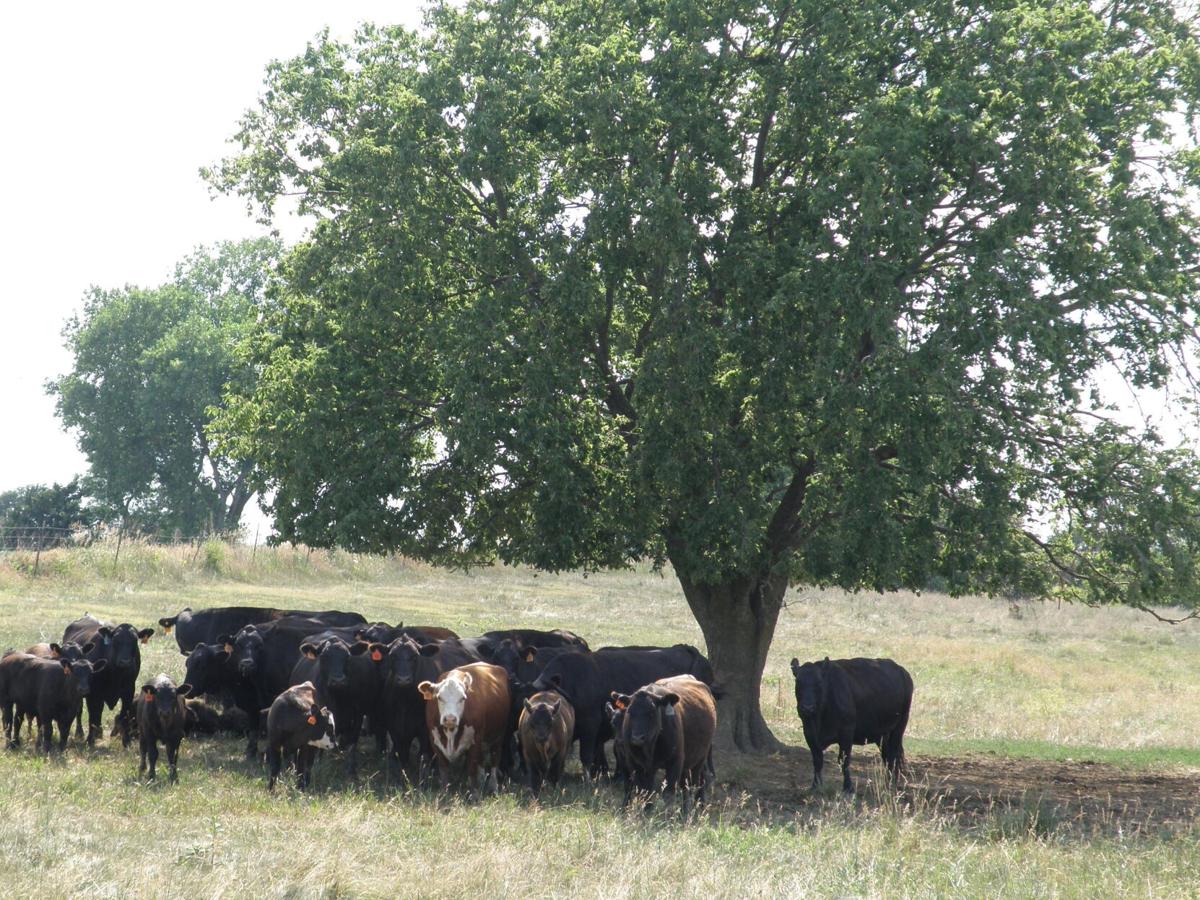 Summer's combination of heat and humidity on the central Plains means ensuring cattle have two important things: adequate shade and readily-available water to mitigate heat stress.
"During the summer, cattle consume five times their dry matter intake in water, so when they eat 10 pounds of feed on a dry matter basis, they'd need to drink 50 pounds of water," said A.J. Tarpoff, beef veterinarian for Kansas State University Extension.
Shade also helps reduce heat stress in animals. Livestock feel solar radiation when it's hot and will seek lower lying areas and group up under trees. Too much close gathering however, increases heat output.
"We need to make sure there's enough to go around for the entire group, which is typically about 20 square feet per animal," Tarpoff said.
Mitigating heat stress in cattle typically refers to cattle in a dry lot setting. When cattle are standing in a dirt pen during the summer, the surface of the pen will be significantly higher than the air temperature.
"When the ground temperature is above the body temperature of the animals, the animal will absorb that heat from the ground," said Brett Melton, a livestock production extension agent with K-State in Concordia.
Shade also reduces the surface temperature of pens and reduces solar radiation of cattle under the shade. Shade structures that use netting or fabric as a sun shade can minimize heat stress.
At Kansas State University, Tarpoff and his team are testing starting cattle at their background facility using shade and 'no shade options to determine impacts on water consumption and on two different diets.
Tarpoff has embarked on a two-year study and acquired municipal water meters which were installed in their water tanks to help determine cattle's water needs during the day and night.
If cattle aren't under shade, their water usage goes up. So, in the study, Tarpoff is measuring their well being, water consumption and digestibility of two different diets - both a highly digestible ration and a traditional forage diet.
Lower digestive feedstuffs like forage can increase cattle's heat through the digestion process. Corn gluten feed or distillers grains are more readily digested than hay, Tarpoff said.
Keeping cattle comfortable is critical, and Dr. Terry Mader, Ph.D., developed the Cattle Comfort Index (CCI) over 15 years when he was a professor and beef cattle specialist at the University of Nebraska. The Mesonet systems at South Dakota State University, the University of Nebraska, Kansas and Oklahoma State are all using Mader's computer model as an index for cattle comfort in both summer and winter for heat and cold stress. It takes into account temperature, humidity, wind speed and solar radiation.
"The Cattle Comfort Index is continuous with additional indicators regarding what degree cattle can adapt to changing weather conditions, with full capabilities to forecast days to weeks ahead of time, depending on each university's Mesonet models," Mader said.
Archive data can also show how cattle were previously affected.
Cattle are most comfortable and don't require additional energy to maintain core body temperature when air temperatures are between 32 and 75 degrees. When temperatures exceed 75, cattle expend energy in attempt to dissipate heat.
"Panting and elevated respiration and heart rate are signs that this is occurring," said Galen Erickson, UNL professor of animal science and beef feedlot extension specialist.
When temperatures remain above 70 at night, cattle are unable to recover before the next hot day, he said.
"Typical high temperatures in Kansas in July and August, are in the 90s, and often the problem is compounded by the humidity, particularly in the central and eastern parts of the state," said Mary Knapp, assistant state climatologist, at Kansas State University.
The eastern two-thirds of Nebraska and Kansas typically experience higher CCI stress when dew point temperatures exceed 70 during the day under clear skies and low wind movement. Extreme CCI values occur when high temperatures exceed 95 combined with dew points in the mid 70s, said Al Dutcher, agricultural extension climatologist with the Nebraska State Climate Office.
Summer months have wind speeds averaging 1-2 mph less than spring or fall transition months, Dutcher said. Lighter winds increase the likelihood of high-end CCI values.
Sprinklers at night help to cool the floor of the pen, but they are not recommended during intense daytime heat. That could increase humidity.
The idea is to cool the surface of the pen, and not actually spray the cattle with the water (although many cattle would enjoy the sprinklers).
The small droplets of water can actually act as an insulator on their coat and prevent heat from escaping, Melton said.
Straw bedding is also helpful, especially in feedlots, since bare dirt can accumulate heat during the day.
"The soil absorbs so much heat, so that when you use some type of bedding it can actually lower the temp by 25 degrees," Tarpoff said.
Whether it's a pen setting or a pasture setting, it's important not to work the cattle during the heat of the day.
"Do these things early in the morning if absolutely necessary and use calm handling techniques," Melton added.
Reporter Amy Hadachek is a two-time Emmy Award winning meteorologist and a storm chaser who earned her NWA and AMS Broadcast Meteorology Seals of Approval. She and her husband live on a diversified farm in Kansas. Reach her at amy.hadachek@midwestmessenger.com.