One of the two last remaining purebred herds of Texas longhorns in the nation is at home in Nebraska.
One hundred-fifty head live at Fort Robinson in the far northwestern corner of the state. The ancestors of the herd there traveled many miles before ending up in Nebraska.
The cattle are descendants of 30 longhorns, handpicked in 1927 under the direction of the U.S. Forest Service, to keep the breed from extinction.
Historically, longhorns were brought to North America by the Spanish in the 1500s. Of Andalusian bloodlines, with no fences and a mild southwestern climate, they multiplied and adapted themselves, becoming a hardy, easy-calving, disease-resistant breed.
In the late 1800s, when beef prices in the East rose, longhorns were the ideal breed to trail to railheads in Nebraska and Kansas or for pastures in the northern range.
But as railroads were built into Texas and cattle with more beef and quicker maturity became the desired breeds, longhorns were crossed with British and continental breeds. By 1900, the longhorn breed was nearly non-existent.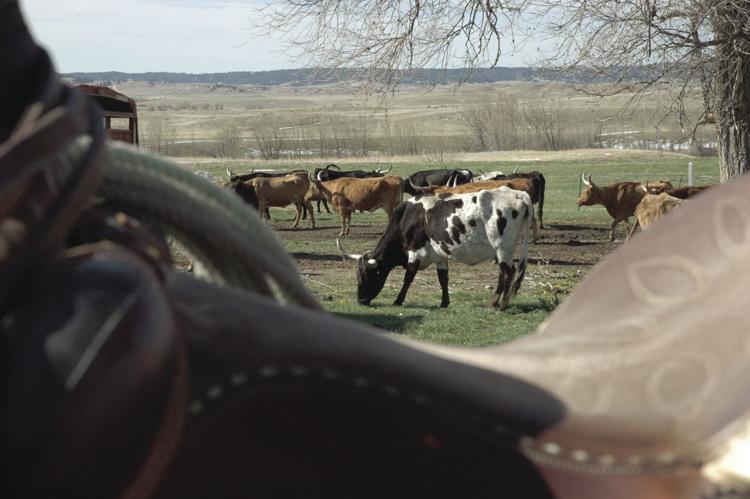 The U.S. Forest Service, whose rangers were often old-time cattlemen, worked to see that the breed did not disappear.
Because there was no genetic testing at the time, a set of criteria was laid out for what a longhorn consisted of, and two men — William C. Barnes and John H. Hatton, both Forest Service employees — were assigned the job of locating old-time longhorns. After going through 30,000 cattle, they identified 30 purebreds.
In August 1927, the herd was taken to the Wichita Mountains Wildlife Refuge in Comanche County, Oklahoma, where they were kept and carefully bred to keep them pure.
Nine years later, four heifers, a bull and a steer were transferred to the Fort Niobrara National Wildlife Refuge near Valentine. There were two avenues of thinking behind the move: first, to expose the cattle to a colder environment, and secondly, to protect the gene pool in case of a deadly disease outbreak.
In 1999, an updated federal wildlife refuge management plan decreed that the longhorns needed to be removed from the Niobrara Wildlife Refuge because they were not part of the original mandate. That's when ownership and management was transferred to the Nebraska Game and Parks Commission and the cattle were moved to Fort Robinson.
It was decided that they would be driven from Valentine to Fort Robinson, a distance of about 180 miles, in November 2000. The trip — which took eight days — was looked upon in anticipation as drovers, including refuge staff, state personnel, ranchers and paying trail riders, headed west. But the weather was not agreeable. Snow fell, the wind blew, and temperatures ranged from 0 to 10 degrees at night, not warming up much during the day.
Robert Lemmon, assistant superintendent in charge of livestock and grounds at Fort Robinson, was 12 years old at the time and on the trip with his dad, Jim, who was the Fort Robinson superintendent.
"It was pretty cold," he said. "We did a lot of walking to warm up our feet."
The trip took place in November because summers for Fort Rob and wildlife refuge employees are busy with tourists.
The animals, after a few days, drove well, Lemmon recalled.
"They'd be three wide, strung out, and away they'd go," he said. After a few days, the crew figured out which cows they wanted in the lead.
The drovers had planned on sleeping in tents but the weather was so cold, they stayed in campers and barns.
Now the herd numbers 150 longhorns, including 125 cows, 15 bulls and 10 steers. Ten old cows are rotated out of the herd each year and replaced with 10 heifers. Twenty-four calves are kept each year for replacement, with extras sold at the Fort Robinson Annual Longhorn and Buffalo Sale, held annually in November.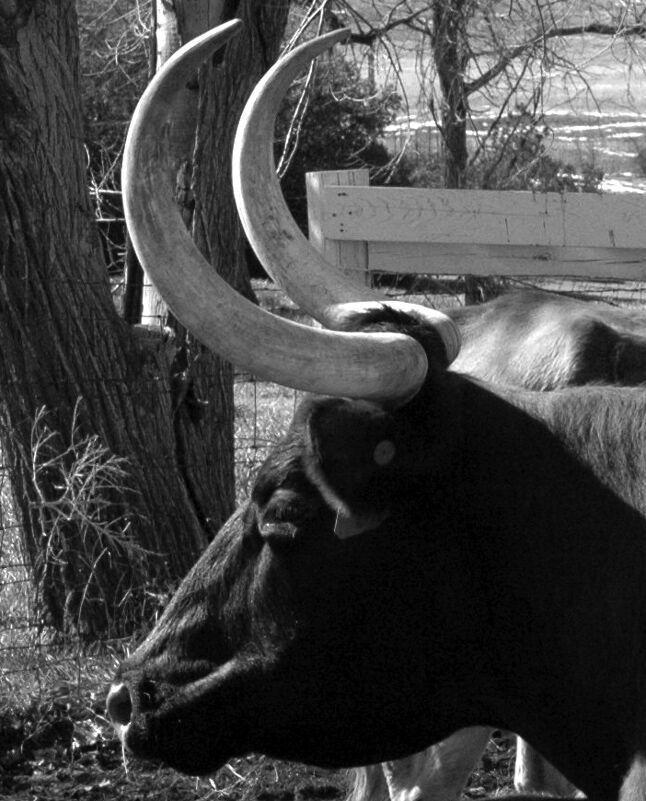 The animals roam in seven different groups, kept separate so Lemmon knows which cows are bred to which bulls. They are moved through different pastures throughout the 22,000 acres of Fort Robnson. They calve from February through April, when Lemmon and his staff aren't busy with tourist guests. The calves are small, weighing 35-40 pounds at birth, so Lemmon keeps an eye on them.
"The cold gets to them real bad," he said. "If they aren't up and getting a drink in 30 minutes, you have to hotbox them, give them a snack and let them warm up."
Mothers are protective of their babies, but not too much more than mainstream breeds.
"Some come up and lick you while you're tagging a calf," Lemmon said.
The cattle are branded and vaccinated. A special chute for the cows has bars that run horizontally to allow the long horns to go through.
New purebred bulls are occasionally introduced to add diversity to the genetic pool, and records are kept. The herd is registered with the Texas Longhorn Breeders Association and the Cattlemens Texas Longhorn Registry. Hair is plucked and sent in for DNA testing to ensure the purebred status of the herd.
During the summer, a group of longhorn steers with impressive horns are kept close to headquarters so the public can take pictures. Fort Robinson has 170 miles of hiking and horse trails, so people can see them as they pass through the park.
Longhorn meat is served in the restaurant at Fort Robinson, Lemmon said, coming from the herd's culled animals. The meat is lean, he said.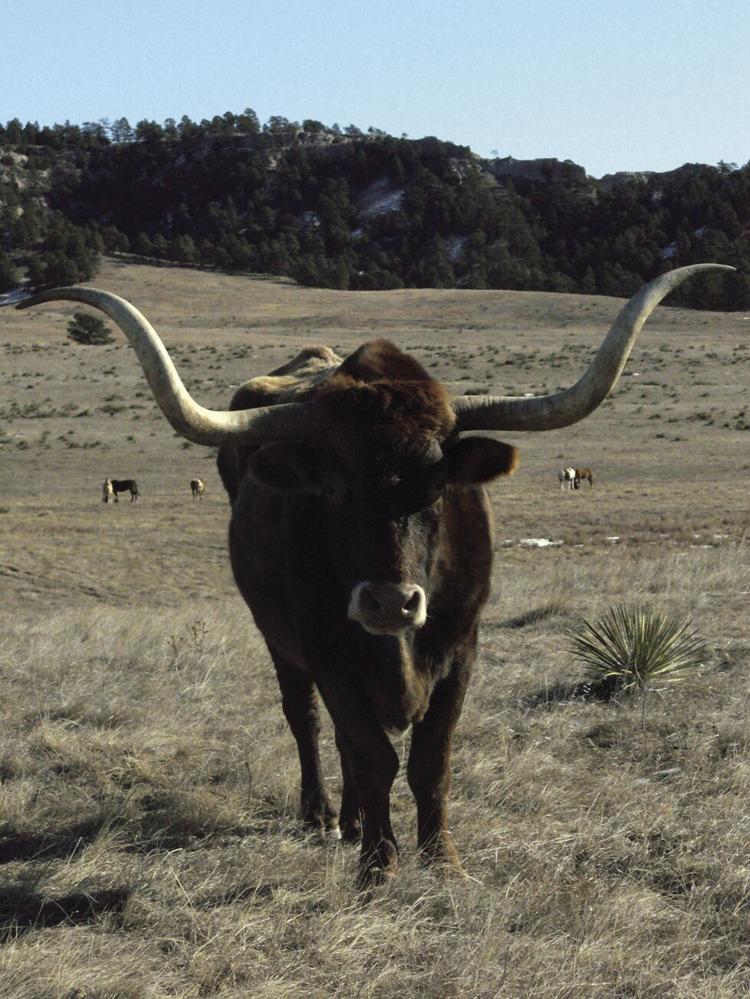 Mike Morava was assistant superintendent at Fort Robinson when the longhorns came in 2000. He now serves as the northwest regional superintendent of the Nebraska Game and Parks, overseeing Fort Robinson and other state parks in the Panhandle.
He said the herd is never far away from tourists during the summer: "It's a big part of it, for the public to see the longhorns in their natural range."
Morava said his favorite part of Fort Robinson's longhorn herd was picking replacement heifers. Staff members had differing opinions about what replacements should look like or what color they should be.
"My main thing is diversity," he said. "I like brindles and blue roans. For some reason, we have a lot of blue roans in this herd. They're pretty unique."
He likes the advances the herd has made since it came to Fort Robinson 20 years ago.
"My favorite part is seeing the herd grow from what it was when we got it. I think we've come a long ways in diversity," he said.
As the cattle and ranching industry evolved, the longhorn was left by the wayside, with little usefulness to the beef industry of the present. But they are a big part of history, Lemmon said.
"They are a historical animal," he said. "They're a part of Nebraska history."