The COVID-19 pandemic closed schools and business across the country, but those in agriculture continue their work of raising livestock, milking cows and planting crops. Still, the pandemic has many farmers and ranchers asking themselves if they can weather another storm and stay in business.
Many of Nebraska's farmers and ranchers have not completely recovered from the 2019 bomb cyclone snow storm and the floods that followed. Now, coronavirus has had a hand in falling commodity prices and food chain disruptions that have led many to dump milk, give eggs away and euthanize animals because processing plants were closed.
As the Beef State, the cattle industry fuels Nebraska's economy and supplies 18% of the nation's beef, according to Craig Uden, an owner of Darr Feedlot near Cozad. He worries about recent price fluctuations cattle producers experienced after they dropped 20% in 45 days.
"When prices are that bad it creates a ripple effect in main stream Nebraska," Uden said
It translates to higher prices at the grocery stores, and possibly food shortages. Analysts say the coronavirus pandemic will lead to a worldwide food shortage. The United Nations reported that globally 130 million could be faced with starvation by the end of the year. Food shortages are already showing up as empty grocery store shelves and limits on meat purchases in the U.S.
"Certain cuts of meat are not available because the workforce in packing plants is down and we are killing one third as many animals right now," Uden said.
The Dawson County rancher sees the biggest challenge right now is making sure that they can get their market-ready cattle to the processing plants. Darr on average has 45,000 cattle in its feedlot.
"We use Tyson Foods in Lexington very heavily and have a good relationship with them," Uden said. "We need them to stay open."
Not being able to harvest fat cattle backs up the feeder cattle in the feedlots, Uden explained. From there, it backs up to younger feeder cattle still on pasture and the calves ranchers will have to sell this fall.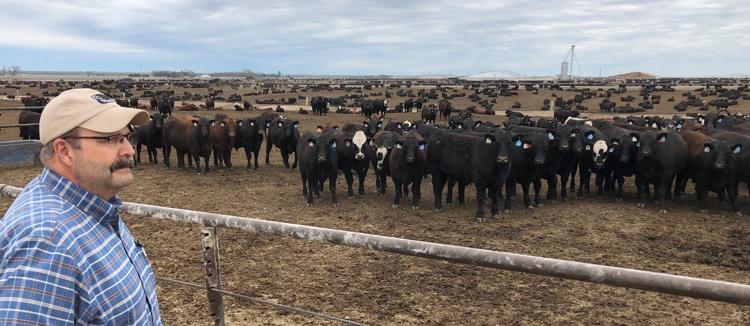 "Everyone will lose, the feeder loses, the stocker loses. It goes down the chain," he said, adding that the industry will have to make adjustments and come up with new ideas so this doesn't happen again.
Melody Benjamin, vice president of member services of the Nebraska Cattlemen, said if people are going to have food, then meat processing must continue. Her organization has been working to find both short and long-term solutions.
"Nebraska Cattlemen members continue to do what they do best, raise high quality cattle to become the beef you love," Benjamin said. "While there is a disruption in the supply chain as processors deal with worker illness and changing from food service cuts to retail cuts, we will keep growing cattle."
Dawson County farmers Paul and Shannon Peterson have all been feeling the pain of the coronavirus.
"I am afraid the pandemic has already affected prices for almost all commodities," Shannon Peterson said. "When your business is to feed the world and your income comes from what you raise it is a major concern with all the commodities we raise."
Paul Peterson is the fourth generation on his family's 650 cow-calf operation. They also have their own feedlot and a small show pig operation. The family is concerned about the pandemic's effect on all commodities since they grow corn, soybeans, wheat and alfalfa. Prices for all commodities have gone down, according to reports by the Nebraska Farm Bureau.
According to the American Farm Bureau, crop and livestock prices started falling as schools, universities, restaurants, bars and cafeterias shut their doors and were no longer buying milk, meat, fruits, vegetables and other food.
Dairy Farmers of America, a milk processing company, had Nebraska's dairy farmers dumping 600 loads of milk a day, according to Joyce Racicky, Midwest Dairy Council Board member.
"We will be paying for it in the long run. We have a quota now based on March production," she said.
The pork industry in nearby states has been devastated by the pandemic as meat processing plants close. Producers are left with nowhere to go with their hogs, and some have been forced to euthanize pigs to make room for the next groups.
"Fortunately, none of the pork processing plants in Nebraska have completely closed, although many have dropped processing down to as low as 30%," said Shana Beattie, president elect for the Nebraska Pork Producers Association. "This has been a significant challenge for producers who have market-ready pigs ready for harvest. The processing facilities are working tirelessly to keep plants open, while keeping their employees' health an utmost importance."
Beattie helps run Beattie Family Farms in Sumner with her husband, Bart. Market-ready pigs reach their optimum weight of 280-300 pounds at 150 days, she said, and it's hard to hold their weight gain with diet, she said.
"They gain rapidly at this age, and processing facilities are not set up to take animals that reach heavier weights," Beattie said.
She said it's been awful to see what pork producers have faced in other states, such as euthanizing pigs.
"As a farmer who cares for livestock every day, it is devastating to have to make a choice to euthanize an animal that you have raised and fed for food," she said. "We work hard every day to grow quality, safe pork that is consumed all over the world, and we are proud of the work we do and the products we produce."
The instability in the meat processing situation means producers won't be able to economically feed their pigs to market weight, she said. She pushes for reopening the economy.
"Having consumers out dining and shopping, consuming our meat will create an even greater demand for our pork," she said.
For now, like other farmers, she will keep caring for livestock and crops.
"We are putting faith over fear and doing every day what we do," she said.