New sow unit includes state-of-the-art feeding system
The Kansas family behind Henry Pork was more than ready to upgrade their existing hog barns, and when they did this summer, they added some advanced technology in their feeding system.
"This is a big commitment to be a part of the pork industry in the future," said Marc Henry, a third generation hog farmer who co-owns Henry Pork with wife, Kate, and his parents, Roy and Linda Henry, in Longford, Kansas.
The new 2,500 sow unit includes a 120-by-400-foot gestation barn, two nurseries for weaned pigs that are 30-by-60 feet and 40-by-80 feet, and a 200-foot by 200-foot building that is a farrowing barn.
Roy Henry gave his son the credit for designing this new facility, working with people who built similar facilities.
"There is a time in life when the older generation needs to step aside and help when asked," said Roy Henry, who has been working with his son for 19 years.
Another technology advancement is the use of RFID — radio frequency identification. An electronic ID tag for each sow enables it to be fed individually in a loose sow housing using the Gestal feeding system. When they enter one of the three feeding stations in each pen, the system will dispense the amount of feed that is programmed for her, Marc Henry explained.
It reduces the animal's anxiety, he said.
At Henry Pork, every animal is bred artificially in crates. Once she has been confirmed pregnant, usually four weeks post breeding, they will group up animals in pens of 50. Animals in each pen are of similar age, size and breeding date. These pregnant hogs then spend the last 12 weeks of gestation in the open pens with the automated feeding.
The pigs that are three weeks old to 300 pounds have different rations. The auger at the gilt development unit blends those rations for that specific pig's needs. It handles the nutritional needs for every animal from a 50-pound pig to breeding age at 220 days old, Marc Henry said.
"We have the ability to mix two rations to match the animals' growth curve," he said. "This system is more accurate and efficient and allows us to match the gilt natural growth curve."
Henry Pork runs a bio-secure facility where employees are required to shower in. All items that enter the farm are sprayed with a disinfectant then sent through a UV room before they are allowed to enter the facility.
In addition to their hog operation, the Henry family also runs 130 head of fall cows and farm 1,200 acres of wheat, soybeans and milo.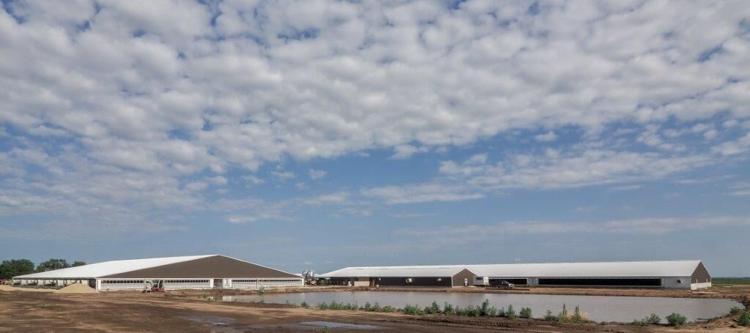 While the new hog barn took a year of planning, the facility came together in just 90 days after construction began April 10.
Several Kansas legislators as well as neighbors were invited to an open house at the new site July 9. Another farrowing building was under construction at the time, expected to be complete in early August.
"We had the open house because neighbors were very curious. Also, we had lots of Sunday afternoon drive-bys," said Marc Henry.
"It's great to have friends and neighbors be able to go inside our facility to see what we really do for a living and how we care for the pigs," added Roy and Linda.