South Dakota sisters have a good run showing cattle, swine leading up to Aksarben show
The Beare sisters had major success at the Askarben Stock Show last year, their first time attending the 93-year old show.
Kylie Beare had the Grand Champion Market Beef that brought $15,000 at the Purple Ribbon Scholar-ship Auction that culminates the weekend show. Her sister, Kenzy, exhibited the 2019 Reserve Supreme Breeding Heifer at the 2019 Askarben show.
"It was an eye opener," Kylie said of her first Asksarben experience. "I knew we'd have lots of competition."
The teens from Estelline, South Dakota, are back in Grand Island, Nebraska again this weekend with hopes of repeat success. The show runs Sept. 24-27, and the sisters are eager to get back in the ring.
Kylie, 17, has been showing livestock since she was 6. Kenzy, 14, admits that she sometimes gets sick of her older sister giving her pointers but she's also learned a lot, and that's paid off with her own wall of champions.
The girls are the daughters of Mike and Tianna Beare, who operate Beare Cattle Farms with Mike's brother and uncle. In addition to club calves and purebred cattle, the Beares grow grain and sell seed corn and soybeans.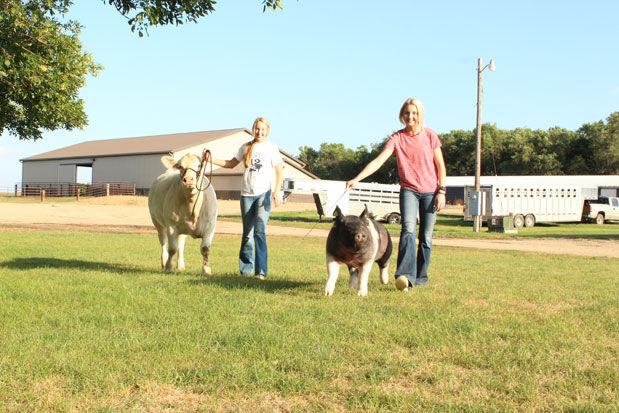 Younger brother, Bodie Beare, 10, is getting show ring experience, too. It's something Mike grew up doing as a kid, but he said his girls are having way more success at it than he ever did. He's convinced that anyone can do it with good stock, feeding them right and dedication.
"It just takes a lot of work at home," he said.
Overall, Kylie said her favorite part of showing livestock is the friends she's made.
"Everybody loves the same thing," she said.
They're all accustomed to the lifestyle of exercising their animals all through the summer and pampering them with baths and a cool place to stay during the hot summer months. In addition to cattle and goats, the Beares show pigs, and they walk them twice a day through the summer show season.
"It's a routine every day, and it's brutal," Mike said.
COVID-19 might have canceled many livestock shows or required exhibitors to break out the video camera for the virtual show ring, but it didn't slow down the Beares.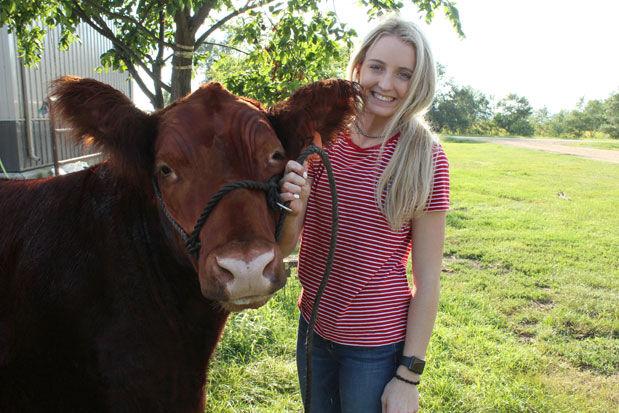 They spent the summer attending jackpot shows and the South Dakota Summer Spotlight held in Huron in late July. That's where Kylie had the grand champion market animal with her crossbred steer and the third place market goat.
At the South Dakota State Fair, Kenzy showed the champion and reserve champion market barrows in the FFA swine show and took second in showmanship. She had the second overall market swine in the 4-H show, the reserve cross bred barrow and the champion cross-bred market barrow.
Bodie won an award for beginning showmanship with his swine and had the champion Duroc market barrow and reserve purebred barrow.
The Beares will take some of their State Fair winners on to Aksarben, a steer and a heifer and two or three pigs, depending on whether they can hold them under the 300 weight limit until then.
The Aksarben show draws more than 900 youth exhibitors and 2,700 animals from the 14 eligible states in a typical year. The collegiate livestock judging competition and the quiz bowl have been canceled this year, but the kids will still take the show ring with their beef, sheep, goats, swine and broilers.
The top animal at Aksarben commonly brings in a five-digit prize. Half of the money goes to the exhibitor as a scholarship and half is a cash prize.
"Due to our generous sponsors, donors and buying groups, Heartland youth are able to further their education with the Aksarben Purple Ribbon Scholarship," said Gretchen Kirchmann, spokeswoman for the Aksarben show.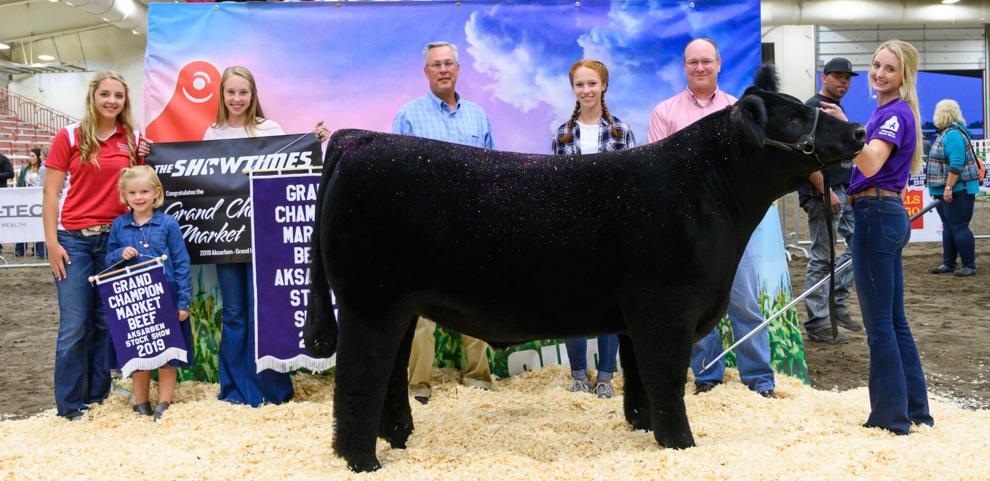 The auction was moved to Saturday night in 2019 in effort to allow more donors and families to attend. The event is open to the public to attend. It's all part of celebrating the success of agricultural youth, Kirchmann said.
Wells Fargo purchased Kylie's champion beef, and Valmont Industries pitched in to increase the scholar-ship portion of the prize that rounded it out at $15,000. The year before, the champion market beef brought $18,000, and the 2017 champion brought $13,000.
What did Kylie do with her big Askarben winnings? The money went toward feeding this year's show animals and some was tucked away for college. Having just started her senior year at Estelline High School, she's not sure where she'll attend college next fall, but she knows working with animals is in her future.
Showing livestock has taught her valuable lessons that will help her in whatever she decides to do.
"Hard work pays off," Kylie said, guiding her steer back toward the barn. "You have to continue at it to see results."
Janelle is editor of the Tri-State Neighbor, covering South Dakota, southwestern Minnesota, northwestern Iowa and northeastern Nebraska. Reach her at jatyeo@tristateneighbor.com or follow on Twitter @JLNeighbor.