When residents of the small, cohesive town of Cuba, Kansas kept popping into the quaint local grocery store to sign an oversize birthday card for Helen West's 88th birthday during the COVID pandemic, Helen excitedly relayed her birthday plans that afternoon: to see the zebras.
Zebras? Yes, there is one female zebra who is pregnant now enjoying pasture life in the midst of breeding season along with one male at their new home in Belleville, Kansas, 13-miles from Cuba. They arrived in December.
"I could get in the car and as long as I didn't get out of the car, I could see the zebras and also ducks in the pond," said West, who visited the unusual livestock with her son Jim and daughter Debbie on her birthday March 28. "One of the zebras came up to the fence. They're such a friendly animal."
People are fascinated by the zebras, said Dr. Lannie Hanel, DVM, of Courtland, Kansas, who bought the zebras in partnership with Jon Russell and Hanel Black Simmentals of Courtland.
"People drive by and see them, but we're in breeding season now and ... they are very uptight," Hanel said. "We're hopefully going to have a baby sometime later this summer."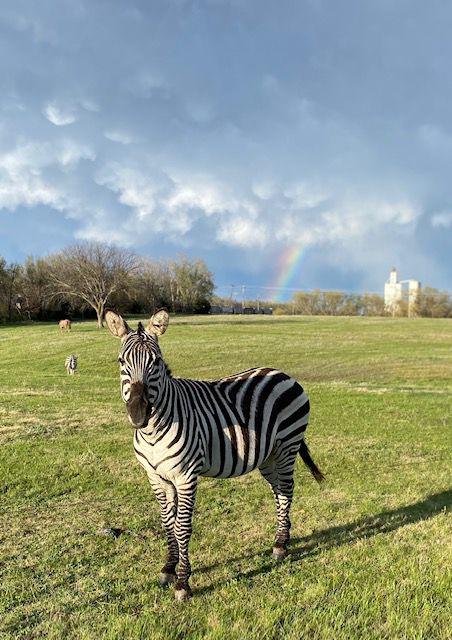 Pregnancy for zebras is 12 to 13 months, and Dr. Hanel is expecting a normal delivery. He is a semi-retired veterinarian who works with his son Dr. Brock Hanel and Dr. Eric Harms at the Hanel Veterinary Clinic in Courtland.
"Zebras are pretty new to all of us," he said, adding that they are intriguing animals.
"They have unique personalities, and they're a lot of fun to watch," he said.
They keep alert, and anytime deer and other wildlife come through, they know immediately if they're anywhere close. It's due to the wild animal instinct, Hanel said. The zebras don't run. They just watch the wildlife.
The group just bought another female zebra, making for a total of three head. The two females are out in the pasture with a horse. The owners say they are buddies now.
The zebras are enjoying grazing in a pasture alongside a refreshing pond one mile east of Belleville, and two miles north of U.S. Highway 36, west of the co-op station. At the first stop sign, they're in a pasture northwest of the intersection.
But they give a word of caution: zebras are wild animals. Whether it's during breeding season or anytime, Hanel asks that people respectfully stay away from the private fence. Visitors can take pictures from a vehicle, but Hanel says they should not walk up to the fence.
The zebras arrived in Belleville in December 2019. They were sold through the exotic animal sale in Clay Center, Kansas.
The zebras are used to the north central Kansas climate. They withstand the cold winters as long as they have shelter, Hanel said.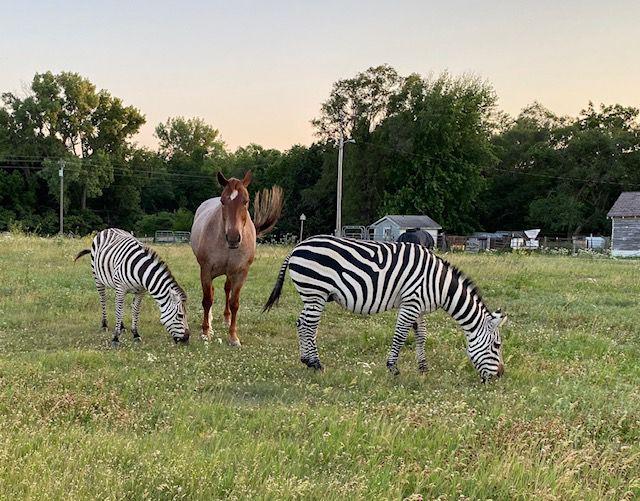 They eat regular pellet horse feed and grass and hay in the winter.
Their horse needed a buddy, and the zebras serve as mascots for the Hanel Black and White Bull Sale held at the Hanel Black Simmental Ranch near Courtland annually on the first Monday of March.
The male zebra came from Missouri. The female from Phillipsburg, Kansas, where there's somebody who raises them.
For Helen West, even in the midst of a pandemic, she found great joy in seeing the zebras for her special birthday outing.
"It was neat, and I have that picture on my camera," she said.
Amy Hadachek can be reached at editorial@midwestmessenger.com.