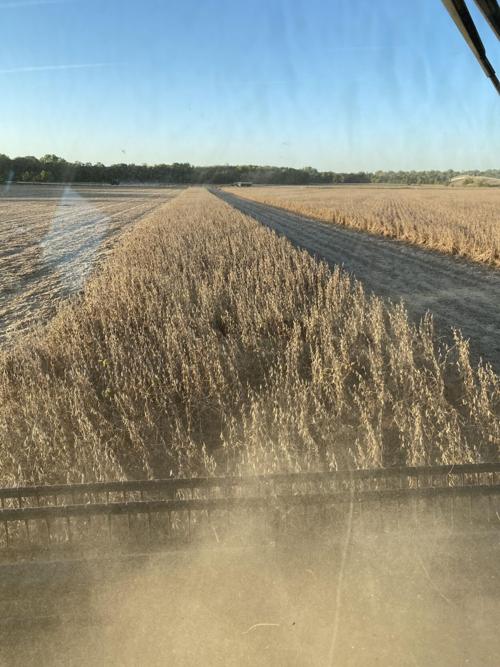 After a busy summer of haying, irrigation, livestock and day-to-day work, our farming operation has finally slowed down. We've finally been able to catch our breath right before harvest starts up.
In preparation for harvest, we picked up all of our irrigation pipes, and it was eventful, to say the least! To start we found out there was flour sand in the pipes so we had to open all the gates up and let the sand dry and fall out of the pipes. It took a few days for the sand to dry. Once the sand was out of the pipes, we came to pick all of the irrigation pipes up and to our surprise found not one but two skunks in the irrigation pipe! Luckily no one got sprayed, but it definitely took us longer than expected to pick up the pipe.
Like many people, we are excited to start harvesting and it becomes harder and harder to wait until the crops are ready when the neighbors start picking high moisture corn, and finally the day has come. This past week we finally turned on the combine, hooked up the head and went to the fields. We just started cutting our beans and so far so good. No breakdowns yet (crossing our fingers that it stays that way).
No harvest is ever the same, and that's true for this year as well. With new technology, harvest time is always changing. This year we put auto steer in our combine. We haven't used auto steer on corn yet, but with the beans, it has worked really well on flat ground, but when we go to cut the terraces it's much simpler to, "actually drive the combine" as our dad says.
Besides being excited about harvest, Faith, the youngest of us four kids, her dog finally had a litter of 11 puppies. Every evening when the work is done it's become a new priority to check on the puppies in the evenings. It's been enjoyable to watch the puppies grow. They just opened their eyes and are starting to walk as fun and exciting as it is it will be even harder to see them go to new owners in eight short weeks.
All in all, we are blessed to have the ability to work and we are thanking God for the bounty of the harvest. We wish everyone who has been or will harvest this year a safe harvest!