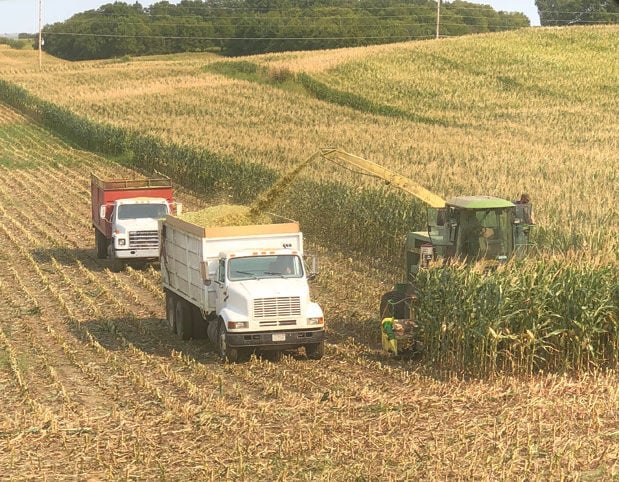 Hello from our little Bohemian Alps. Right after our last report we did get rain – 0.05 of an inch. Around us got more. We felt a bit shorted, but very grateful for at least some. It slowed the dust down on the roads and feed yard. For now, have a total of about a half inch of rain.
This drought and early dry-out has brought on earlier harvest. More acres are being harvested for silage, as the feed supply seems to be a bit short. Corn ears are not consistent, either. They are not very big around and filled out, or they are bigger around and not filled out to the end. In the draws it is greener. Hilltops are dried out. Hopefully it blends together for a good packed pile.
Some soybean fields look good, but the bean is not much for size. Yellow dry down seems to be coming on fast and early. The grasshoppers look to be moving in. You can see where the 4-footed antler pest deer have walked down the row, taking a bite of the ear from side to side. They have trimmed the tops on many bean fields.
As we are cutting silage, we are moving out a lot of raccoons. The raccoons are funny as they scamper. They are awfully huge to run that fast to the edge of the field. They aren't used to the daylight and their cover being removed.
The wildlife are doing lots of crop damage. Cane or forage has been hard to cut where the deer have moved through and laid it over. There's always something interesting inside the fields.
Weeds are an issue, too. The chopper does not care for the excess of foxtail and crabgrass. It doesn't flow through; it just wraps around and locks the head up.
The livestock gets fed early morning and late at night. On the super hot days they have extra water tanks filled. The flies seem to be thicker than normal. Pink eye has been taking its toll around the area. Between the work, we have been trying to preserve a few things from the garden.
All the schools in the area seem to be back in session and Friday night football is back. Our beloved Huskers are off to a slow start, but that won't keep us from rooting them on.
I write as another week of chopping is about to begin. The parade of equipment will leave out here shortly with the Carl and co-pilot grandson Bo in the cutter, brother Tony in a silage truck, and me in the other silage truck. Sometimes little granddaughter Virginia and son Kyle join with the bagger and the shop pick up of tools – just in case .
We are very blessed to be able to be together and work together. Praying everyone has a safe harvest. Until next time, Gods blessings to all.