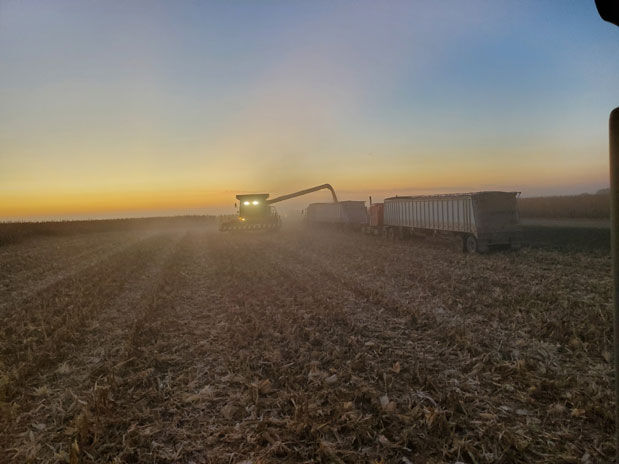 We had our bout with COVID-19 in our family these past couple weeks. Some were very ill for a week or so, and one family member ended up being hospitalized for a couple days. I'm happy to say she is home and on the road to recovery. I had a very light case of only losing smell and taste for a couple days – no fever or other symptoms. I feel fortunate!
Our county of O'Brien County as of Nov. 1 had the highest percentage of COVID cases in the state of Iowa. Lucky us! I hope all do their best of social distancing and wearing the mask when needed.
We ended up with about 4 inches of snow on Oct. 24, so we had harvest put on hold for about four days. I guess it worked out well because it gave everyone time to heal up from COVID.
We started harvesting corn again Oct. 29, and with the weather forecast, we should wrap harvest up this week.
Corn yields are good – I would say average for our area. We are in our latest maturing corn now. It is all standing perfectly, and it is our best yielding corn. We have seen yields from 150 to 250 bushels per acre in our operation, so I guess that's variable. The 150 was corn-on-corn in an area that missed most rains this year.
As a farmer seed dealer it's been interesting getting orders in for early discounts, but again the snow helped free up some time to get in touch with customers and get orders placed.
I did respect all customers with social distancing in fear that I could share the virus. All were fine with doing the business over the phone and appreciated that I stayed away. I would make a joke about seed dealers and early orders but everyone knows what I'm thinking! It always is a challenge getting things ready for next farming season, but again 2020 had to add to the complications.
I have two semi-loads of seed coming in next week, so the warehouse will need to be cleaned this week. I'll do that sometime between harvesting and doing a little tillage for corn on corn.
We're still in the extreme drought area in Iowa. The snow in late October had very little moisture in it. Maybe we'll get some moisture yet this fall, but give me a week to get everything done – please, Mother Nature!
I hope all had or are having a good harvest. Wasn't that full moon on Halloween beautiful? Stay safe and stay heathy!
Kelly Nieuwenhuis farms in O'Brien County, Iowa. His report was filed Nov. 1.