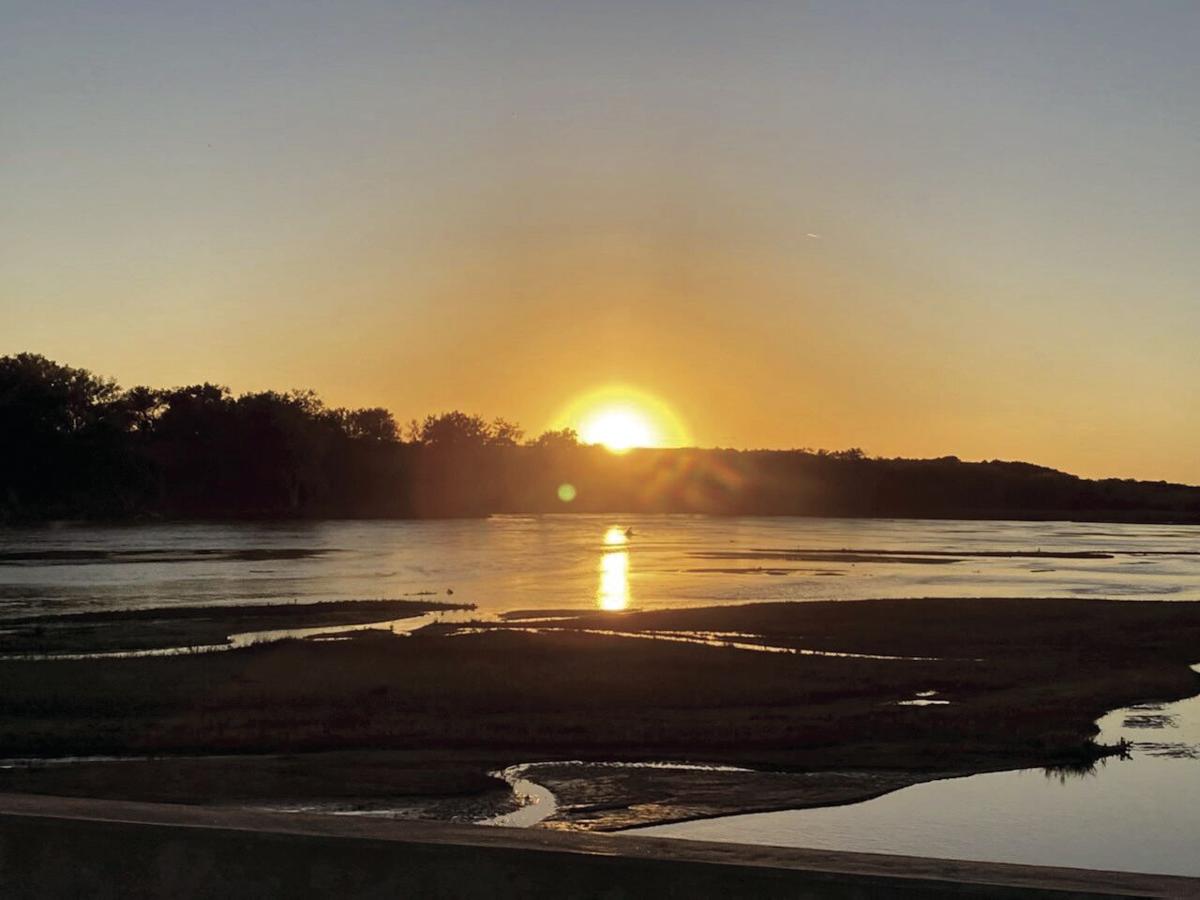 Good morning from our little chunk of the "Bohemian Alps." I heard someone say they're sure going to miss the lazy days of summer. Geez, I guess I didn't get to see very many of those. To reassure fall is really here, the locust sure have been noisy these past days. I think the frosty nights and put an end that chatter.
Carl went out and mowed down the rest of the small grasses in our meadows. We did get a few more bales than expected on the dryland meadows. We were disappointed to see so many dead deer in the meadows. We have been hearing about some blue tongue going through the area. One of the guys lost a lot of sheep as well.
Travis has been keeping an eye on the game cameras, and we've seen a few things climbing trees – and they are not domestic house cats. We are anxious for another look on the camera this week.
I've been noticing many pick-ups and trailers going up and down the roads, moving cow-calf pairs in from the pastures. Working cattle and running them through the shoots are keeping farmers and ranchers busy.
We came home the other night and saw in the lane there was some calf hoof prints in the gravel and other evidence that we had visitors. Our neighbor had brought home some weaning calves and they escaped. That kept the neighborhood busy helping round those up and get them back in where they belong. They are used to wide open spaces, and they weren't thrilled with their new accommodations.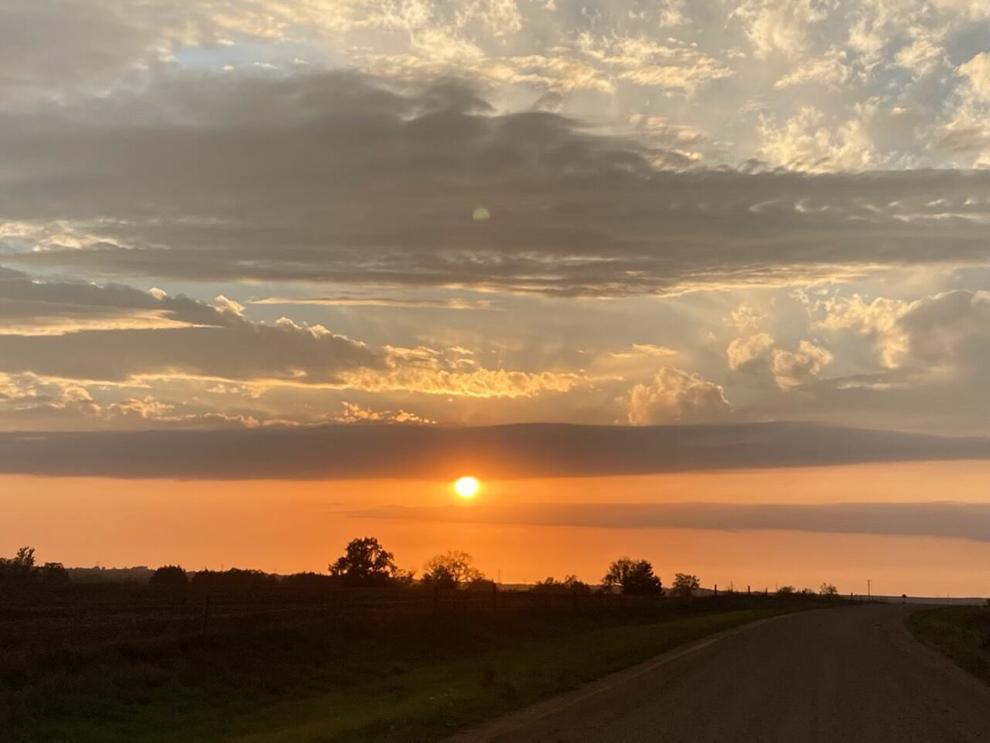 It is interesting to look at the prints in the gravel. You've likely got car and pick up tires, then tractor and combine tire prints, as well as thin Amish buggy horse wheels and horse prints. There are all sizes of deer that cross the road, and a few dog tracks as well.
About two weeks ago we got just enough rain to keep us out of the fields and make some mud puddles, which the grandkids thoroughly enjoyed. It dried up enough for us to get back in, get some more crops harvested and make a few forage bags.
Over the weekend we had just enough rain to keep us out of the fields we are in. It's clay, and it makes it very slick. With the sunshine this morning (Monday), we're hoping for it to dry up so we can get back in there and get that field finished up.
We figure we've had a little over 1.5 inches of welcome rain total for the last two weeks.
With the sunshine this morning the parade of equipment begins again with the chopper the trucks and the bagger off to the field. When the trucks pulled out, they had to open the gates a little to let the water out. What a flow!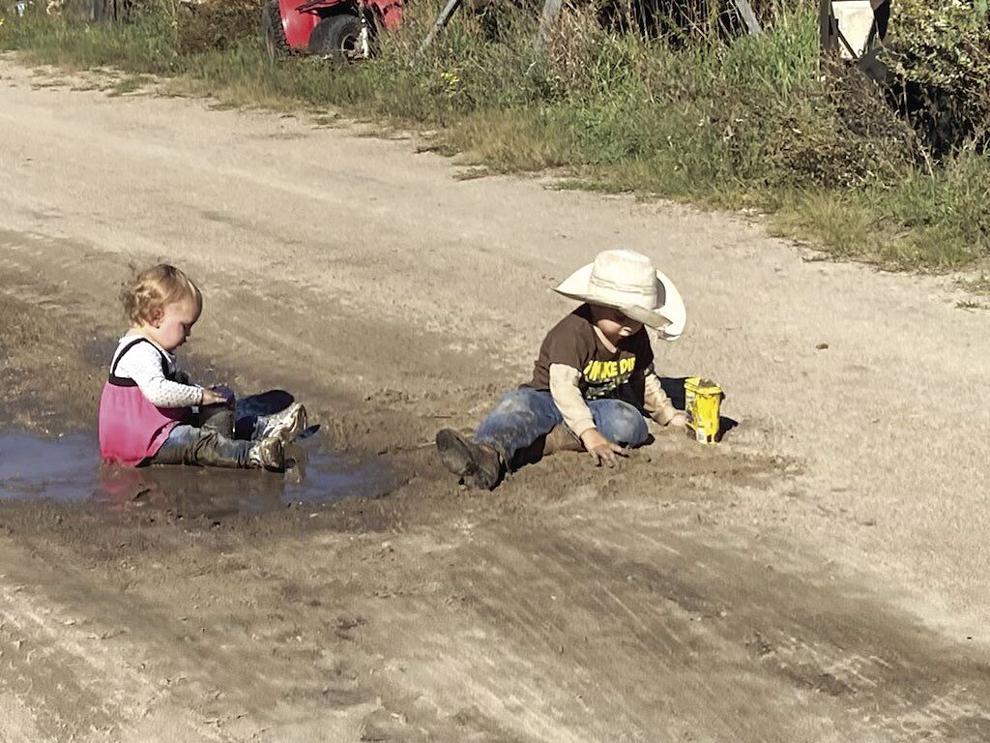 The combines have been busy trying to harvest corn crops, and it seems like the lines at the grain elevator are getting a little longer. The elevators are staying open over the weekend and a bit later at night, trying to accommodate everyone. Tractors and augurs are at the bins in the field and the dryers are going. Most are living on cold sack lunches, snacks and warm drinks.
We made a late night trip to Iowa to pick up some forage bags. The price has gone up at least $120 per bag, and the price of diesel fuel was 50 cents to a dollar higher on the way to pick them up. But usually It seems during harvest the price of everything goes up.
We found out Carl's cell phone does not like water, so he was without a cell phone for about for four days as we tried to dry it out. Then we had to break down after 5 years of refusing a new phone, and he got another flip phone. He's back in communication. I almost think he enjoyed having little communication when he was out in the field.
The temperatures are dipping down, and we are getting a few frosty nights at 32 degrees. It makes the sunsets just beautiful with the changing leaves and the colors of grass forage. I have to stop and jump out and take a few photos.
Speaking of stopping I had to stop dead in the road the other day and watch 24 turkeys cross – from small ones to some big bruisers. They really didn't seem to be in any hurry, and I didn't feel like squishing anybody. But it does make the taste buds water waiting for Thanksgiving Day dinner.
The garden is officially done, so I guess I can put all my canning supplies away and get back to my sewing room where I try to be creative.
After a day in the field I had to take a little time to bake and frost a few birthday cakes for the family. Always need to celebrate.
When we get done cutting a field we usually visit with the farmers about what corn or forage they planted and if it was irrigated or dryland. It kind of helps to make decisions of what you want to plant in the future for yourself.
For the most part the yields have been pretty good for such a drought dry year. I was hoping we would already be done with harvest, but when you have to work around the weather it always wins. We will be done, I hope, before Christmas!
Praying that all have a safe a bountiful harvest. A reminder to all who are not harvesting and travel on the roads: be on the lookout for slow moving vehicle's or really wide ones and maybe an occasional critter out on the road. With God's blessings, until next time.