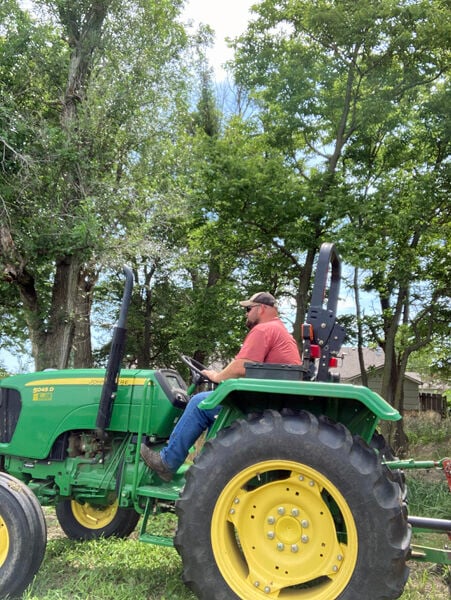 Greetings fellow ranchers and farmers from Central Dickinson County, Abilene, Kansas! Happy New Year's! I hope that you and your family had a wonderful holiday season and that you were able to be with your family in some capacity.
Personally, I dealt with the flu and I was also tested for COVID-19 during the season. Thankfully I tested negative, but that has not stopped the work around the farm.
Our weather has been odd this winter season, to say the least. On par with the past few years, we have had an unseasonably warm winter. In fact, this year I have been able to wear shorts a couple of times during December, which I have never done before.
We were projected to get 8 inches of snow and up to 2 inches of ice during the break, however we only got around 2 inches of rain. While the rain was extremely needed, we do need a good snap freeze and snow storm to come through to kill off the bug population, viruses that have been going around, and put the plants into hibernation. Our fear this year is that we will have a repeat of 2020 and there will be another freeze in late April or early May. But we will cross that bridge when we get there.
As for work around the farm, life has operated as normal. The pandemic has not stopped the need to keep animals fed, upkeep on the equipment around the farm, and planning for the next season.
At the beginning of the year we always like to tentatively plan out what the year will look like. For us that means that we are making plans for our bigger events – major projects or any major purchases that we may have to make.
As is customary with all of my reports, I do have a life lesson for you this report. This report's life lesson centers on the idea of the New Year. I will only speak for myself, but I know that I have an unfair expectation for 2021 in thinking that with this new year everything is going to go back to normal. That is just not the case.
While it is a new year, COVID has not gone away. Even with the rollout of vaccines, there will most likely still be some restrictions on life for a while. Just like when we make plans here around the homestead, we are fully aware that everything that we are planning can be completely upended for unforeseen circumstances. So I want to caution you to not have unrealistic expectations for the new year. Just roll with whatever the year brings you.
For any of you who might personally know me, this is beyond difficult for me to do. I am a "set-in-stone" kind of person, but last year taught me that we have to grow as individuals.
Stay positive my friends. Life is good, life is awesome! Whatever happens this year, whatever comes our way, stay positive and face the challenges head on!
Until next time friends, stay safe and stay positive!