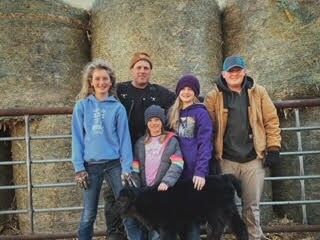 With warm temperatures brings growing crops in northeastern Nebraska. T & R Farms really appreciate this warm weather. The soil has enough moisture to supply the corn and soybeans. Over Memorial Day weekend, Terry Frey's farm north of Tilden, Nebraska received an inch of precipitation. This weather allows the roots to grow downwards and in the long run helps out the crop.
While Terry enjoys the hot temperatures, he is certainly not a fan of the wind and humidity. The corn is growing well with only a little delay of the cold weather from two weeks ago. It will be back on track within the next few weeks. None of the crops like to sprout or grow when it is cold, this warm weather really puts a smile on Terry's face.
The soybeans are growing rapidly but with only one concern. The soybeans have inherited a soybean leaf beetle. They arrive due to cold temperatures and are normally seen in August. They have appeared early June due to the cold spell of temperatures. Terry plans to spray the beetles in the near future to get them under control.
Terry and his family have been busy spraying corn, putting hay up, fixing fence, and semen checking his bulls. He also replaced a sprinkler package on a pivot and hauled fertilizer to the pivot wells. He continues to haul corn from his grain bins, while being very cautious when starting the conveyer to make sure there is no raccoon hanging out. Terry has made a friend in his conveyer, but wants to make sure he doesn't get harmed.
For Memorial Day weekend, Terry and his family took four days off to go up to Verdigre. They went camping, fishing, and scouting fields while up there. They had to come back home every day to do chores on the farm. Terry noticed the soybean beetles in almost every soybean field in the area.
While Leevi works hard to train his 4-H projects, the girls continue to bring home ribbon after ribbon at horse shows. They competed at two separate horse shows back to back in Albion, Nebraska, this past weekend. They all continue to work with their show calves and pigs to prepare for the upcoming fair in August.
On T & R Farms in the next few weeks, they plan on spraying soybeans, sweeping grain bins out, and installing water lines for the new horse barn. As Terry and his family would like to rest, they just keep getting busier and busier, which they are more than happy about.