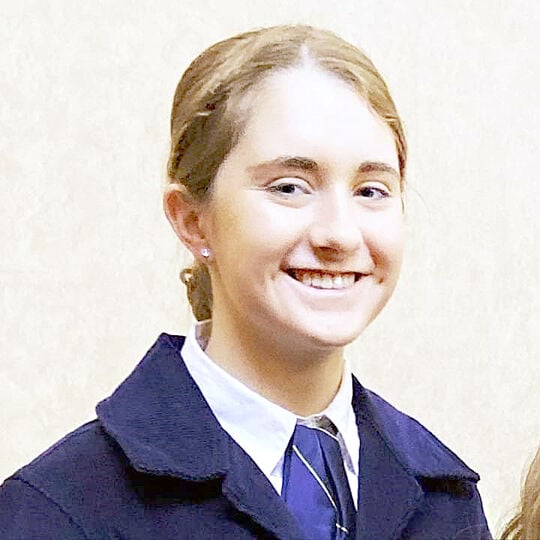 Hershey, Nebraska
Hi everyone, hope you're all doing well. It's been an interesting weekend at the Fisher Ranch. Saturday morning, we set up panels to get ready for our branding on Sunday. After we finished that, my sister and I started getting ready for our homecoming dance. Unfortunately, it got postponed last minute because we had a positive COVID-19 case in our school. We were both pretty disappointed about that, so Dad suggested we could go to a barrel race in Curtis instead. We spent all afternoon there, and came out of it really well. I won the open barrel race and the pole bending, and my sister won the 2D. It was a really great day, and we were both thankful to have something to do.
Sunday afternoon, we branded our fall calves. Most of the day was beautiful and we had lots of friends and family come out to help us. We gathered the pairs into the corral we'd set up the day before, then sorted the cows out and got to branding. Myself and two others started out roping and dragging the calves and eventually swapped out with other ropers to give our horses a break. Besides the ropers, we had five teams of wrestlers and several other people giving shots, castrating the bull calves and branding. Everything went really smoothly, and when we were finished, we had time to hang around for a while having fun and eating the food my mom and I prepared.
After branding, we sorted off a couple of dry cows to haul home with us, and plan to bring the pairs home next weekend. We have to haul the pairs home because it is about 10 miles and we have to cross the interstate. It will take most of a day to get them home and usually a couple of the neighbors help us haul them. Once they're here, we will pair them back up and move them to corn stalks right next to our place where they'll stay for about a month. We also plan to turn bulls out with them in a couple of weeks. After that, we'll move them another couple of miles to another couple of pivots of stalks where they'll spend most of the winter. It will be nice to have them closer to home for the winter.
FFA is also gearing up for our CDE competitions that begin in November. The members have all signed up for their events and the officers are looking to get practices started up. In other FFA news, our chapter was chosen to be featured in the Oct. 30 edition of the Farm & Ranch Marketplace, which is now a part of the Midwest Messenger. Since I'm the reporter for our chapter, I'll be writing our feature along with the president and vice president. We're really excited to get to work, so keep an eye out for it in the next issue. Until then, stay safe, stay healthy, and keep up the good work! — Mekenna Fisher