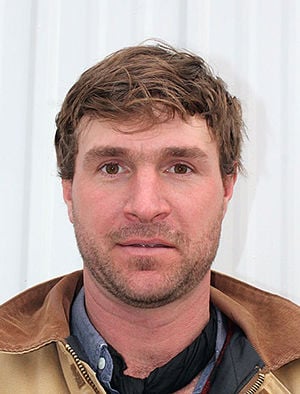 North Platte, Nebraska
The old New Holland served us well. We started cutting beans at 14% moisture and never slowed down. The hot 90-degree days seemed to drop the moisture in the beans one percentage point a day. The old girl did her job. The only breakdowns were a set of fan belts, an alternator bearing, a shear bolt, a chain on the header auger, and an adjustment on the separator clutch. All quick fixes. The combine gave us a clean grain sample with almost no splits and no dockage from the elevator. I can report a respectable average yield of 79.1 bushels per acre. As we were harvesting, we were also able to put up all of our fourth cutting alfalfa and the second cutting meadows. Say what you want about the weather, but it made good hay. Now we can put the haying equipment away for the year.
Next will be corn harvest. I don't know what the moisture is now, but the fields are still quite green. I haven't seen anyone here harvesting high moisture corn yet so I guess it is around 30% moisture. In any case, it will be at least a couple weeks before we harvest dry corn. There is still a few thousand bushels on hand from last year. In the coming two weeks, we will haul that away. Then we can clean up the bins and prepare them to be filled again.
I usually try to plan one day in advance. Today is Sunday, so I am considering the main goal for tomorrow. The goal is to stack and haul hay out of the fields. That is mandatory. Anything else that pops up is secondary. And things will pop up. I just usually try to start the day with one main goal in mind. The crops and the livestock most generally show what needs attention, so it makes planning optional. Or unnecessary.
As for myself tomorrow, I need to get up to the hills and put out some salt and check the condition of the grass. Come to think of it, I probably need to check the oil in some windmills as well. We will more than likely haul cows home around the last week of October. By then we should have a field of corn picked and fenced off and ready for cows. Just thinking out loud here, I could wean calves the first of November, and sell them on by birthday, Jan. 19. They will have been weaned for 80 days. Something to look forward to.
Since we're finally caught up in the field, my right-hand man, Andrew, has been working on a horse that he will use this winter. We are also going to put an ear to the ground and see what we can find for me. He happens to be interested in the Morgan breed, so we will look at some of those this weekend. We'll hit up a few ranches to find that one I've been looking for. I'm pretty sure it's a bay.
Cash corn- $3.36, basis -.25. Cash soybeans- $9.33, basis -.64. — Paul Orr