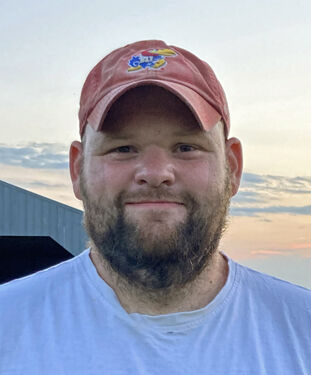 Hope, Kansas
Greetings from a soggy Dickinson County friends, Jacob Andres here with another report on the workings of Rock Creek Ranch.
Work on the ranch really ramped up this week as we prepare for fall harvest. On top of that, we are also in the midst of fall calving season. Amongst the work that has been picking up, we have been dealing with crazy weather. It is never a dull moment on the farm.
One of our heifers died during the birthing process and fell into one of the ponds in our pasture. Our best guess is that it was so hot while she was trying to give birth that the strain of birth and the heat was too much for her. This meant that I got to get wet. Anytime you have a cow that passes during birth, you have to remove the body, but you certainly cannot leave deceased cow in a main water source, so I got the honor of going out to get her. I am an individual who would rather swim in a pond in the middle of the pasture than swim in a public pool, so I am no stranger to murky waters. What I was not prepared for was how cold the water was! The water was chest high, and when I got the cow chained up and we pulled her out, I was shivering from head to toe. I cannot believe how cold the water was for the end of September. Other than losing her, we have had three calves since, two bulls and another heifer, and we are expecting nine more calves.
This week we have had a couple days of high winds and record high temperatures of 97 degrees with the heat index in the 100s, to half an inch of rain to an inch of rain and high temperatures of 54 degrees. To say that the temperature has been insane is a little bit of an understatement. However, the dry weather has been a little bit of a blessing, and rain is always a gift. The dry weather and the wind really turned the beans to a point where we are ready to cut our first sample on Sept. 28. Thankfully, and also unfortunately, in southern Dickinson County we have had less rain than other parts of the county, so we are ahead of our neighbors to the north as far as cutting is concerned, but the whole state is still in the infancy stage of beginning to cut.
We did get the drill up and running this weekend, too. We run a John Deere 7220 with a Great Plains 3-S 3000 Drill. As I mentioned a couple of reports ago, we saved back "Bob Dole" and "Monument" from this summer's harvest, and that is what we are putting back in the ground for next year's harvest. The plan is to plant around 350 acres for next year's harvest. So far the drill is running smoothly, but we only have 35 acres planted so far. We have a long way to go.
I always like to leave my reports with a life lesson, but now I feel like I am getting ready for the big test tomorrow. Tomorrow when I finish up in the classroom, I head out to the farm and get ready to get a couple of sample cuts in for a moisture check and then make our plans for what our next step is. In the middle of that, there is hay that has to be put out, and I will be tasked with keeping the drill filled with fertilizer and seed wheat. Now it is time for me to put my mind to task, and focus on everything at hand. Loney always says, "Haste makes waste." So, as we begin harvest, and those of you reading who are beginning your own busy season, take it slow and be safe out there. I hope that you all have a productive and fruitful season, and until next time friends, stay safe! — Jacob Andres