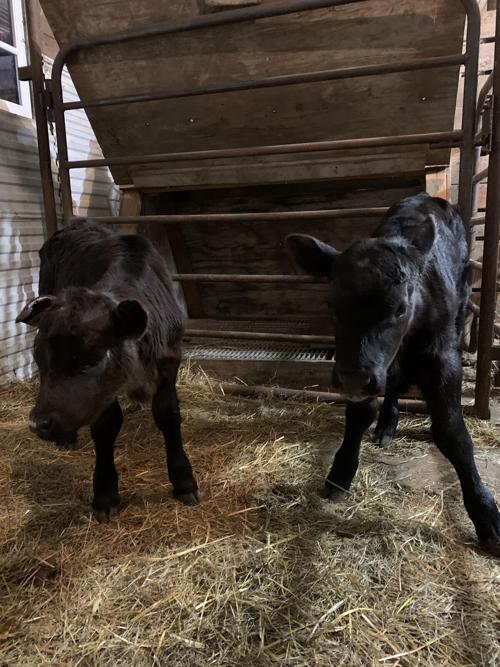 It's hard to believe that we are in a red flag warning for fire with all the rain we had. We had about 2 inches on our place. The warm and windy days have dried up things around here. I know dirt was flying in my eyes when I helped my grandparents and uncle work calves.
Luckily we were able to get a load of fat cows out on Monday before the rain started. Our road had a few soft spots that the truck wouldn't have been able to go through. Thankfully, the county was able to put some rock on the road for us so we could get a truck through. We shipped out 38 fat cows. My parents let me stay home and help them sort and load fats.
I don't have to get up and check heifers anymore. We have two heifers left and they are still a ways out from calving. We have only 12 cows that have calved, so we are moving along slowly but surely. Some of those calves we have had are awful feisty. For being little they sure have a big attitude. I have had a couple calves snort at me and try to take me out at the knees.
We gained a new bucket calf this week. The calf was on one of the fat cows that we shipped out. Daisy (our first bucket calf) was happy to gain a new friend. My little sister shot down my name suggestion and decided to name the new calf Daffodil.
I have been busy with work, school and keeping up on working calves. In FFA, we have been busy making plans for watching the state FFA convention. There have been many members and officers that have been competing in events. The competitions are very spread out because they are being done online. The first competition started on March 22 and the last one was on March 31. I competed in agronomy March 30.
We had our first 4-H club meeting of the year a few days ago. I had work so I missed the majority of the meeting but I was able to get in on the last part when new officers were elected. I am the president and my little brother is the vice president, so we'll see how many disagreements that will cause.
Thanks to some generous donations from foundations throughout our community, we are going to be able to get new hog pens for our livestock building.
My dad has been busy trying to get pens clean around the yard. There has been a lot of scraping and piling being done. He has really been stinking up the place with all the manure he has been hauling.
Don't get blown away in the next few days. Good luck!