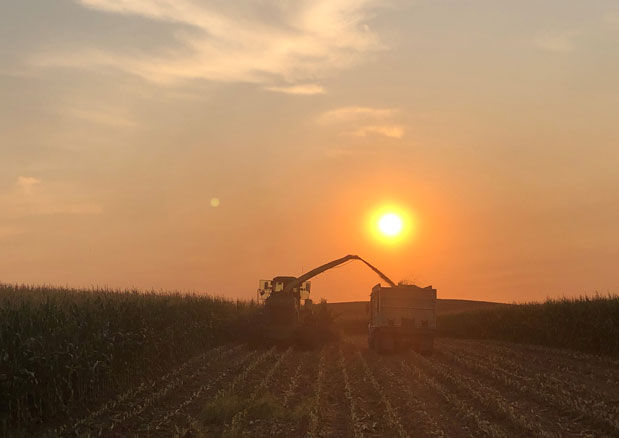 Hello from the Bohemian Alps. We are busy, busy, busy is the fall season.
If you stop and listen a bit you hear all kinds of things - the whir of a windrower taking down grasses and what alfalfa is out there. Those yields are a bit short at the close of fall. Then the tractor and baler arrive with the plunge sound of the baler and the gate opening and kicking out a new bale.
The dry land bean fields are starting to be harvested, and corn is getting started being combined. The trucks are waiting patiently for the combine to get a load to carry off to the bins or take to town.
You probably don't hear it, but follow a dust storm and you see an image of a combine breaking through.
With all of the hard work of spring of field work and planting the yields are a bit disappointing. The little beans are not very big or there are very few. But a yield is there and we are grateful for that.
I hear the growl of the forage cutter with every load I haul. There's the slicing of the corn stalk as the cutter blades bring it into the knives of the forage cutter. The signal is given when the truck is full, and we're off to the bag or forage pile for unloading. With forage bagging, it has been fun to watch the bag grow to 200 or 300 feet with every load put in.
In between farming, we've got to do a little ranching and do some pre conditioning of the calves for weaning.
We did accumulate about 3.5 inches of rain. It came too late to change the outcome of most crops, but the earth is thirsty and grateful for moisture.
I got son Travis to take my place one day so I could help clean pheasants at Swanson Hunting Acres. In the evening I try to can up a few tomatoes for winter meals. We in took in a little music and danced a couple of waltzes.
OK, I hear the belt on my truck squeaking. That means I've got go jump in to catch my load of feed. Praying that all have a safe harvest. Blessings to all!