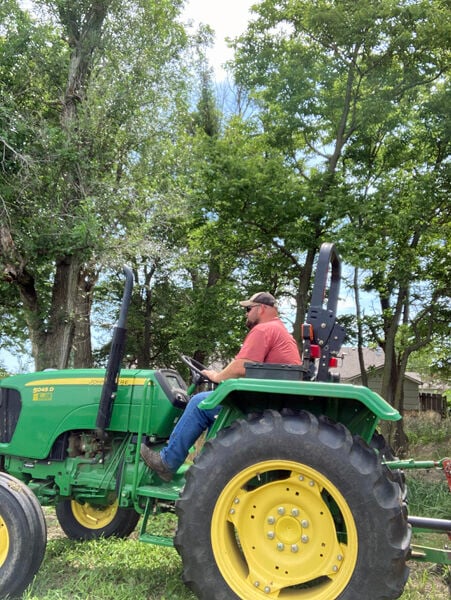 Greetings and a wet hello to everyone from Abilene, Kansas in central Dickson County! I hope that your harvest have gone well and everyone has stayed safe!
Like many of my reports, it has been a whirlwind around here as far as weather and harvest have gone. We have finished harvest since my last report, and as far as the state of Kansas goes, western Kansas is the last of the state to finish harvest which should be completed by the end of the week of July 19. Currently, the price of wheat has closed at $4.06 per bushel which is down from where it was the beginning of harvest by about 40%.
Yields for harvest have been above average this year in our area. We attribute this to the cooler and wetter climates into late spring which was perfect for the germination at that point in the wheat's growth. Compared to last year, we are estimating that we were on par with the same amount of bushels as last year while planting 30% less wheat than we did last year, which makes for a very decent year.
We ended harvest just in time as we received 3 inches of rain in one night. Solomon, Kansas, which is just 10 miles west of us, received 8 inches, and I have heard that some areas received 10. The temperature in our area has been very humid and we believe that it could rain again in the next week, but our chances are slim so we are not holding our breath.
As we wrap up harvest in the state, we are now getting ready for county fairs, which have already begun. In our area we have the Central Kansas Free Fair, which will be the first week of August, and we also have the Tri-County Fair. The Tri-County Fair is a smaller fair which serves as an opportunity for the families who are new to 4-H and showing their projects to prepare them for their home county fairs.
This year, my wife and I will be helping out with the bucket calf show again. We will be working with the Riffels who have been the superintendent and judge for the past 20 years at the Central Kansas Free Fair. We will be in charge of going through in the mornings and make sure that the kids are taking care of their calves and making sure that their stalls are clean. Then on the day of show, I will be in charge of running the gate for letting kids in and out of the arena and my wife will be in charge of keeping everyone on time.
This slower pace now that harvest is over has been nice. School will be starting up right around the corner, and fair week is always a busy week for everyone. It is nice to have an opportunity to slow down and catch my breath.
It is important to take these times to recharge or else we all risk getting burnt out. So take time to take care of yourselves, my friends. These down times do not come very often in life, so relax and enjoy. Until next time, stay safe my friends!