Potholes everywhere. Roundabouts on a truck route. Speed limits too slow. Not enough gravel on the road. Too much gravel on the road.
We seem to complain about road conditions more often than not.
For a short time following the spring 2019 flooding in Nebraska, though, we were grateful when a road was simply safe and accessible.
By now, the majority of the damaged roadways and bridges from the March 2019 floods have been repaired. However, one road between Battle Creek and Norfolk was completely washed out by the Elkhorn River as the river's course changed that fateful spring. A quarter-mile of 841st Road is gone.
Also known as Old Highway 8, this section is one mile south of US 275 on the eastern outskirts of Battle Creek. Road barriers are all that prevent an unsuspecting motorist from plummeting into the flowing water below.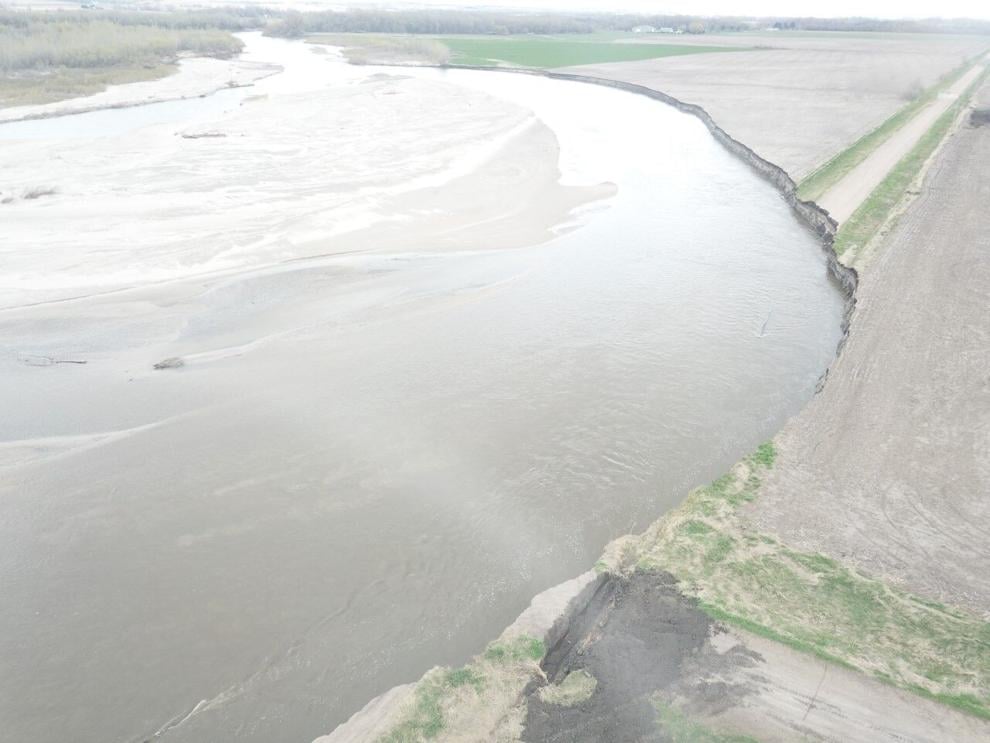 This road was once part of Highway 8, a main route connecting O'Neill and Omaha. It is not associated with the modern-day Highway 8 along the Nebraska-Kansas border; rather, it followed a path similar to the Fremont, Elkhorn and Missouri Valley Railroad.
Before highways were numbered, this stretch of road was named Blue Pole Route and Black Hills Trail. These were little more than trails initially. To this day, street signs bearing the name "Old Highway 8" pay tribute to this historical road, including a section in southeastern Fremont and another between Stanton and Pilger.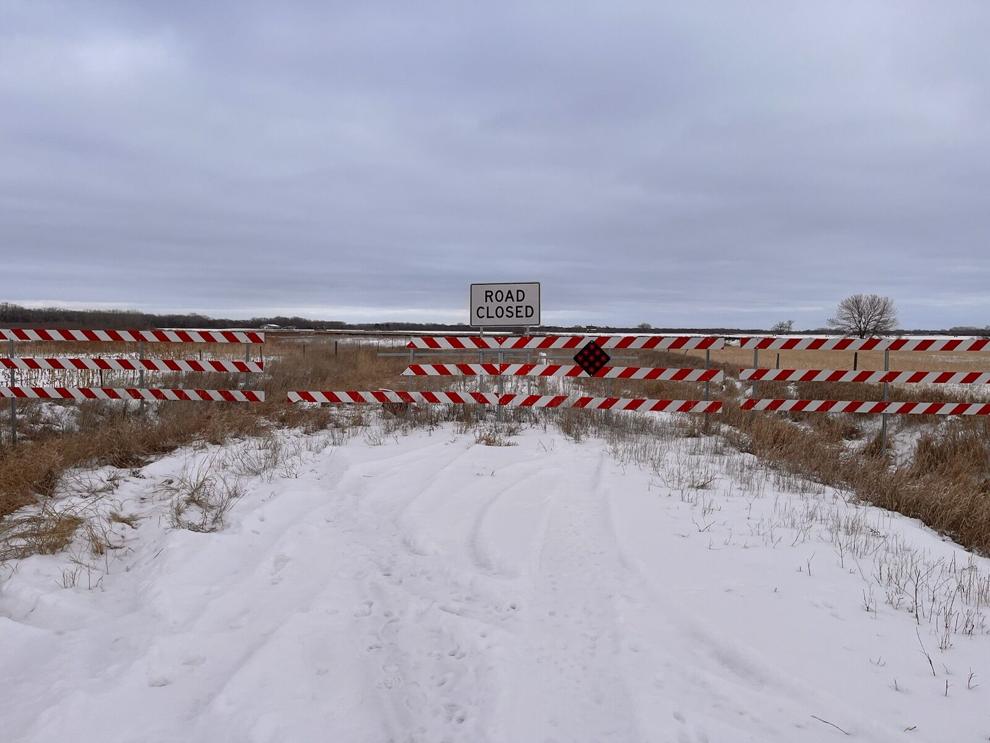 Marilyn Moyer, treasurer of the Madison County Historical Society, described Old Highway 8 from a map dated July 1, 1930.
"It seems to follow Highway 275. We traced it from Fremont to Winslow, Hooper, Scribner, Crowell, West Point, Beemer, Wisner, Pilger, Stanton, Norfolk, Battle Creek, Meadow Grove, Tilden Main Street, Oakdale, Neligh, Clearwater, Ewing, Page and seems to stop at O'Neill," Moyer said.
Bob Carstens, a Madison resident, used this map nearly 20 years ago to drive Old Highway 8 with his brother Darryll, who has since passed away.
"The roads are still there," Carstens said. "They didn't get rid of the old highways, just moved them."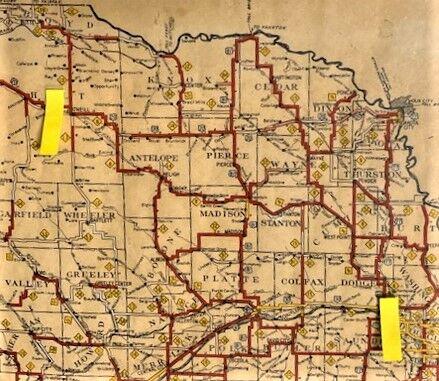 Carstens recalled the fun they had on their road trip, even when they got lost by Ewing where the road split and they chose the wrong "fork in the road," ending up in Royal, Nebraska. They drove many miles of gravel roads on that trip.
"The old highways followed mile lines, so it jiggled and joggled," Carstens said.
"Do You Remember," a book about Meadow Grove, Nebraska, described how Old Highway 8 "ran 3 miles east of Tilden, then 1 mile south, back east to Meadow Grove, then two miles south of town and then directly into Battle Creek."
"It must have been a pain to travel back then. The roads were gravel at best, dangerous roads with sharp curves," Carstens said.
Old Highway 8 was graveled between Meadow Grove and Battle Creek in 1925. Two years prior, the Madison County Commissioners initiated a movement to gravel all roads in the county. The Cooke and Bosse Gravel Pit supplied the gravel, according to the afore-mentioned book.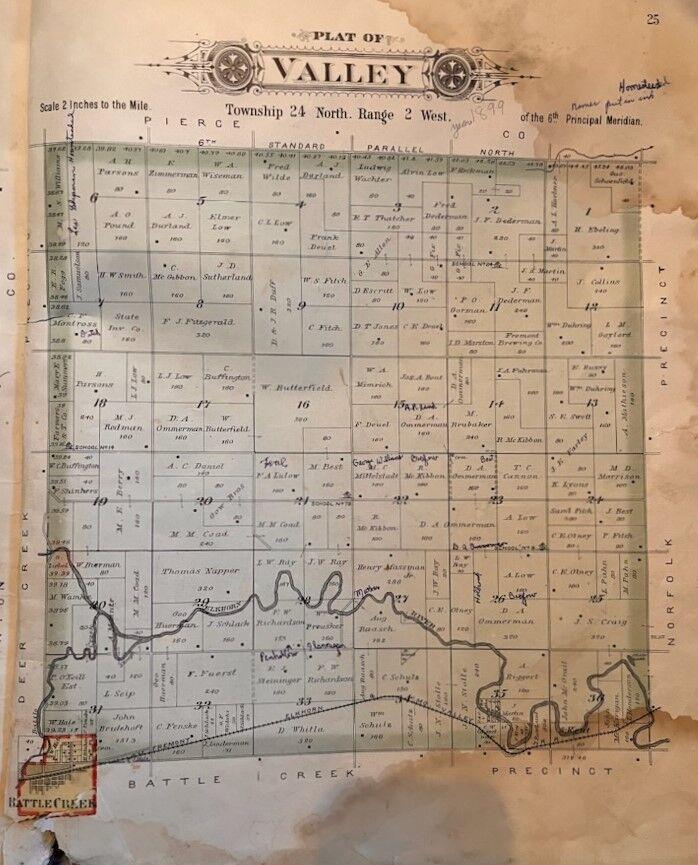 The sharp corners and curves of highways were eased over time for safer and faster travel. In 1933, a contract was adopted to alter the highway and avoid railroad crossings between Norfolk and Meadow Grove.
This reconstruction project took place in the height of the Great Depression. To employ as many people as possible, workers were hired for a 30-hour workweek at a pay rate above the minimum wage. An unskilled worker was paid 40 cents per hour, whereas a skilled worker could earn 60 cents per hour.
First, a path was cleared through the trees growing near the Elkhorn River. The wood was donated to needy families.
Next, a roadway was established. In all, 350,000 yards of dirt was moved along a 10.3 mile stretch. In comparison, on a similar length of roadway to the west, only 35,000 yards of dirt was moved between Meadow Grove and Battle Creek.
Three horse teams were required to pull each dump wagon of dirt. W. H. Bosse was the foreman. There were two outfits, one led by Dave Monson and another by Ed Kamrath and William Stolle. Two horse teams were led by Walt Davison and Neal Lewis, according to the book "Do You Remember."
Edith Grant, who turned 102 Feb. 16, said she was a senior in high school the year that "they straightened the road to Tilden," as she put it. She graduated in 1938 from Meadow Grove High School.
She earned a dollar a week for doing housework for the construction workers.
"One lady cooked for the construction crew—breakfast, lunch and supper. I did dishes after each meal," said Grant.
Shortly after construction of Highway 8 was completed, the Nebraska State Highway system changed its numbering system. The Historic Highway Survey published by the Nebraska Department of Transportation (NDOT) states that "the abundance of trails bisecting the country and the poor marking system created a nightmare for travelers…to complicate matters further, many highways had similar names." Trail names were replaced by numbers.
As part of a nation-wide movement, Highway 8 was renamed again in the 30s.
"Looking at the Historical Maps and the Statewide Traffic Flow Maps, it looks like Highway 8 changed into US 275 sometime around 1938, except for portions in Dodge and Douglas Counties," stated Walter Moy, P.E., roadway asset management engineer for the NDOT.
Old Highway 8, as it was called, remained an important roadway for those who lived there. Marge Furhmann, now 95 years old, was a child when Highway 8 ran past her family's farm.
"We would stand at the end of the lane and throw rocks at cars as they drove by. We were just being naughty kids," Furhmann said.
Don Bauermeister also grew up on a farm adjacent to Old Highway 8. He was born in 1934, about the same year that it was formed.
"There was quite a lot of traffic on this road," Bauermeister said. "In a two-mile stretch, there were 10 farms."
The road had multiple attractions, said Furhmann, such as a country club and golf course on the north side of the road where the river runs present-day.
Families participated in neighborhood carpools, especially during World War II. Furhmann would drive an old Model A to school and pick up other schoolchildren along the way to Battle Creek. Bauermeister remembered being her passenger as a grade-schooler.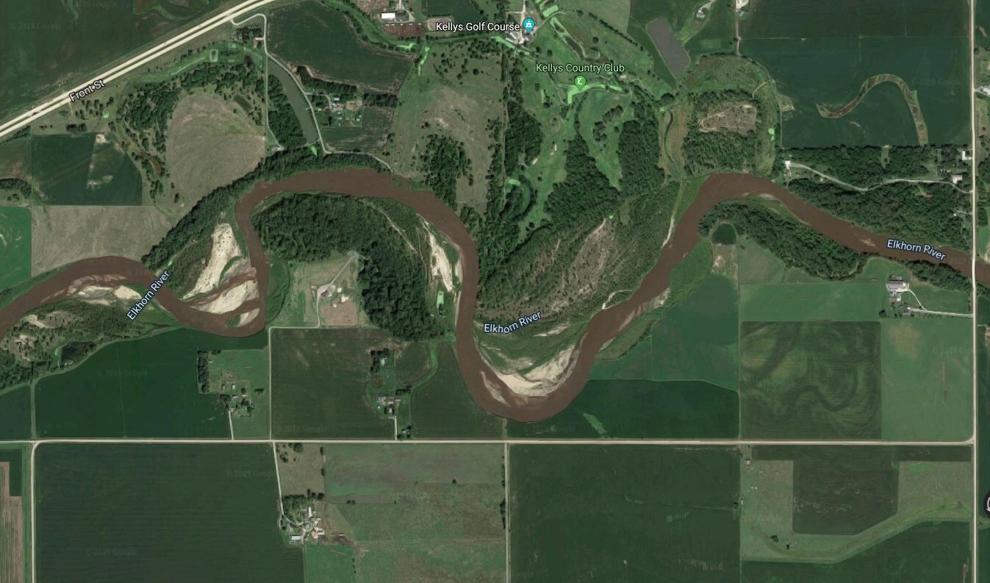 One memory that sticks out to him was the little color-coded sticker affixed to the Model A windshield with the phrase "is this trip really necessary?" visible to the driver.
"That color code gave the service station attendant an idea of how much gas could be bought at one time because the gas was rationed," said Bauermeister. He added that mail carriers and doctors had different colored stickers and could get more gas.
Bauermeister learned how to fly an airplane when he joined the Navy, serving four years on active duty abroad during the post-Korea era. He continued using his pilot skills as an aerial sprayer for 43 years, in addition to farming his family's land and working as a pharmacist. He said that from the air, the Elkhorn River's changing course was evident.
"I'd fly over that river quite often, so I could see the potential long before it happened," Bauermeister said. He added that if he had cameras like they use now, he could have taken a lot of aerial pictures over the years to track how the hook of the river was moving.
To prevent erosion, old combines and vehicles were placed along the riverbanks.
"They'd bring their old cars out there and dump them in to stop the banks from washing away. The EPA didn't like that idea, so they stopped it," said Bauermeister. This practice was common historically along numerous waterways.
Over time, the river crept south, and more and more farmland disappeared into the Elkhorn River. People began selling their "riverfront property," including a tract of land where a pivot once circled around a full quarter in the 1980s. By the 90s, the pivot still circled but was one pivot section shorter. Now, an estimated 50 farmable acres remain on that piece of property.
"It took a lot of high-dollar tax land and made it into wasteland," Bauermeister said.
The March 2019 flooding propelled the Elkhorn River towards Old Highway 8. Ultimately, a quarter mile of the road was washed away.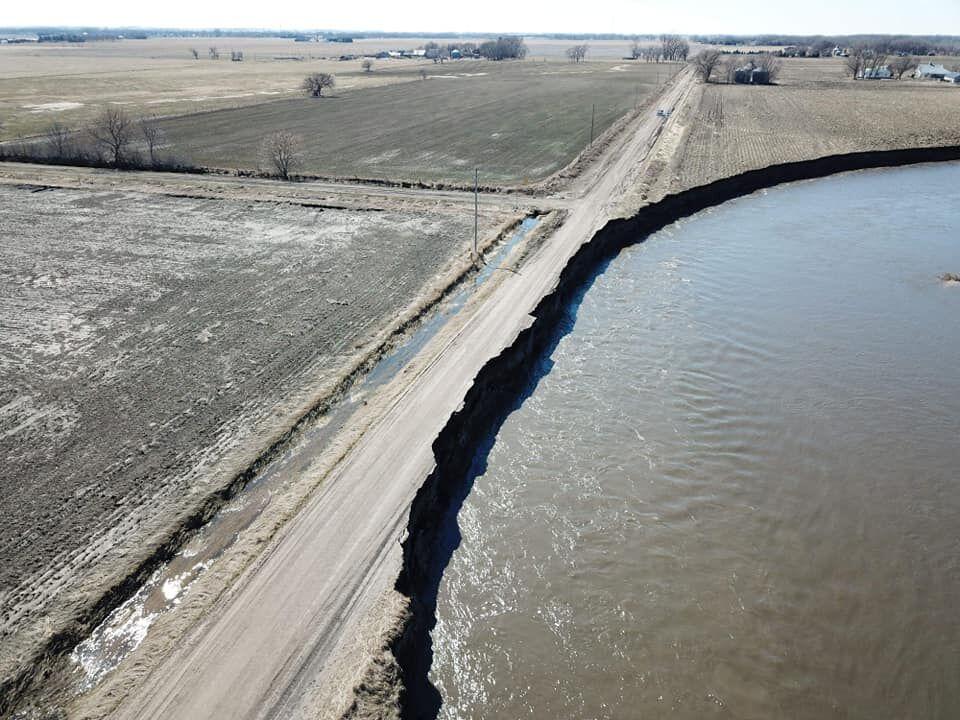 Many people questioned why nothing was done to stop the river. Dick Johnson, Madison County Highway Superintendent, said that until the river reaches the road, there is not much the county can do on privately owned property. By the time it reaches the county boundary, it would have been too late to save the road.
"When a river decides it wants to go somewhere, usually you can't do anything to stop it," Johnson said.
Johnson, who has been with Madison County Department of Roads since 1989, has observed how rivers tend to "migrate all over the place." He said the Elkhorn River is already starting to recede and work its way back north, in part because of the recent dry spell.
When asked if the road will ever be rebuilt, Johnson replied that the existing road would probably not be used. Rather, they would build a road on the bank.
For the residents stranded on the west side of the river, a road that goes through to Norfolk would be a relief. Since March 2019, they have had to drive around the section to then turn east towards Norfolk. Currently, there are five houses directly blocked by the washed out road.
Next time you are tempted to curse the bump in the road, think twice about how driving conditions have changed in the last century. Appreciate the fast-paced, four-lane highways, the smoothly paved and graveled roads and the clear stretch of roadway ahead for miles—without a river washing out the very path ahead.
Reporter Kristen Sindelar has loved agriculture her entire life, coming from a diversified farm with three generations working side-by-side in northeastern Nebraska. Reach her at Kristen.Sindelar@midwestmessenger.com.