About 6 million worms crawl around Kris Vrooman's work space, and she's not even trying to eradicate them.
The worms make a "sizzling" sound as they glide over each other while Vrooman does her chores. So she turns on a podcast to drown them out.
"It sounds like Rice Krispies as they move over each other and the feed," Vrooman said. "They are not loud but you don't want it silent in there."
Vrooman represents one-third of the trinity of Nebraska women who formed the sustainable company Jord Producers in 2018. Her partners in the business are Cheryl Powers and Amber Klassen, and together they raise mealworms.
Vrooman works in an unused garage space at her home at Juniata, Nebraska. Klassen also raises worms in a repurposed swine facility in Lindsay, Nebraska. The salesperson and company CEO, Powers lives and works in Lincoln, Nebraska.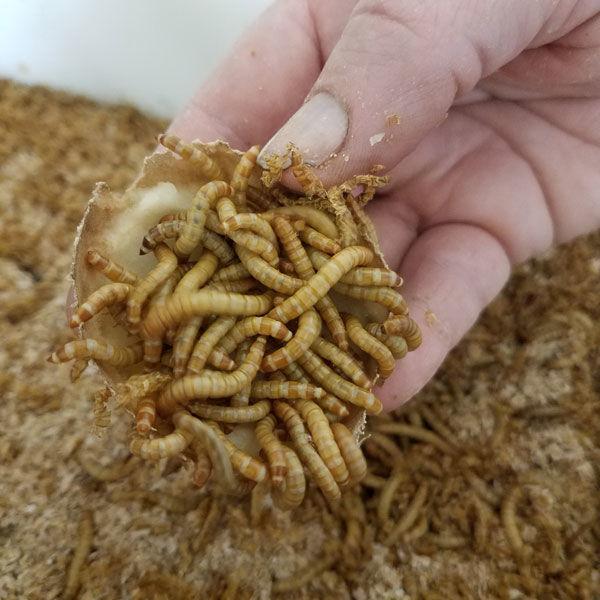 Vrooman's setup at Juniata consists of a vertical growing system: Towers with trays every couple of inches. Darkling beetles live in the trays in a bed of wheat bran and lay their eggs, dining on wheat bran, and potato and carrot slices.
A week or two after the eggs are laid, they hatch. The mealworms live in the trays for 12 to 16 weeks before they are ready to harvest.
"It's a long growing cycle," she said.
The building, which is a 200-square-foot space, is kept at 80 degrees with 60% humidity, year-round, in darkness except for during chore time.
At chore time, Vrooman cuts up 50 pounds of potatoes a week, running them through a food processor, to feed the worms. The vegetables and high humidity in the room provide moisture for the mealworms. The potatoes are discards from local grocery stores.
Vrooman's facility houses about 6 million mealworms. Klassen has a larger space, raising approximately double what Vrooman raises, she estimated. During the peak season, which runs from March through June, they send hundreds of containers of mealworms in various counts each week.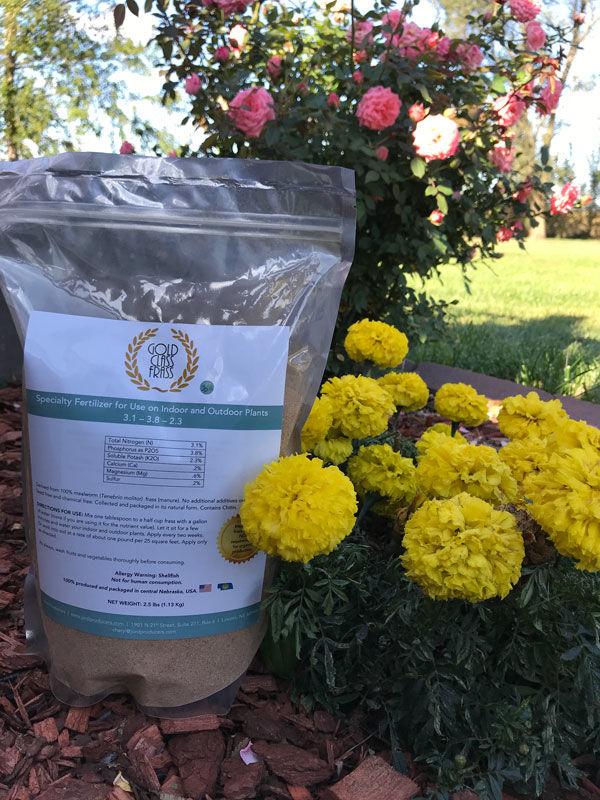 The work is labor-intensive. Vrooman uses different sizes of screened trays, and the worms naturally sort themselves as they fall through the trays. Before selling them, they are sorted by size.
The mealworms are marketed mainly to the wild bird sector. But they go to reptile pets, too. Tiny mealworms — so small they are picked up individually with tweezers — are sold to tarantula breeders for infant tarantulas. Infant lizards need hatchling mealworms, and bearded dragons eat the larger worms.
Vrooman pointed out that there are 9 million pet lizards in the U.S.
"If we were to capture one percent of that market, it would mean $1 million worth of revenue," Vrooman estimated.
The worms are shipped live. They do better in winter weather than in warm weather, she said. "In the winter, they keep each other warm," she explained. "They tend to overheat more than they get too cold."
To keep them healthy, warm or cold packs are added to the mailings.
Mealworms are "great at attracting bluebirds," Vrooman said. People often put live mealworms in a dish at the same time every day to feed local bluebirds.
When the season slows, in later summer and fall, the worms are humanely euthanized by freezing them. The frozen worms are sold to a pet treat company that uses them for hedgehog treats. The women don't ramp production up or down to match supply and demand, "because it's so difficult to manage."
With their first quarter revenue this year nearly equaling their entire year of 2019 sales, in five years, the women potentially see themselves entering the aquaculture sector — as fish food — and the human food market.
Eating insects is nothing new in the world. It's unusual to Americans, but common in other places with higher populations and fewer resources. That's how the Jord Producers entrepreneurs first got interested in mealworms.
Vrooman, who is also a grant writer, worked with a company in Lincoln that was using cricket powder to add protein to foods. They were searching for mealworm powder but couldn't source anything in the U.S.
"I said, 'how hard can it be to grow mealworms?'" she laughed. "It turns out, it's not that hard but it's time-consuming and hard to scale."
Vrooman has roasted mealworms, adding a Chex Mix flavor or cinnamon and sugar.
"I would say 90% of the people try them, and 90% think they taste good," she said. "Once you get over the fear factor, it's not that big of a deal."
The mealworms are a sustainable food source, she added.
"It's super sustainable to grow the insects per pound, compared to a pound of beef," Vrooman began, adding that she's not advocating giving up protein meat. "That being said, none of us are quitting eating T-bones. We don't want to compete with beef or other sources of protein.
"We know as the world's population grows, we will need to find sustainable ways to fix the problem."
Another byproduct of the mealworms is the frass, their manure. Odorless and naturally organic, the women are working to market it for garden nurseries and on indoor and outdoor plants. Adding water makes it a "compost tea", and Vrooman said it works. A couple of high school students in her area did a science fair project using it on tomato plants, comparing it to Miracle Gro.
"Our frass performed just as well as Miracle Gro and outperformed it in some cases," she said.
There is also potential for the frass to be used on hops production in the state. More research needs to be done, but it seems that it could be a pest deterrent for hops, which often struggles with powdery downy mildew.
Jord Producers (Jord means "earth" in Danish) tries to do all its business in Nebraska.
"We order our boxes, containers, labels, everything that we can, from Nebraska businesses," Vrooman said. "We get our feed from the local CPI and our potatoes from the local grocery store."
Vrooman said that although Jord Producers is made up of three women in three different locations in Nebraska, they make it work.
"Rural Nebraska is important to us and in our five-year plan, we hope to give the opportunity to other farmers to diversify their income and to entice people to come back to the farm," Vrooman explained. "Because they are raised in a controlled environment, this alternative type of agriculture mitigates weather and other environmental risks that commodity producers face. With mealworms, there's not much of a risk of drought or hail.
"We have a lot of growth yet to do and things yet to learn, and that's what makes it interesting. We won't ever be stagnant."
Ruth Nicolaus can be reached at editorial@midwestmessenger.com.