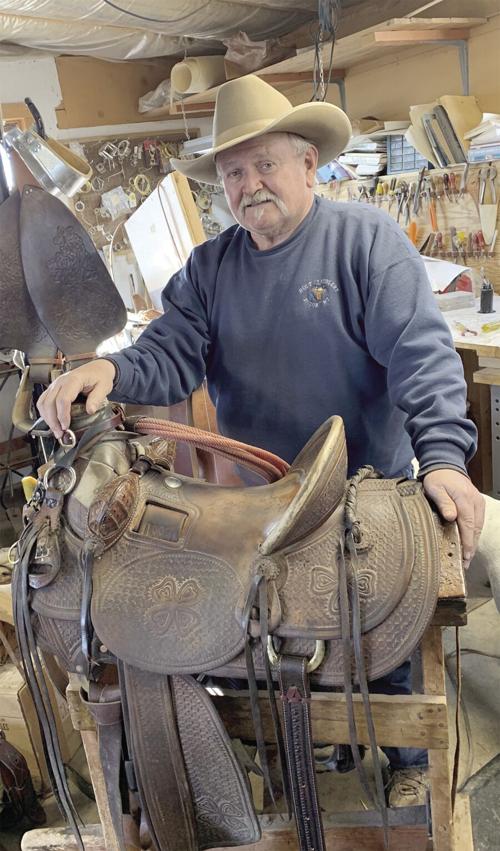 When you enter George Holt's saddle shop you are greeted by the scent of horse sweat and leather.
Western saddles are stacked, one on top of the other on various stands throughout the room. Classic country crooners like Eddie Arnold and Patsy Cline sing from the stereo as Holt hovers over a saddle stand, stamping away on his latest creation.
The Montana native is renowned for his leather work and his vivid stories, which stem from his experiences breaking colts, working cows and even putting on rodeos while serving in the U.S. Army.
While attending college, he decided to take a break from school one fateful spring quarter and calve for a local rancher so he could make some money to pay for his subsequent schooling. It wasn't great timing. With tensions mounting overseas and him no longer being in school, Holt lost his student deferment. He got wind he was next up on the draft list, so facing the inevitable, he decided to join the Army. Come October 1968, he was serving his country in Germany.
Holt attests he feels blessed he wasn't stationed in the thick of things in Vietnam, but Germany itself was facing some turbulent times. In an effort to entice goodwill between the U.S. Army and the people of Germany, a sort of American festival has been held in Berlin since the early 1960s.
In 1970, the general of the Berlin Brigade had a dream to give this festival an "old West" theme with the grand plan of holding a rodeo. At this point, the timing worked in Holt's favor. The scrappy Montana cowboy had found himself serving in the U.S. Army and he was presented with the task of helping organize and preform in a rodeo.
The stock for the rodeo was purchased from Far West Rodeo, an American-born company that shipped stock over to Europe. Far West Rodeo went broke around Paris, according to Holt, so that is when the U.S. Army and the Berlin Brigade swept them up for this festival.
All aspects and duties of the rodeo were organized by members of the U.S. Armed Forces, from riding bulls to bucking broncs, roping steers to feeding and caring for the stock — even constructing an arena and bucking chutes for the event.
"We went in and started building the arena with the Army Corps of Engineers. I suppose for the first 10 days, that is all we did," Holt said.
Far before email and social media, contacting anyone back home presented as a bit of a task. Although there were several members of the Army, including Holt, that were experienced rodeo hands, not a single one of them had any of their rodeo gear with them in Germany.
Holt laughs as he remembers trying to frantically round up gear in Montana and get it shipped to Germany in time for the rodeo.
"I had a pair of boots with me, but I had to write home and my brother-in-law rounded up my old bareback riggins and my bareback spurs and mailed them over," he said.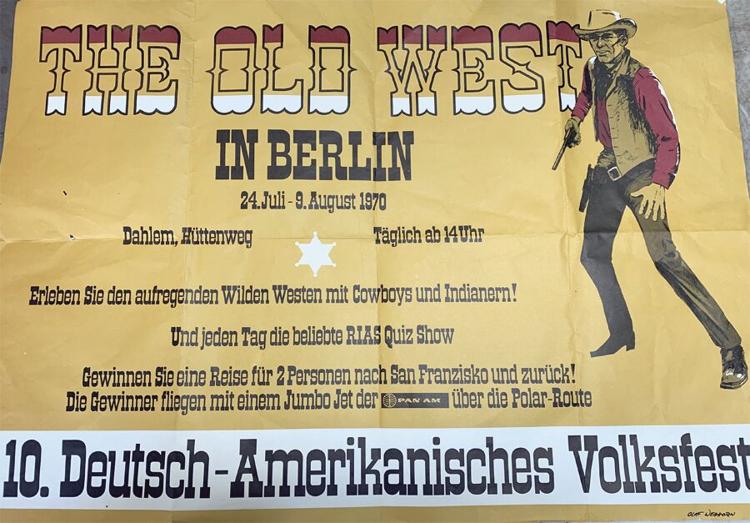 For 17 straight days, Holt and other members of the armed forces wowed the German people with their roping, riding and bronc-busting skills. Holt rode bareback horses, got on a few bulls and performed a reining demonstration for the crowd.
The experience was once-in-a-lifetime and as Holt looks back on the memories, he said he had no idea when he joined the Army he would spend a part of his time being a cowboy.
This period ended up being iconic for his life in another way. It was during his stint in the Army that Holt started to pass the time by tooling leather. His first-hand experience with cowboy gear coupled with his curiosity for the old Visalia style of leather craftsmanship fueled his passion.
After being back in the U.S. for some time, he decided to pursue leather work as a career. He loaded his family and headed to a saddle making school in California. From there, he spent five years building saddles for J.M. Capriola Co., a legendary saddle and tack shop in Elko, Nevada. The last year and half there, Holt was head saddle maker.
In 1983, Holt returned to his hometown of Dillon, Montana, to set up his saddle shop, where it's ever since.
"When I came back to Dillon I stamped my first saddle '001.' I'll be in the 500s shortly," he said.
Holt has become noted for his tooling and his custom saddles have been used by cowboys and cowgirls all over the world. In 2007, he was honored as the Academy of Western Artists' Saddle Maker of the Year.
Life has a funny way of working out for people exactly the way it should. A cowboy from Montana joined the Army and along the way he ended up helping put on a rodeo for the German people. To stave off boredom while deployed, that same cowboy began tooling leather as a hobby, and that hobby turned into a career with Holt Custom Saddlery.
Morgan Rose reports for Tri-State Neighbor sister publication The Prairie Star from Montana. Reach her at morgan.rose@lee.net.