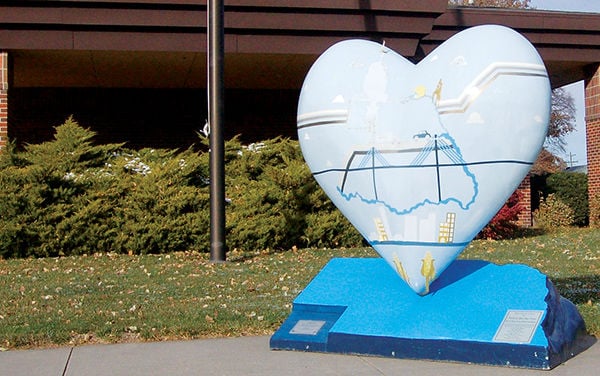 The success story that is Aurora, Nebraska, was a gradual process.
It starts with the original settlers, who laid the groundwork and then were followed by a progression of resilient people that incrementally improved upon existing ideas.
"We all stand upon someone else's shoulders," Aurora Mayor Marlin Seeman said. "We have been blessed with dynamic and aggressive visionaries."
Aurora is the county seat of Hamilton County. The population was 4,479 at the 2010 census. According to the U.S. Census Bureau, the city has a total area of 2.91 square miles.
According to the Nebraska State Historical Society, in March of 1871, seven men from Lucas County, Iowa decided to start a new town to the west. They were David Stone, Darius Wilcox, Robert Miller, James Doremus, J.Ray, Nathanial H. Thorpe and S.P. Lewis. After a disagreement, Miller and Thorpe headed out on their own.
As the story goes, the two men saw "two stately cottonwood trees, towering like sentinels on the banks of Lincoln Creek." The trees stood out on the open prairie, so the Iowans decided to settle near them. Miller and Thorpe were followed on June 10, by Stone, Wilcox and Lewis.
Aurora was laid out as a town by Stone who named it after his former hometown of Aurora, Illinois. The twin cottonwoods stood for several years until age and disease killed them. However, Aurora artist Edwin Tuepke had made an oil painting of them which currently hangs in the Plainsman Museum.
Soon after those initial building blocks were laid, Aurora was named the county seat. This occurred in 1876, but it wasn't until Oct. 26, 1879, that the telegraph made it to the town of nearly 400. But, these were bold people who did not give up hope.
"As a student of history, I can appreciate their steadfast approach to growth," Seeman said. "They needed a new courthouse and they needed a railroad. So they set out to get them."
For years after Aurora became the county seat, there were problems with the lack of transportation other than the stage coach, the Pony Express and freight wagon. Central City, York, Sutton and Grand Island all had a railroad. Then, on Nov. 3, 1879, the Burlington & Missouri Railroad established regular train service in Aurora.
In the following years business prospered. The Hamilton County Web Project states that Aurora had a cigar factory, a broom factory, the Aurora washing machine company and an artificial stone factory. There was the Aurora Roller Mill, built in 1884, by Curry & Glover. It was equipped with modern machinery for the production of flour. The Aurora Machine Shop of H.T. Jensen was also established in 1884. The Aurora Foundry was established in 1886, owned by F.W. Wilson.
A water system was put in by the town, a fire department was organized and Aurora became a city of the second class in 1886.
Four notable politicians are from Aurora. Bob Kremer was a Nebraska state senator from 1999 to 2007. William Ledyard Stark, served in the U.S. House of House of Representatives from 1897 to 1903 as a member of the American Populist Party. Eugene Jerome Hainer and Silas Reynolds Barton also served in the House. Hainer from 1893 to 1897, and Barton from 1913 to 1915.
Marion Van Berg was a world-class thoroughbred trainer. He was inducted into the National Museum of Racing and Hall of Fame in 1970.
Artists Terese Nielsen and her brother Ron Spencer both hail from Aurora. Spencer still lives in Aurora.
Nielsen is a freelance fantasy artist. Both DC and Marvel Comics have hired her to illustrate several trading cards. She did the artwork for the graphic novella that was included as part of the 1993 video game "Gabriel Knight: Sins of the Fathers." Nielsen has gained a fan following mainly because of her illustrations for Magic: The Gathering. She also created several images for the Harry Potter Trading Card Game.
Spencer's most famous work has been for Magic: The Gathering. He established himself at the beginning of the card game with one card for the Alpha set in 1993. Since then, he has had at least one card in every set up until the Magic 2011 set released in 2010. He had 17 cards in the Urza's Saga set in 1998. He also illustrated the Dungeons & Dragons sourcebooks Draconomicon (2003) Sandstorm (2005).
"There is a great art community here," Seeman said. "Aurora hosts an annual Art Walk, with works from area artists and features the Art Hearts."
Professional basketball player Tom Kropp also called Aurora home. After attending University of Nebraska at Kearney, Kropp was a third-round pick for the Washington Bullets. He played from 1975 to 1977.
Major League Baseball pitcher Clarence Mitchell is arguably the best known Aurora native. The lefty was active from 1911 until 1932 as a player then went on to coach from 1932 to 1933. He amassed a career 125-139 win-loss record with 543 strikeouts and an ERA of 4.12.
Mitchell started with the Detroit Tigers and stayed with them for five seasons. He then went to the Cincinnati Reds, Brooklyn Robins, Philadelphia Phillies, St. Louis Cardinals and finally the New York Giants. He coached for the Giants after retiring as a player.
He also holds two World Series records. On Oct. 10, 1920, in Game 5 of the 1920 World Series, Mitchell made history when, with men on first and second and no outs, he hit a rising liner that Cleveland Indians second baseman Bill Wambsganss caught. Wambsganss was able to double up the lead runner, Pete Kilduff, who was still running toward third, then tagged out Otto Miller, who had come down from first base. Mitchell is the only player in Major League history to hit into an unassisted triple play in a World Series. In his next at bat, Mitchell hit into a double play, making him responsible for five outs in two consecutive trips to the plate, another World Series record.
The Clarence Mitchell Baseball Field in Aurora bears his name. Recently, several improvements were funded by Aurora resident George Wheeler and his family. Land was purchased and some was donated to expand the Optimist Club Baseball complex. In addition to Mitchell Field, there are two smaller baseball fields and a teeball field.
"The Wheelers pooled resources with the American Legion baseball organization," said Aurora City Administrator Rick Melcher. "They updated and upgraded the complex. It gets used by community teams and some college teams use the big field."
Less well-known but at least equally prominent is Harry Scott Smith an entomologist and educator. Smith was a professor at the University of California, Riverside and was a pioneer in the field of biological pest control. He coined the term "biological control" referring to the reliance on the natural enemies of pests to effect control, as opposed to the use of pesticide. The university's Department of Biological Control established the Harry Scott Smith Award to recognize achievements in the biological control of insects.
Harold Eugene Edgerton was an innovator with the strobe light. He was also a professor of electrical engineering at the Massachusetts Institute of Technology. He is credited with converting the stroboscope from an obscure laboratory instrument into a common device. He also was deeply involved with the development of side-scan sonar and deep-sea photography. His equipment was used by Jacques Cousteau in searches for shipwrecks and even the Loch Ness Monster.
Wishing to memorialize his accomplishments, several community members in Aurora decided to construct a science center. According to the Edgerton Explorit Center, it was designated as a teaching museum that would preserve his work and artifacts, as well as feature the "Explorit Zone" where people can participate in hands-on exhibits and interact with live science demonstrations. After five years of private and community-wide fundraising, as well as individual investments by his surviving family members, the Edgerton Explorit Center was officially dedicated on Sept. 9, 1995.
Aurora resident Ken Wortman is one of the giants who has stood upon the shoulders of those who came before him. His legion of contributions have earned him the appellation: Mr. Aurora.
Wortman was a key developer of more than 100 living units in Aurora. Later, he would be appointed as the executor of the Bertha Bremer Estate. Her wish had been for part of her estate to be used to construct a community center.
Unfortunately, the Bremer funds were not sufficient to cover the costs. Wortman's family matched the funds and donated the site for the Bremer Community Center.
In 1966, he chaired an organization to create a community college system. He then served on the board of governors for the Central Community College. Wortman was a charter member of the Memorial Hospital Board in Aurora and served as president of the Board of Trustees for 33 years.
He was a member of the Aurora Development Corporation for 40 years, the Aurora Rotary Club, where he had 55 years perfect attendance and the Aurora Chamber of Commerce. He also served on the advisory board for St. Mary's Catholic Church.
Wortman's daughter, Jayne Mann Smith carries on his mission. She is on the Memorial Hospital board and she donated land for East Park Villa, the independent living, skilled care and assisted living facility in Aurora. Smith also works with the new Memorial Hospital Thrift Shop and the Memorial Hospital Auxiliary.
Aurora suffered a heartbreaking loss to the community when Merwyn Davidson, passed away in January.
"He was an iconic servant," Mayor Seeman said.
He was instrumental in starting the Cellar Youth Center, managed the 12th Street Cinema, helped establish the disc golf course and was a math counselor.
He also helped organize a drama group and helped secure equipment for the Aurora Skate Park for roller blading and skateboarding, Seeman said. Davidson received the Chamber of Commerce Community Service Award in 1996 for his work with the Cellar Center.
Davidson was not an Aurora native. He moved there from the West Coast, but he made Aurora his home and the community made him family, Seeman said.
"Newly moved in people bring Aurora new opportunities," he said. "The ability to combine and recombine ideas into something new is what Aurora does."
Presently, the city has five projects underway. These include drainage, street and water supply improvements, but also a couple of projects which follow their tradition of building upon previous feats.
The first is the Streeter Park expansion project. Aurora Sports Park Inc., in conjunction with the city of Aurora is in the process of developing a 20-acre addition to the park. Slated as part of the expansion are a new pool and a dog park. The city provided the land for a soccer facility, Melcher said.
The Streeter Park development will be a nice accompaniment to the exiting activities available in Aurora. The city recently added a $400,000 indoor-outdoor tennis and pickleball court. Several community members initiated an endeavor to get turf put on the football field. In addition, an extensive trail system bisects the city.
"We can always count on a dozen different community members and different groups on different committees to keep us moving forward," Seeman said. "We achieve creativity through the combination of elements that don't generally fit together."
The other city project that reaches back through time for its origin involves the Aurora Cemetery. More than a century ago, the cemetery was public domain. People were interred on the grounds, but cattle were known to graze the area, as well.
To at least one person this was unseemly. So it was that former Union (Brevet) Brigadier General Delavan Bates, who earned the Medal of Honor fighting in the American Civil War, purchased the land and had it deemed sacrosanct.
Soon, the city of Aurora Public Works Division will have a brand new covered kiosk and new parking finished.
In commercial matters, it is the Aurora Chamber of Commerce assisted by the Aurora Economic Development Group that is leading the city into the 21st century, said Seeman. He credits Chamber Coordinator Justise Rhoden and Pinnacle Bank Market President Wade Regier for continuing to build on ideas incrementally.
"They have synergy," Seeman said. "A healthy blend of tradition and youthful enthusiasm – new concepts added to the tried and true."
The chamber is on an upswing, Rhoden said. There has been new community involvement and the city has been super supportive. We have all kinds of festivals and seasonal things, she said.
"We are turning the page and trying new stuff," Rhoden said. "We are re-inventing the chamber – making it more, inter-organizational and chamber-centric through changeover of mission."
To that end, the chamber has tapped in to citizen committees. Calling it a "rural team effort," it is a hybrid of individual initiative, community organizations and city government. It comprises the selection of a given number of elements from a larger number without regard to their arrangement, Seeman said.
"Everyone recognizes everyone else has different passions," he said. "We believe just because [an idea] comes from a certain person doesn't mean it doesn't deserve equal consideration."
He said the "free-flowing ideas" coalesce under time and leadership. The chamber, city and school work well together. Add to that community and commitment and you have an alloy of achievement.
"It's fun pounding out ideas," Seeman said. "By fostering respect for ideas they can migrate to better solutions."
Seeman said he believes that money follows good leadership, sound principles and community commitment.
"Mentors I had were the leadership core of Aurora," he said. "They were determined to make Aurora grow."
Another goal was to make sure the culture stayed the same. Or, as Seeman put it: Don't forget where your roots are. There are standards that have to be met for acceptable threshold of durability.
Aurora shows the city has achieved that ideal, as well. A large group of young people are coming back to the community after getting an education or sowing some oats in places like Chicago or Kansas City.
New business owners such as Shane Thorell, Troy and Kelsey Hofmann and Sara Sutherland are prime examples.
Thorell returned home to open his own Edward Jones financial advisor office. The Hofmanns are the owners of After Hour Grafix, a graphic arts studio that specializes in vehicle wraps, racecars and signage. Sutherland owns the Aurora Fitness Center.
Young people with fresh ideas and with a desire to line in a city that is good for raising a family. They are the future of Aurora, and the future looks bright.
"We have a wealth of quality of life," Seeman said.
Jon Burleson can be reached at jon.burleson@lee.net.