A deep respect for the family traditions that have spanned generations and a desire to diversify the family farm enough to ensure a successful future are both evident at Galyen Farms.
On the 100-year-old farm south of Hay Springs, the fourth generation living and working there has transitioned its crop production to organic products and reconfigured unused farm buildings into a rustic party venue for weddings, family reunions and more.
Larry and Deborah Galyen are the current owners of Galyen Farms, which includes the original 320 acres purchased by Larry's great-grandfather Ferdinand "Fred" Kutschara in 1919. Fred and his brother Carl immigrated to the U.S. from German around 1880 to join their brother William in Iowa, hiding under the hay in the bottom of a ship, according to the family history. They were discovered two days out to sea but completed the trip to America. In 1885, Fred and Carl staked claims on neighboring homesteads south of Hay Springs for 10 cents per acre. The pair went on to marry sisters Augusta and Mary Raddatz and start their families.
While the family no longer owns that original homestead, Fred and Augusta purchased the 320 acres from Simon and Florence Snyder in 1919 that has remained in the family. They raised potatoes, corn, oats, wheat, sheep, hogs and cattle – and 11 children. Their son Dale joined the farming operation after finishing the eighth grade at Sandridge, a one-room school, and eventually married Nona Eitler, who had grown up down the road from the Kutscharas and went to school with Dale. After living with Fred and Augusta for a few months, Dale and Nona rented a farm south of Rushville, where they milked 15 cows and raised oats and corn.
In 1930, Dale and Nona moved to Dale's brother Max's farm, growing potatoes there until 1934 when they returned to farm Fred and Augusta's 1919 purchase. They cultivated corn and potatoes, hiring Native Americans during harvest and allowing them to camp on the hill in tents for several weeks while the harvest took place. Dale and Nona's daughter Ella married Delmer Galyen in 1949, and the couple became the next generation to work the farm.
Larry is now the fourth generation to operate the farm, and he and Deborah are putting their own stamp on its agricultural production and value-added ag.
At Deborah's urging, Larry stopped using synthetic chemicals and began growing organic wheat and other grains. Having spent much of her life as a city girl in Colorado, Deborah said she recognizes what city-dwellers are interested in.
"You have to provide a product that the masses of people want," she said. "If you don't change and adapt, are these family farms going to be here for the next generation?"
The couple also added a small honeybee operation and a monarch butterfly habitat. But as much as it seems they've changed and adapted, they've returned to the family's roots in many ways. The change to organic crops brings the farm more in line with the type of farming Larry's great-grandfather did.
"Basically, we're doing what they were doing 100 years ago," Larry said.
Larry and Deborah moved into Larry's grandparents' home five years ago after remodeling it, and once that project was complete, Deborah, who has fully embraced farm life, started wondering what to do with the rest of the outbuildings that were no longer being used.
The answer came to her after attending her brother's wedding in Iowa, which took place in a renovated barn. The Barns at Galyen Farms — or at least the idea for them — sprouted.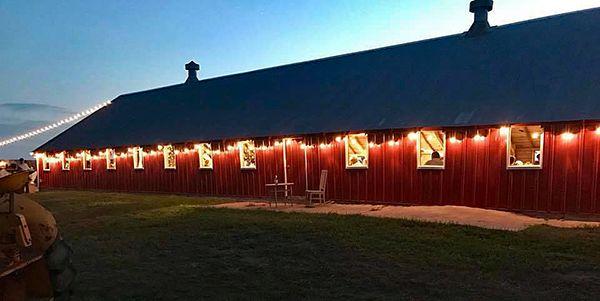 The 90-year-old long barn on the Galyen property, with its dirt floor and original pens seemed ideal for a rustic venue.
"It had been storage for years and years," Deborah said.
They started renovations in March 2018, taking out the pens, pouring a concrete floor, installing new rafters and adding electricity. They added concrete patios on both ends, creating outdoor spaces for the venue, and began purchasing church pews, chairs and linens.
"I was really impressed with everybody. Everything just came together," Deborah said.
By June Larry and Deborah hosted an open house for The Barns at Galyen Farms, attended by more than 150 people. A few months later, the venue hosted its first wedding for Blaine and Cait Wyatt. The couple were actually married outside near the barn and had the reception inside.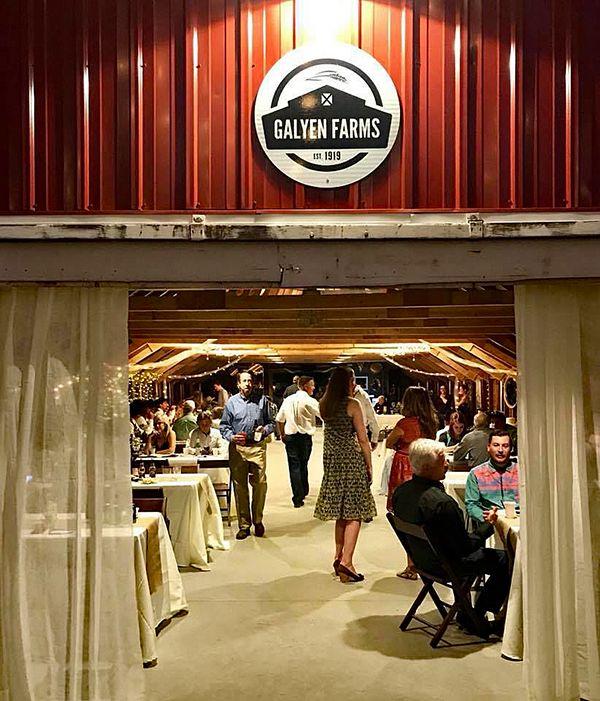 There's plenty of space for outdoor seating clusters, horseshoe pits and cornhole boards for entertainment and even an old tractor for kids to play on. Hay wagon rides are an option, and another old farm building across the corral from the long barn houses restrooms — or at least Porta Potties — as well as a sink with running water and a few other decorative touches.
The Galyens have two more weddings already scheduled for 2019, one of which will see the long barn set up for the wedding ceremony, and will also be the site of a 50th birthday party in April.
"I'm continuing to put together more facilities," Deborah said. "There will be lots of projects here for a long time."
A future project will be to turn one of the outbuildings into a "man cave" so prospective grooms and their groomsmen can get ready for the ceremony. Currently, they prepare for the ceremony in the basement of Larry and Deborah's home, while brides and bridesmaids primp upstairs in the master bedroom suite.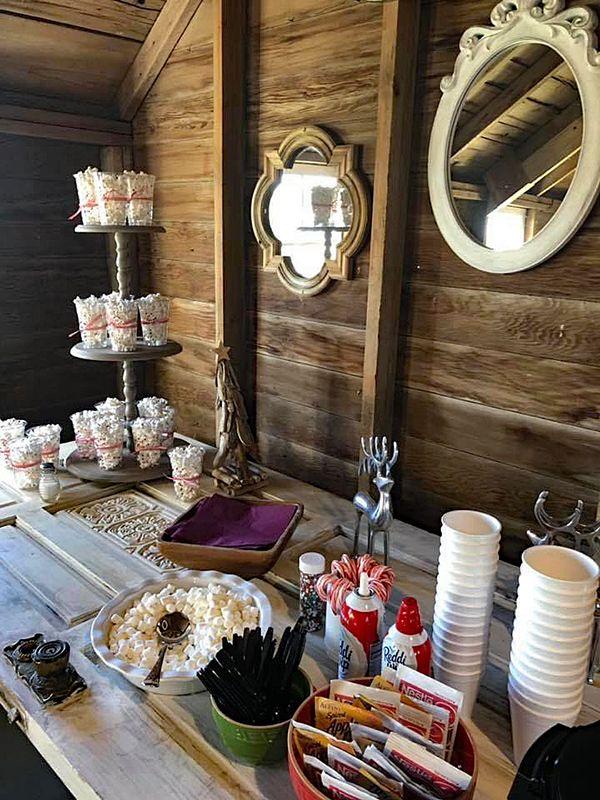 Yet another outbuilding will be converted to a small chapel that can seat 60 (the long barn seats 200) for smaller weddings or for use as a multi-purpose room for meetings or other smaller gatherings.
The Barns will be available seasonally, from about May to October, since they lack heat, for a variety of activities: weddings, family reunions, birthday parties, meetings, bridal showers, graduation receptions.
"I'm open for any ideas that people want to do," she said. "It's something different. It offers another choice for people in Sheridan, Dawes and Box Butte counties."
Larry and Deborah have also purchased a charter bus to provide transportation to The Barns from town, providing a safe travel alternative for parties. The bus was also used in December to offer a Holiday Light Tour to Fort Robinson; guests were able to enjoy hot cider and white chili during the ride and take in the Christmas lights at the Fort.
"Off season or marginal-season, I want to do community events," Deborah said. She also hosted a Meet Santa event at The Barns on Black Friday, giving families a photo opportunity; it's an event she wants to expand in future years to include a shopping market.
Creating The Barns at Galyen Farms is just one more way to diversify the family farm and keep it vibrant well into the future, she said. And while a successful future is the end game for the changes the Galyens have made in recent years, they recognize part of that success depends on maintaining a connection with the past. That's why their home and barns are decorated with found objects that have significance to the family – from Larry's great-grandparent's 1894 wedding certificate, his first bike, an old sink and a windmill.
"They are all found objects that are historical to this farm," Deborah said.