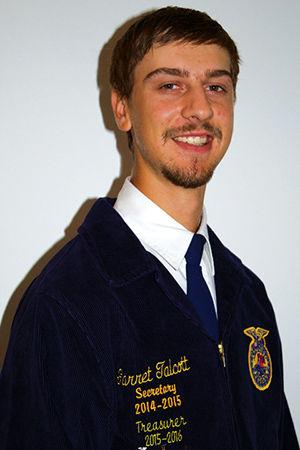 Anything worth having is worth putting in the "sweat equity."
Garret Talcott of the Palmyra FFA chapter in Nebraska knows that well after being selected one of the final four FFA American Star Farmer candidates in the nation.
"It's pretty exciting," he said. "It's a lot of work to apply and keep record books, finances and all your hours from the freshman year past my senior year to now."
The 21-year old, who lives outside Bennet, Neb., just east of Lincoln in Lancaster County, will compete in interviews and meetings at the National FFA Convention, which starts Oct. 31 in Indianapolis, with hopes to be selected as the national award winner in his category.
Farming full-time now, Talcott raises corn and soybeans, cattle and hogs. His wife, Morgan, works with him driving the combine and grain cart during harvest.
In addition to his Supervised Agriculture Experience (SAE) in farming 400 acres of diversified crops, he has branched out with a custom harvesting service. He works 1,300 acres using his own combine and semi-trailer while helping with the family farm.
Talcott is appreciative of everyone who has helped him: "I want to thank my landlords. I'm thankful they helped me get started and rent their land."
Talcott has been an FFA member for seven years. His selection as a Star Farmer candidate is based on his participation in the FFA, community service, growth in his SAE and records. His application was selected for the Star Nebraska Farmer American Degree in June and then sent on to the National FFA Competition.
Top four in the nation is a great accomplishment for Garret, his wife, and his parents Norris and Lynnet Talcott, said Ken Malone, agricultural educator and FFA advisor at Palmyra High School.
"Garret stands out because farming is his passion and life career. He uses every day to reach his goals and improve his farming skills to keep increasing his footprint in the community," Malone said.
Garret has been out of high school for three years. FFA members can remain part of their high school chapter until the fourth national convention after graduation. To get the American degree, they must be at least one year out of high school.
Talcott thrived in FFA in high school.
"I didn't care too much for school, but FFA was great because you do a lot more of outdoor stuff, instead of (being) stuck inside," he said.
Talcott especially liked welding, livestock judging and the land judging contest.
"The American Star Awards represents the best of the best among thousands of American FFA Degree recipients," Malone said.
The award recognizes FFA members who have developed outstanding agricultural skills and competencies. They can own and operate an agricultural business, intern at an agricultural business or conduct an agriculture-based scientific experiment and report the results.
Talcott also enjoys helping and supporting his community, and he serves on the Bennet Volunteer Fire Department, is a 4-H cub leader, FFA mentor and past member of the Bennet Community Foundation Youth Advisory Board.
"Garret is a great example of an FFA member following his passion and goals for agriculture. He will be a productive member of agricultural production," Malone said.
For younger students considering getting involved in FFA, Talcott's advice is about starting by building confidence.
"Keep trying," he said. "You don't always get things on your first try."
Amy Hadachek can be reached at editorial@midwestmessenger.com.