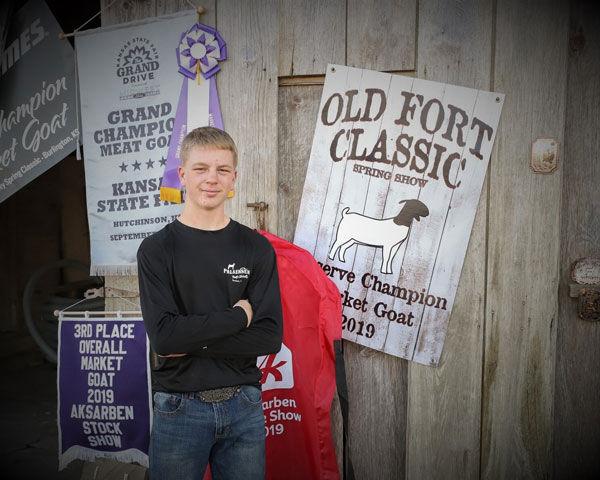 As a college freshman, Luke Falkenstien of Altamont, Kansas is already soaring in the goat production industry, and his online marketing platform where he sells his goats across the nation recently captured a top award at the National FFA Convention.
Falkenstien conducted his supervised agricultural experience (SAE) as a member of the Labette County FFA Chapter in southeastern Kansas and won the 2020 Agricultural Proficiency Awards for Goat Production – Entrepreneurship/Placement during the national convention, which was held virtually in October due to COVID-19.
"It was pretty crazy that night; being on Zoom on RFD-TV in my official FFA blue uniform and getting 50 followers on Instagram," Falkenstien said. "It's a really good way to get your name out there and promote your business."
The application itself was a very long form.
"It was more like a book," Falkenstien said. "Goat production taught me life lessons, and I included all the details, pictures, and my profit at the end of each year. It took two months to fill out."
A deep foundation in his high school FFA chapter helped shape Falkenstien's success.
"Luke Falkenstien's knowledge of the goat industry is amazing, and he is an excellent example of determination and persistence," said Dustin Wiley, one of Falkenstien's three FFA advisers at Labette County High School. "Not only does Luke operate the business, but he makes the management decisions that drive it forward."
A second adviser said it's been awesome to see how the goat production business grew through his high school career.
"Falkenstien Family Show Goats is one of the premiere show goat operations in the nation," adviser Kyle Zwahlen said.
Falkenstien also credits adviser; Keith Geren for his support.
The Falkenstiens' foray into raising goats started when Luke was 7 and his 10-year-old sister bought three nannies together to enjoy. Suddenly, they produced more goats than they had buyers in Labette County.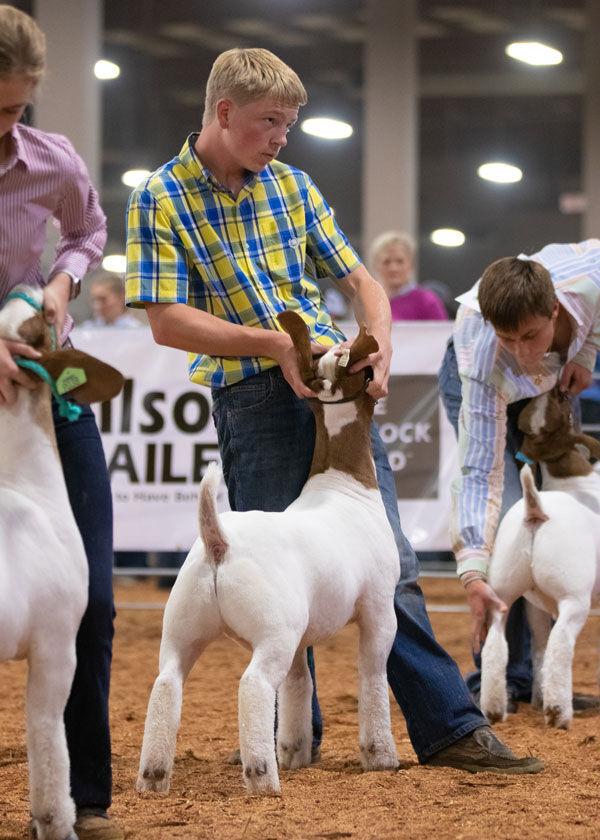 "So, I contacted Tommy Milligan in Oklahoma who helped with our first online sale," Falkenstien said. "We thought it would be a one-time thing. It quickly grew."
Goat production has developed beyond his FFA project. Falkenstien is attending Texas Tech University in Lubbock pursuing a degree in animal science specializing in business. Afterward, he plans to go home to continue producing high quality wether goats and work on my family farm.
Wether goats are males castrated to ensure premium offspring, as breeding qualities diminish with age.
The Falkenstien family also grows corn, soybeans, wheat and fescue, and raise 250 cow-calf pairs.
Falkenstien enjoys being on Texas Tech's wool judging team, a freshmen stepping stone for the school's meats and livestock judging team. Falkenstien said he found the right fit at the Texas school.
"I came here to visit and felt like I was still in my small community at home," he said. "I love college, but I'll miss part of the kidd crop because I won't be home until mid-December."
Falkenstien and his family conduct artificial insemination on the goats and flush them. His goat herd will top out at 100 kidds. The family will hold three sales of wethers and post pictures online.
Falkenstien credits a Lawrence, Kansas couple with propelling his online marketing platform.
Tuesday is sale day, and the family hosts an open house the Saturday before in an air conditioned and heated barn.
"Last year, we had tacos and drinks. People come from all over – Minnesota, Georgia, Texas, Oklahoma – and have a meal, look at the wethers, spend a night or two in town, and bid online the following Tuesday," Falkenstien said.
After purchasing a goat, the Falkenstien family can sometimes meet the buyer part way to deliver the animal. He also provides contact information for a transportation company driver.
Falkenstien learned important life lessons through it all.
"Anything you do in life, be passionate about it," he said.
His parents pushed him to call and talk to people.
"I'm pretty shy, but it probably doesn't seem like it now," Falkenstien said. "It really helped to get out there and talk to big time breeders."
Falkenstien also appreciates his dad, who handled the goats until Luke became a high school junior.
"I was put in charge of everything – making sure the kidds got fed, whether a pen needed to be moved, what shots were needed," he said. "My dad trusted me with decisions, and if it didn't get done – it would be my fault.
"I really grew."