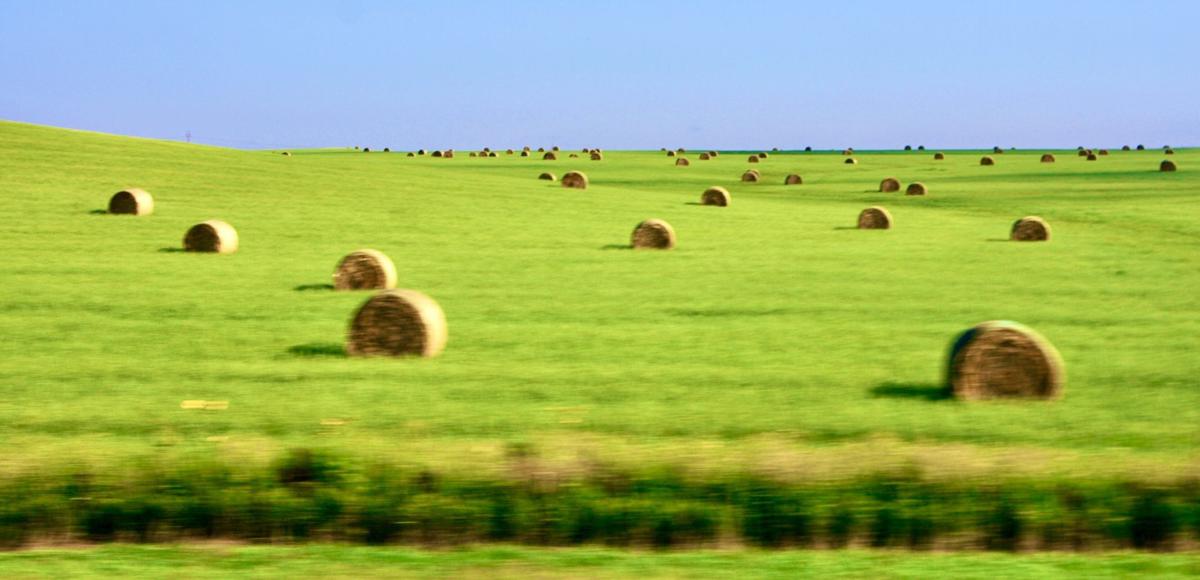 In landlord-tenant relationship, improving land should be top goal, expert says
When landlords and tenants meet to discuss agriculture leases, perhaps the goal should be set on how they can mutually improve the asset – the land – rather than solely seeking a return on the investment.
This and other ways to improve landlord-tenant relationships were the focus of a workshop led by University of Nebraska-Lincoln Farm Succession Extension Educator Allan Vyhnalek for the virtual Women Managing Ag Land Conference.
"The first conversation should not be about the rent paid, it should be a sharing of the vision and goals for the ground. Maybe the goal is to leave the land in better shape than when you got it. Make it more productive and healthier for the next generation," Vyhnalek said. "You can't take it with you."
It is always important for the landlord to outline how he or she would like to have the ground managed orfarmed, he said. The type of skills and management styles the tenant can provide are an equally important part of the conversation.
"When leases go awry, lack of communication is usually to blame," said Vyhnalek. "Many arrangements are done with family, so don't be hesitant to talk to family and don't leave someone out, especially women and younger family members. Don't be antagonistic but don't let things get toxic."
Listening is the key in developing and maintaining good landlord-tenant relationships, said the extension educator. "Seek first to understand, then to be understood. Ask clarifying questions. Use who, how, why to start the question and avoid yes and no questions."
Sometime tenants just want to vent and don't necessarily want you to try to fix things.
"Establish what you have heard, then you can be heard," Vyhnalek said.
Communication remains key for both parties, he said. Even with cash leases tenants need to communicate with their landlords. Timely crop updates are usually appreciated, he said including moisture conditions and weed, disease and insect pressures.
"Consider sending these updates as texts or texts with pictures," he said.
For the landlord it is important to communicate what the overall farm vision or goals are. For example, how will weed and erosion control be handled and what non-crop acre management expectations are there for fences and weeds?
Vyhnalek suggests finding out how the tenant is helping with some typical landlord expenses and the adjusting the rent, especially cash rent. Examples of those expenses are maintaining terraces and waterways, controlling noxious weeds, mowing road ditches, maintaining fences and maintaining the irrigation system.
Other examples of adjustments that should be considered for rental clauses are disaster years leading to low yields, death of an operator, death of an owner, unusual yields in excess of "normal," unusually high crop prices leading to abnormally high operator returns and uncontrollable changes in federal policy and the farm bill.
As far as farm program payments go, Vyhnalek said traditionally in a cash lease the payments go to the tenant, but payments should be shared between the landlord and tenant in a crop share lease.
For pasture leases, he encouraged consideration of the big three – fire, hail and drought – when writing the lease. "Especially drought," he said, "Because if cattle have to be pulled because there's no grass left on the pasture, how will you adjust the lease?"
Some other general lease provisions suggested by Vyhnalek include:
Have all leases in writing. If there is only a verbal lease, end that and get it in writing!
In Nebraska verbal leases for farmland end by Sept. 1, but it is not the same for pasture.
Include the start and ending of the lease (length of lease)
Timing of lease terminations – how much notice is to be given?
Holdover clauses?
When will lease be negotiated for the next term?
Soil fertility provisions must also be addressed in a good lease, he said.
"Phosphorus should be addressed. Define the minimum amount to be left in the soil at the end of the lease, as well as the maximum that can be in soil from manure application protect tenant with clause is large amount applied," he said.
With mining of the soil the landlord should consider a soil test at end of lease, with the lease stating the minimum amount of nutrients that must be left. Lime is typically a landlord expense, so if a tenant is applying it that should then be protected with a clause in the lease.
Soil health and environmental provisions of a lease might cover include:
Fixing excessive erosion – typically a landlord's expense
Non-crop acres – who controls cedar trees and noxious weeds?
Tillage versus no-till considerations
Organic versus non-organic production
GMO versus non-GMO production, although this is almost a non-argument as more than 90% of corn and soybeans are now GMO, said Vyhnalek.
Other items for landlords and tenant to consider might include:
If there is a pasture, who is taking care of the fencing?
Hunting rights – crop ground versus pasture.
In Nebraska recreational use law notes on crop ground hunting rights go to the tenant, but on pasture ground the hunting rights go to the landlord. Liability issues are involved depending on whether there is or isn't a charge to hunt. Under the Nebraska law there is no liability to an owner if there is no charge to hunt. If there is a charge then there are more things that need to be considered, especially obtaining proper liability coverage and spelling out for hunters what the lay of the land is and so forth.
Corn stalk use – grazing versus harvesting as bedding. Removing all material should be a no.
Manure application – how often and what limits will be on phosphorus application?
Irrigation equipment – the general assumption is that all ownership costs belong to the landlord
It is common for tenant to provide some of the upkeep cost (repairs), especially labor, and to include a deductible on parts. If entire systems are being purchased by the tenant, for example a center pivot, then a cost adjustment is recommended.
Freelance journalist Barb Bierman Batie grew up near Battle Creek, Nebraska, and now farms row crops with her Platte Valley Farmer, Don Batie, northeast of Lexington. She has written for local, state, regional and international publications and joined the Midwest Messenger crew in 2010. She can be reached at editorial@midwestmessenger.com.