Beck Angus was supposed to have a bull sale on March 13. They had done all the preparations, like hauling the bulls and heifers from their farm and ranch outside Genoa, Neb. to the sale location in Ericson, Neb., about 70 miles northwest. Potential buyers were already checking out the livestock.
Then it began to rain.
"It's something I will never forget," said Scott Beck, who started Beck Angus and a feedlot with his parents, Joe and Rosie, after returning home from community college in Colby, Kan. "I woke up that morning and started making calls asking people, 'Hey, it's pretty wet here — do you think we should cancel the sale?' People told me, 'Go ahead. We knew it was going to be wet.'"
What no one could fathom was that wetness would be the start of an unprecedented flood event that saturated Nebraska and the Midwest.
The day of the flood, Beck started traveling up to Ericson but ran into water running across the highway at Albion, where they were only letting people drive on one lane.
"Between Albion and Spalding, at the county line, there is a little creek and the water was running over the bridge and the highway," he said. "I could not get to my own sale at that point. I cancelled the sale, made some calls and got the trucks up there, but it took two-and-a-half hours to get there instead of one hour. They had to come back a different route. It took three hours to get back.
"It was pretty crazy circumstances, but we were able to get them all home that night."
The livestock were home, and Beck's wife Mallory and baby were also home, but Beck's two daughters were still at his in-laws in Fullerton.
"We were not able to get back to (the girls) for two days," Beck said. "That was tough. The day I did go back and get them, it took a little over two hours, and Fullerton is usually just 15 minutes from our house. When I did get to them, they shut the highway off about a half hour after I got out of there."
Beck added that the overflow bridge going into Genoa washed out, splitting the school district in two at Twin River. With Highway 30 closed through Genoa, he said they were forced to travel south on Highway 39 to Highway 92, then through Osceola and Shelby and up to Highway 81, just to get their children to school.
"It was taking two hours to get to school one way," he said. "We did that for two weeks."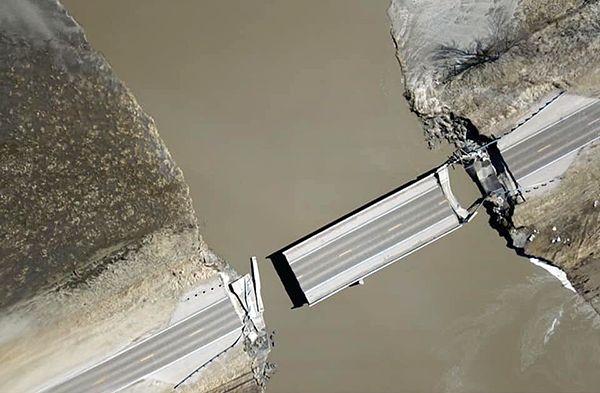 Beck said the challenges were compounded at Silver Creek School, where it is typically first through fourth grade and only 30 kids at the school. The school population rose with the water — to 140 kids — because they could not get to the school in Genoa.
"They were doing satellite classes and had to get the internet fixed," Beck explained. "They made the best of it though and got through the school year."
To this day, Genoa and Silver Creek are still not connected because the overflow bridge is still out, but Beck said they are working on a "shoe fly" so drivers can make their way around the bridge. Meanwhile, for producers like Beck — who get their seed, fertilizer, and implement repairs in Genoa — the disconnect has had a significant negative impact on their operations.
Even more serious has been the altered access to healthcare.
"Our youngest had a seizure and the Genoa Hospital is just five miles away, but we had to drive to Columbus, which takes 30 minutes," he said. "The emergency route overall has been a bad deal. To access the hospital and clinic in Genoa, we must go through Columbus and it takes an hour to get to Genoa now."
Beck added that some farmers have fields on both sides of the river, necessitating that they travel to Fullerton or Columbus and then back to their land, just to get a day's work done.
While the Becks don't have that particular issue, the flooding has completely prevented them from planting so far this year, and has also made it difficult to check cattle.
However, as flood waters rose, the community rose to the challenge, Beck said, which has been a source of hope for many area producers.
"The way the community has come together and rallied around people, has been a good thing to see," Beck said. "There has been a lot of out of state help, such as donating hay to people. It's nice to see neighbors caring for each other."
Kerry Hoffschneider can be reached at kerry.hoffschneider@midwestmessenger.com