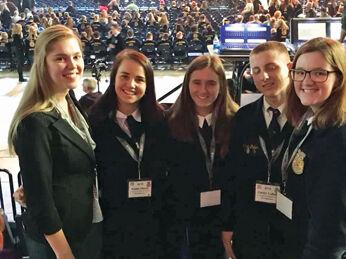 Faculty and students at Emerson-Hubbard Public Schools are re-energizing their FFA program. The chapter, founded in 1954, is part of Nebraska's FFA District No. 4 and is located in Dakota, Dixon and Thurston counties.
After a period of torpor, the program was injected with enthusiasm with the hiring of an ag teacher to oversee the chapter and geode the students. Dylan Kent, a University of Nebraska-Lincoln graduate, is now in her fifth year at the school and has seen optimistic progress.
Recently, two of the 25 members of the chapter earned American Degrees. Over the last 66 years, Emerson-Hubbard had just two students achieve this level of recognition. This year, they effectively doubled that number when Melanie Gentrup and Micah Lamprecht earned their degrees.
According to the National FFA Organization, the American FFA Degree is the highest degree achievable. It shows an FFA member's dedication to his or her chapter and state FFA association. It demonstrates the effort FFA members apply toward their supervised agricultural experience and the outstanding leadership abilities and community involvement they exhibited through their FFA career.
American Degree recipients show promise for the future and have gone above and beyond to achieve excellence. Kent said that Nebraska has less than 200 FFA members who have earned this degree.
While fundraising is an important part of the chapter's activities, Kent prefers to hold events which highlight agriculture. The members participated in a farm safety day in September. They will be hosting elementary ag day in February. This school year, they will also take part in the Farm Bureau Foundation's Connecting Chapters Program.
As part of elementary ag day, the FFA members visit elementary classrooms. In the past they have demonstrated making butter, making ice cream, teaching about egg development and conducting a lesson on seed germination.
During National FFA Week in February, the chapter has an outreach activity involving people visiting the chapter. The last time included a visit from the "bee guy" for the first time, Kent said. The bee guy is Mark Graf, owner of Graf Bees and proprietor of The BUZZ on Facebook.
Currently, there is no FFA alumni group in the Emerson-Hubbard area. Kent has had to buttress the chapter through her own efforts and those of her students.
Still, things have been turning around and enthusiasm is catching on, she said.