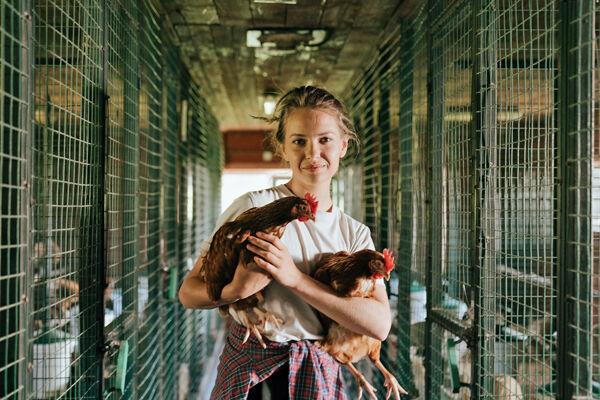 Being a newbie is tough, but in agriculture, it can be downright painful.
In agriculture, being a newbie is needing a used tractor and looking at a bank account that doesn't show a balance of hundreds of thousands of dollars. Trying to figure out where and how to get that steep pile of cash can be overwhelming, but fortunately, there's more help than ever before for individuals with a dream to farm Midwestern soils.
"Farm Service Agency is one of the top lenders to beginning farmers and ranchers in the nation," said Bobbie Kriz-Wickham, USDA-FSA public affairs/outreach coordinator. "We do this type of lending successfully and we know how important it is to get those people started — we work hard to deliver good, solid programs."
Chief among FSA's programs for new farmers is the special direct farm ownership down payment loan.
With this loan, an individual can get help purchasing a farm or ranch. It features a low down payment — 5% cash — and a low interest rate — currently 1.5% interest, with a loan term up to 20 years. The loan caps at 45% of the farm's purchase price, or up to $300,150. Kriz-Wickham noted that the balance of the purchase cost must originate from another funding source.
Kriz-Wickham said another FSA program often used by beginning farmers and ranchers is the joint financing direct farm ownership loan. This loan offers more flexibility for the cash-strapped individual — no down payment required and a much higher loan maximum of $600,000, with up to 50% provided by FSA and the rest of the balance provided by another lender. The interest rate has a floor of 2.5%.
FSA's micro loan program is especially helpful for small or niche farmers and ranchers, Kriz-Wickham said. Micro loans offer a maximum of $50,000 to purchase a farm or ranch or for operating expenses.
Kriz-Wickham added that although these are FSA loans, FSA can also coordinate with commercial lenders and provide guarantees on the loans those agencies issue.
"For people who are just starting out, we provide supervised credit, but our goal is to eventually graduate lenders to commercialized credit," she said.
To seek financial assistance through FSA, Kriz-Wickham said the first step is to visit farmers.gov. Among the bevy of information on that site about first-time farming and ranching is an FSA office locator. Individuals should find the closest office and make an appointment with a loan officer, who can help a new producer determine their best options for financial assistance.
Preparation for that appointment is key, she added.
Organize your farm and financial records for the meeting, and include the last three years of tax returns. A business plan is also important. Kriz-Wickham advised knowing your goals and the steps necessary to achieve them, and supporting your business plan with information about your qualifications that will help get the job done, i.e. agricultural education and/or experience.
"You need to have depth to your plan," she explained. "One of the things we see with beginners is they have no idea what they want to do or haven't though through the details. Maybe they have this grand idea of moving to the country and raising chickens, but they haven't thought through the cash flow. Remember, you have to have operational expenses and living expenses covered with this new venture.
"That initial appointment with a loan official at FSA will be more meaningful for both parties involved if you're prepared."
FSA is joined by a long list of agencies that offer financial assistance for first-time farmers and ranchers, as well as established producers seeking help to expand their operations.
The Nebraska Department of Agriculture's NextGen program lends assistance to partnering new and retiring farmers in the form of tax credits.
To be eligible for NextGen, a retiring farmer must lease land located in Nebraska to a new farmer for a minimum of three years. While the retiring farmer doesn't have to be a Nebraska resident, the new farmer does.
There's a few other stipulations for the new farmer, as well — they need to have farmed less than 10 out of the last 15 years, have a family net worth less than $200,000, and must provide the majority of labor and management for the new operation. They also need to pass an approved farm finance course, said Karla Bahm, NDA NextGen program manager, adding it's preferred that the new farmer's intent is to be a full-time farmer.
For partnering farmers who meet the requirements — which can include relatives if they have the appropriate succession planning documents in place — retiring individuals receive a refundable tax credit equal to 10% of the cash rent for each year of the lease. The new farmer will benefit from a personal property tax exemption for any property used in production agriculture or horticulture up to $100,000, awarded each year for three consecutive years.
As with FSA loans, Bahm said it's important to prepare documentation thoroughly for the NextGen program, so your application has a greater chance of passing the board of directors' approval. There's an application for both parties, and NextGen also requires a copy of the three-year lease agreement, plus additional paperwork from the beginning farmer: A balance sheet, projected cash flow analysis, soil conservation and nutrient plan, and proof of a financial management course completion.
Bahm added that since 1999, NDA has issued $13.5 million dollars of tax credits in the NextGen program, and more than 500 beginning farmers have signed up. In 2015, NDA conducted a survey with 86 beginning farmers in the program — 99% were still farming, and 85% were still farming the same ground for which they enrolled in NextGen.
"It's telling — the program did help them get their foot in the door," Bahm said. "Sometimes it's as much about relationships — forging that positive relationship with that asset owner for a long-term relationship. Eighty-five percent still farming the same ground spoke volumes for us."
With the NextGen program set to retire in 2022 unless legislation is approved to extend it, there's no better time to take advantage of its incentives. Visit nextgen.nebraska.gov for more information, or call the NDA's NextGen office at 402-471-4876 and ask to speak to Carla, Joline or another contact for NextGen.
Additional financial assistance
Other programs for new farmers and ranchers in the Midwest seeking financial assistance include:
Finance Authority

The Nebraska Investment Finance Authority's Beginning Farmer and Rancher Program loans up to $552,500 for agriculture production at below-market interest rates, for beginners who have not previously owned substantial land with a personal net worth less than $500,000. Visit Nifa.org/farmer.
The Kansas Development Finance Authority's Beginning Farmer and Rancher Program loans up to $543,800 for agriculture production at below-market interest rates, for beginners who have not previously owned substantial land. Visit kdfa.org/BeginningFarmer.

Farm Credit Services of America
Nebraska Department of Revenue

Nebraska Advantage Rural Development Act provides a refundable tax credit that can be used against sales and use taxes or income tax liability for taxpayers in livestock production who invest at least $50,000 for livestock modernization or expansion. Visit revenue.nebraska.gov/incentives/rural.
Other new farmer resources
There are also many resources for new Midwestern farmers and ranchers to utilize while planning a new ag venture or preparing to finance their operations. These websites offer free agriculture education, business planning, technical assistance, and workshops on a multitude of topics related to agricultural production. Some also have grant opportunities.