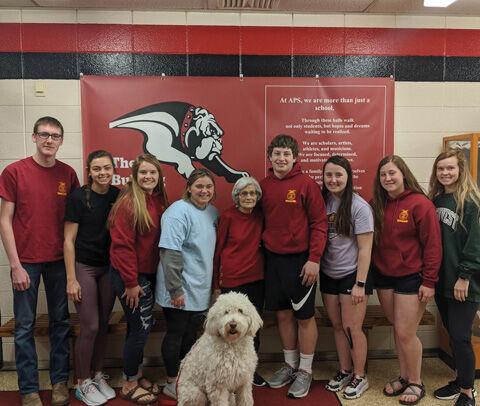 The Auburn High School FFA has a lot going on right now. The chapter is getting a new advisor, who was just awarded a scholarship from the Nebraska Farm Bureau Foundation, and the group has a couple of ongoing community service projects.
Brooke Wehrbein will be taking over as FFA advisor in January 2021. She is currently student teaching in Falls City, Nebraska. Jim Nemec has been acting as the interim advisor.
Wehrbein was one of 18 Nebraska teachers recognized for their efforts in agriculture education by the Farm Bureau Foundation with a retention scholarship. According to the Farm Bureau, the recipients are all agricultural education teachers in their first through fifth year of teaching. The foundation wishes to support their efforts and facilitate the teachers' impact in the classroom, in their FFA chapters and in their communities each year.
The Auburn FFA was re-established in 2014, after a dormant period. It now boasts 50 members. The students are extremely active in the community, with extended ag education activities and in fundraising.
"Right now we are picking up trash at Rotary Lake," said chapter president Kylie Allen. "We do that every year."
Allen, a senior, is in her fifth year of FFA membership. She is a fourth-generation farmer but doesn't plan to stay in the family business. She is working toward medical school and eventually becoming a highly specialized physician working with children.
One of the activities she enjoys most is using the chapter's tower garden to help educate elementary students about growing plants.
While she grew up in agribusiness, Allen said she has still learned a lot about agriculture due to FFA. She also enjoys the camaraderie. Allen credits the program for helping her develop talents that she believes will aid her later in life.
"FFA is not just for farmers," she said. "I have learned self-confidence and leadership skills."
Another fifth-year FFA student is chapter vice-president Josie Shelton. The senior is also from a multi-generational agribusiness family. Her parents raise horses and her grandparents are ranchers. She has shown hogs for many years. Her plans include getting a two-year degree in agronomy or ag sales, she said.
Shelton's favorite FFA activity is the annual Fifth Quarter Party the chapter conducts during football season. This is a fundraiser the chapter holds after each home game, she said. Together with the Auburn FBLA, the FFA officers plan the event, arrange for food, entertainment and compile a playlist. Students pay to get into the event. The funds go to the school's backpack program.
"There is so much more to FFA than just farming," Shelton said. "It's taught me things I will use the rest of my life."