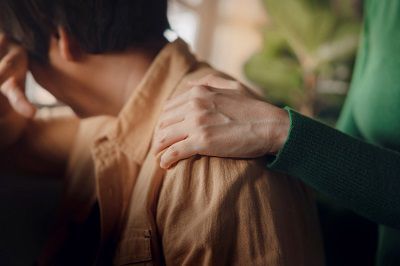 The emotional devastation after receiving a 30-day notice that their old organic milk buyer was going to stop their route mentally pummeled a dairy farmer.
He struggled with having to dump milk for two months while desperately searching for another organic buyer. Their milk price dropped by about $25 per hundredweight at a time when organic milk went for about $39 per hundredweight and conventional milk was about $13.)
"Dumping milk really undid my husband. He experienced a profound sense of failure, which terrified me," said Meg Moynihan.
Moynihan works as senior advisor on strategy and innovation for the Minnesota Department of Agriculture but told her story during a presentation about mental health in agriculture during the Kansas Ag Summit Aug. 26.
She jumped to help run the family's 70-cow organic farm with the loss of their milk market in 2016. Her husband told her at the time that he was going to work for an industry that valued him, and he returned to work as an owner-operator for United Van Lines.
Moynihan refused, in the middle of their crisis then to sell the cows. Deciding that she could at least keep the cows fed, bred and milked during the summer months when they're mostly on pasture, she took an unpaid leave of absence from her executive position at the Minnesota Department of Agriculture.
Husband Kevin was gone for a week or two at a time for his transportation job. The18 hour days spent figuring out how to run the farm took a huge physical and emotional toll on Meg. It came wiht a lot of tears and door slamming, she shared with Midwest Messenger.
She also saw the challenges her friends and neighbors were experiencing: family tension, financial distress, land disputes, isolation, weather and weed problems. When Kevin finally found an organic buyer for their milk that December, he came back to the farm and Meg went back to the state ag department.
"I felt like I'd survived through a war, and I said, 'we need to figure out how to help farmers. It's hell out there.' They said 'Well, hop to it!'"
So she did.
Moynihan is still very involved in the farm, but also works 30 hours a week at the department of ag.
In her presentation, she shared what she and her farmer-husband learned.
Stress comes with the job and can permeate through life. Farmers and ranchers don't "go home" at the end of the day, she said, rather, they live with the messes and worry if they closed the fence at the end of the day. People in agriculture feel financial worries, long days, unpredictable markets and unpredictable weather. Caring for your own health and wellness is often overlooked, and can lead to anxiety, depression and even suicide.
Farm stressors and how to recognize when they become overwhelming was a key topic at the online Kansas Ag Summit. Shortly after Gov. Laura Kelly and Kansas Agriculture Secretary Mike Beam welcomed conference attendees, they heard from Moynihan on the need to take care of mental health on the farm, ranch and anywhere.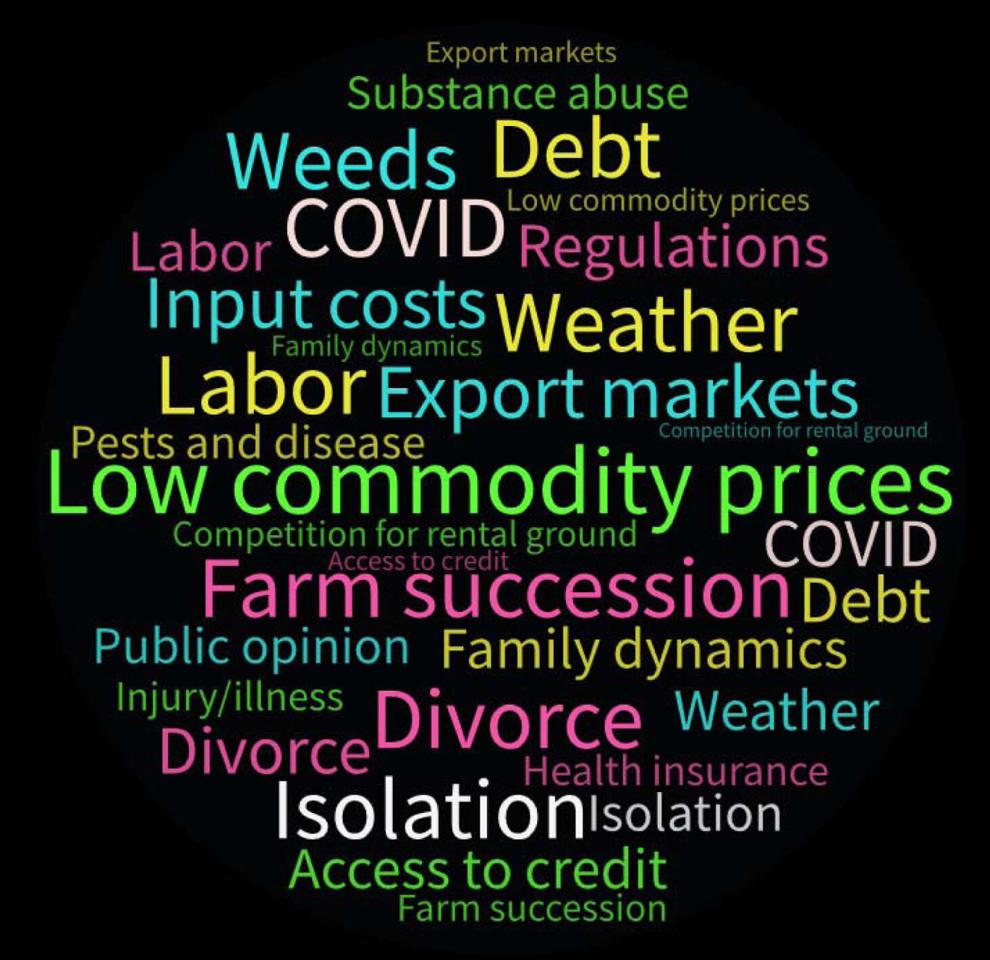 Farmers worry about several issues: weeds, debt, COVID, weather, farm succession, land prices, low commodity prices, divorce, isolation, access to credit. Farmers work where they live, and coworkers can be mostly family. Combined with keeping multiple roles as farmers, there are inherent challenges, Moynihan said.
Sleep habits are one of the first things to be disturbed, she said. Stressed people will feel the need to nap, or be up late at night, unable to sleep. Other symptoms of stress to watch for include: weight loss or gain, hygiene, GI problems, irritability, withdrawal, depression, anxiety, substance overuse, relationship problems, paralysis or inability to make decisions.
Help shouldn't be hard to find, whether it's the need for a pastor, a veterinarian to take care of their cattle, a financial advisor, Moynihan said. Loss of peers – when neighbors are gone and an increasing sense of isolation – can be draining, she added.
After her own experience, she saw the need to help make a difference in others' lives.
She noted that male farm residents have the highest rate or suicide, followed by male non-farm residents, and suicide rates for female farm residents spiked in 2016.
So, why don't farmers seek help more often?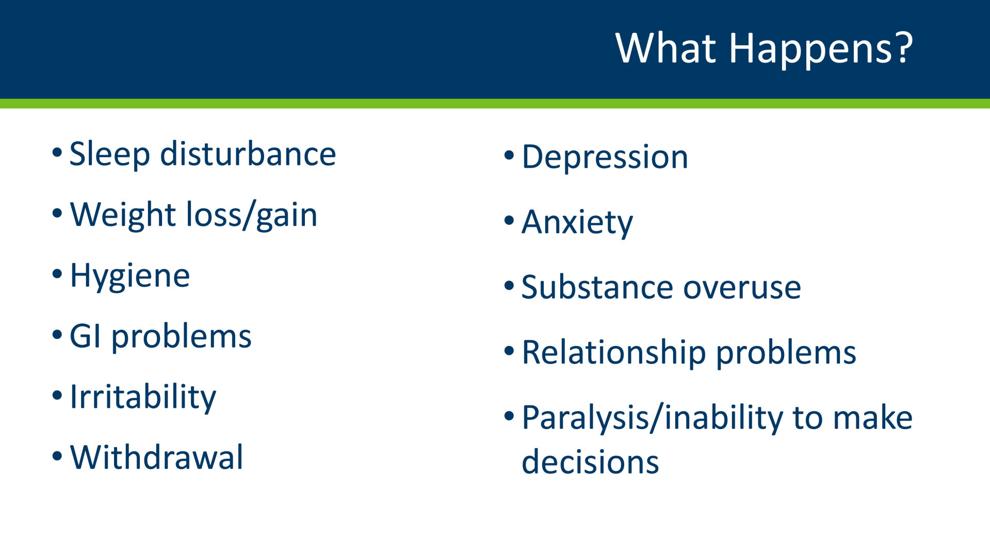 Farmers often feel in their minds that they should be able to handle the stress. They may not want to drive far, expecting counselors would tell them to just take a vacation, Moynihan shared.
Farmers are also often concerned whether someone would see them going to a therapist. They're concerned about the cost, and taking the time to go to an appointment. And they wonder can anybody fix – what's wrong.
Minnesota has a program with dedicated counselors who meet one on one with farmers at no charge and with no paperwork.
Officials with the Kansas Department of Agriculture said they're working on strengthening a mental health program.
"Kansas did apply for grants for programs, and we have plans to focus on a statewide campaign," said Kelsey Olson, deputy secretary at the Kansas Department of Agriculture.
"How can we do a better job of preventing these tragedies is the topic to examine," Moynihan said.
There's a need, particularly for older men, to interact with others. A group in Australia created "men's sheds" that serve as activity clubs for seniors.
The group found that men don't talk face-to-face, but they talk "shoulder-to-shoulder" when they're fixing things, fishing or helping in a community. They also learned that the older people get, it seems harder to reach out and make friends. U.S. chapters of the Men's Shed Association are located around the Twin Cities.
Collaboration leads to amplification, Moynihan said.
Kids growing up on farms often have similar stresses, but have less capacity to explain or understand it. Families suffer, too. "How to Not Let the Farm Wreck Your Marriage" is one topic shared on a podcast, Moynihan recommended. Others she suggested were: "It's OK to not be OK -Seeing a Therapist," "Suicide: Losing a Husband and Partner," "Losing a Son," "Dealing with the Uncontrollable," and "After a Farm Accident, Attitude is Everything," "Coping with COVID," and "Life After Farming." Podcasts from the Red River Farm Network are available at www.rrfn.com/transFARMation.
Reporter Amy Hadachek is a two-time Emmy Award winning meteorologist and a storm chaser who earned her NWA and AMS Broadcast Meteorology Seals of Approval. She and her husband live on a diversified farm in Kansas. Reach her at amy.hadachek@midwestmessenger.com.