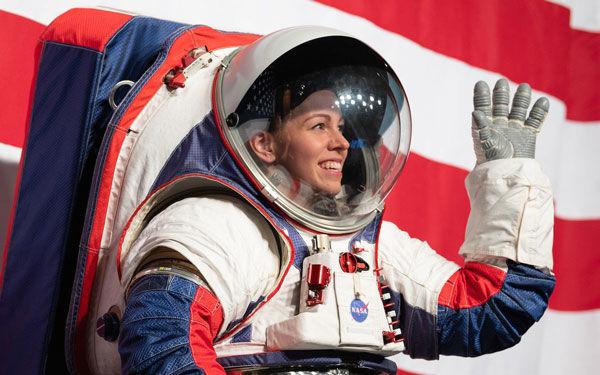 Growing up on a Kansas farm, Kristine Larson Davis vividly remembers appreciating the brilliance of the starlit night sky. Now, the sky and beyond is her field of dreams and her career.
As a spacesuit engineer at NASA's Johnson Space Center in Houston, Texas, Davis helped design a spacesuit that astronauts — including the first female — will wear to the moon on the Artemis mission in 2024. It could also eventually be worn to Mars, she said. 
Such a technical piece of equipment takes teams of people to create. Davis is involved in designing the pressurized portion of the spacesuit, the xEMU helmet Extravehicular Visor Assembly (EVVA) — or the "sunglasses" to the spacesuit — and the waist/hip assembly.
Such a large project takes time and patience — something Davis equates with her family's work in agriculture.
Her background growing up on a farm in Galva, Kansas, an hour north of Wichita, imparted life lessons that continue propelling her in her career.
"Growing up on a farm teaches you about hard work, that things take time, because after several months you get the end product," she said. 
Davis's dad and oldest brother grow wheat, soybeans, grain sorghum and alfalfa, and have 75 cow-calf pairs. They also work full time at the CHS refinery in McPherson, Kansas, where her dad is a chemist and her brother is an engineer.
Davis and her siblings all participated in 4-H, which she said helped grow her communication skills.
"Learning at a young age how to make a presentation in front of a crowd was a big life lesson that still helps me today," she said.
Attending 4-H camps was the highlight of her young summers, she said. She learned to sew, although her favorite projects were foods, crochet, photography and her bucket calf, Buster.
"Buster got so big (nearly 300 pounds) that when it was time to show him in the fair ring, I had to work pretty hard to get him to walk being led on a harness," she said. But her hard worked in agriculture paid off. "He weighed more, got more money, and my dad always gave us half the money — which was exciting at that age."
Davis also learned how much farmers counted on people working at the grain elevators. Her first job was at an elevator, climbing the ladder to take samples manual.
"I learned a lot about wheat prices, and how farmers would count on us," she said.
Davis graduated from Kansas State University in December 2015 with a bachelor's degree in mechanical engineering, and had four internships with NASA.
Immersed in her work even through the COVID-19 pandemic, Davis explained there are two types of spacesuits. IVA or Intravehicular Activity suits are those a crew member wears in the vehicle for launch, landing and docking and for protection in emergency situations such as the capsule losing pressure.
There are also EVA suits for Extravehicular Activity, such as taking a spacewalk. They offer protection from the harsh environment of the vacuum of space, Davis said.
"The spacesuit design depends whether the astronaut is walking on the surface of the Moon, picking up rocks, or like the current spacesuit designed for floating, using hands and arms to fix things," she said.
When the Artemis team heads to the moon in 2024, it will take three days to get there, three to return, and Davis expects that crew would work on the Moon for a day or more. It's important to build a spacesuit that works with the geology
"The goal is to build a spacesuit for long-term missions in order to complete geology tasks to investigate the south pole of the moon," she said, adding that it's more than that. "We will inspire a new generation and encourage careers in STEM (science, technology, engineering, and mathematics.)"
For the Mars mission, it will take six to nine months to get there, an undetermined amount of time while there, and six to nine months back.
Amy Ross, who works with Davis on the NASA spacesuit team, attended Kris's wedding in her small hometown of Galva.
"Kris's story reminds me that determination, hard work and a little inspiration do make dreams come true," Ross said. "Kris decided she wanted to work for NASA and brings that kind of purpose and excitement to the Johnson Space Center every day. Just look at her smiling from ear to ear in the Exploration space suit at NASA Headquarters standing next to the NASA Administrator."