Each year the Nebraska Sandhills Cowboy Hall of Fame recognizes longtime ranchers from western Nebraska. Leading up to this year's induction ceremony Nov. 21 in Ainsworth, the Midwest Messenger will be featuring profiles of each of the nine inductees.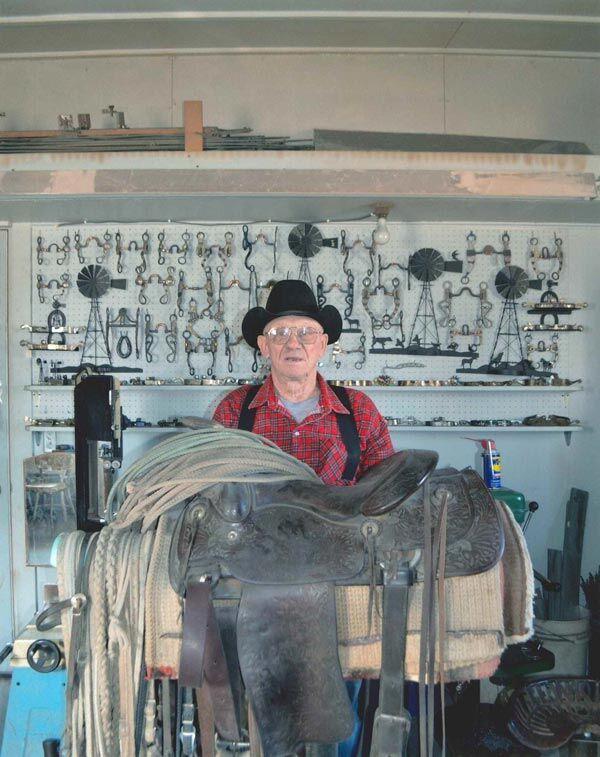 Bernis "Chubby" Dailey
July 4, 1936
Chubby Dailey enjoyed team roping and team penning in his younger days, and now at 84 enjoys watching all kinds of rodeo, from youth to old timers. He is always willing to help out if they need spurs or bits.
Dailey resides in Stapleton, Nebraska, and continues to make spurs, bits, and barbwire and horseshoe decorations.
His creations have won him numerous ribbons and recognition, including best of county at Logan County Fair. He has made spurs and bits for five years for the Old West Days held in Valentine, Nebraska, three years for the Nebraska Sandhills Cowboy Hall of Fame and four years for the Arnold Community Foundation. For the last 10 years, he has made and donated spurs for the Logan County Queen contestant and a lot of other assorted benefits.
He has made 380 spurs, numerous bits and is always being given a new challenge by his customers with new requests. He has had articles printed in the Fencepost, North Platte Telegraph and Farmer & Rancher Exchange on his many spurs, bits and horseshoe and barbed wire art. This year, he is being inducted into the Nebraska Sandhills Cowboy Hall of Fame.
Born in Lincoln County Nebraska on July 4, 1936 on the Kenton Burke Ranch, now known as the Haythorn Ranch west of Brady, Bernis "Chubby" Dailey's parents were Bernis and Dorothy (Rimpley) Dailey. He had two brothers, Leo and Donny. Chubby attended Logan County High School in Gandy, Nebraska, and graduated in 1955. He married Sharon Schlientz on Aug. 16, 1959 and three children were born: Jan, Michael and Kyle.
After graduation Chubby worked for Tine Conley on what is now the George Halstead Ranch. He also worked for Graceton Cool of Pawnee Springs Ranch for 15 years, Darrell Crow, and Buford Bailey for 16 years and then moved to a farm by Stapleton where he raised cattle, hogs and sheep.
He has dedicated his life to ranch work; breaking horses and anything else that goes along with the ranch way of life.
He is an old school cowboy always ready to help his neighbors, family and friends. He comes from the day when you helped everyone that needed help and they helped you in return.
He is a very patient teacher and never yells, always taking time to explain what needs to be done and how.
In 1951 his junior league baseball team was the Class B State Champions.
His list of volunteer activities is long. He was co-president of Arnold Roping Club along with Jerry Cool and Larry Moran in 1973 and a member until 1984. He volunteered for years at the roping chutes at the Logan County Fair and Rodeo. He has been president of the Logan County Alumni Association for at least three times.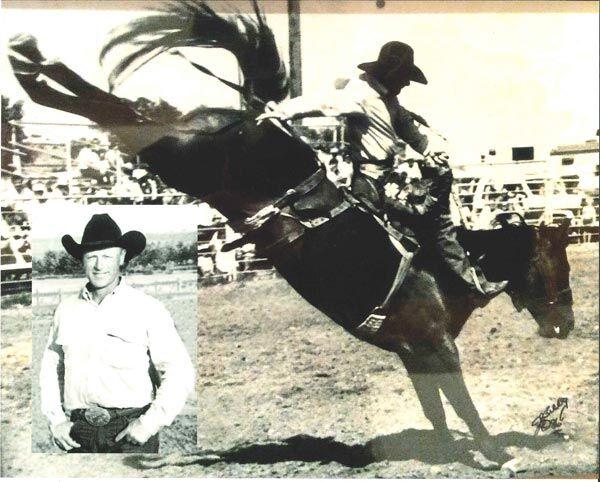 David Leo Sheets
Feb. 13, 1956 – Sept. 25, 1998
In conjunction with the Grant County Fair and Rodeo each year, there is a Dave Sheets Memorial Ranch Rodeo. The late Dave Sheets was a very successful saddle bronc rider in his own right, and this year he's being honored with an induction into the Nebraska Sandhills Cowboy Hall of Fame.
Sheets qualified for the National Little Britches finals in steer wrestling and saddle bronc riding in 1972. He competed twice at the National High School Rodeo Finals. He was a two-time Intercollegiate Regional Champion, and a two-time Nebraska State Rodeo Association Champion.
Sheets had his pro card for several years, and often talked about how amazing Rodeo Houston was. He also competed in numerous ranch rodeos. He was well-known for being Tom Whiplinger's picking up man at high school and Nebraska state rodeos.
David Leo Sheets was born Feb. 13, 1956 in North Platte, Nebraska to Don and Joyce Sheets. He passed away Sept. 25, 1998. Dave had two brothers, Jim (and wife Cheryl) Sheets of Mullen, Nebraska, and John (and wife Lisa) Sheets of Arcadia, Nebraska. He also had three sisters Marcia (and husband Russ) Tiffany of Burwell, Nebraska, Pat (and husband Rob) Burnham of Burwell, Nebraska, and Tammi Hendricksen of Lincoln, Nebraska.
Sheets was an active member of the Burwell FFA chapter showing cattle and holding offices. He graduated from Burwell Junior-Senior High School in 1974, then from Eastern Wyoming College in Torrington, Wyoming in 1976.
He enjoyed ranching and training horses. He worked many years for Jack Lowe, Joe Minor, and the Henderson Ranches in Hyannis, Nebraska. Before his death, he had his own fencing business.
On Aug. 15, 1981 he married Georgeann Darden and had three boys: Tucker, Coy and Trey Sheets.
Tucker and his wife, Melissa, have a little boy named David (named after his grandpa) and Lydia was born in 2019. They live in Hyannis, Nebraska and own and operate Cowboy Welding.
Coy and his wife, Mikaela, have three children, Avery, Elsie and Lyle. They live in Miles City, Montana where Coy is a leatherman making saddles on the side and works for the law enforcement.
Trey is currently living in Texas for the winter and resides in Cheyenne for the summer. He trains steer roping horses and competes in steer roping and team roping in the PRCA.