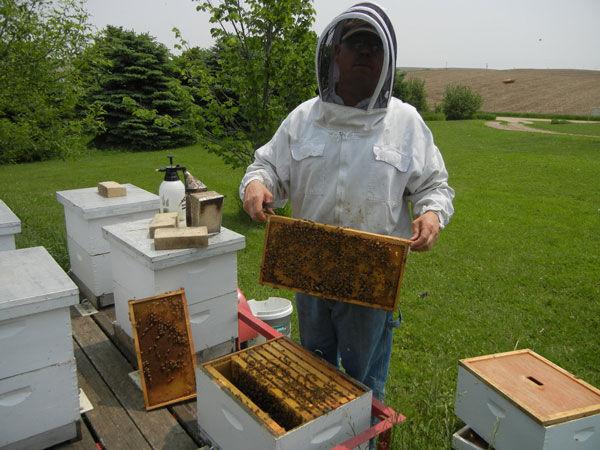 Honey is a sweet treat any time of year, but it is all the sweeter if given as a gift for the holidays.
Nebraska has many honey farms that sell their wares online, making it easier to do your shopping. From raw honey, to honey-based goods or even bee's wax, there are a number of ways to share the delicious local product.
Wayne Gibbons, proprietor of Gibbons Honey Farm in Crawford, Nebraska, sells raw honey in bulk. His wife, Julie, runs a retail store which sells things made from some of the farm's honey. Gibbons built the honey farm and business himself. But, bee keeping is in his blood.
"My great-great-granddad was a beekeeper in New York back in 1865," Gibbons said. "Several of my ancestors were beekeepers."
The Gibbons bees have two primary sources for the honey they make. The first are the alfalfa farms that surround his operation. The other is clover.
"Alfalfa honey is darker with a hint of caramel," Gibbons said. "Clover honey has a hint of cinnamon."
While raw honey is the major item for consumption produced by Gibbons Honey Farm, the retail store features a couple of must-try items. The honey and oats and the sweetgrass soaps made with goats milk are two of their most popular items.
Ivy Folker of Folkers Honey in Randolph, Nebraska, also has honey in her blood. He father was a beekeeper. He travelled all around the region with his bees serving as pollinators for orchards and farms.
"My husband and I didn't want to travel that much," Folker said. "So, we decided to sell honey instead."
Holidays have not been a traditionally heavy sales time for Folker. But, this season, she has seen a remarkable uptick in her honey-based lotion sales.
"People have been getting dry hands from all the hand sanitizer," Folker said. "Our lotion is perfect for that. It's not greasy."
By contrast, Christmas is a very busy time at Chandler's Sandhill Honey in Anselmo, Nebraska. In business for 35 years, Rachel Chandler has developed a vast distribution chain and a large following for her products.
Chandler honey and honey-based products are sold in nearly 60 stores across Nebraska — from McCook to Omaha to Valentine. They go through about six 55-gallon barrels of honey for Christmas orders, Chandler said.
She makes honey butter as well as a creamed honey, which has the thickness of peanut butter. Her jalapeño and cinnamon honey a very popular, she said.
Right now, Chandler's is offering Christmas gift baskets. These can be pre-made or customized with whatever contents the customer likes. Until Dec. 15, you can buy four baskets and get the fifth at half price, she said.
Gift baskets can be shipped within 24 hours or arrangements can be made for home delivery by Chandler if she is going through region on a sales trip. Orders need to be called in or emailed.
For more information, visit Chandler's at www.chandlersandhillhoney.com/ or Folkers at www.folkershoney.com/. Gibbons can be found on Facebook.