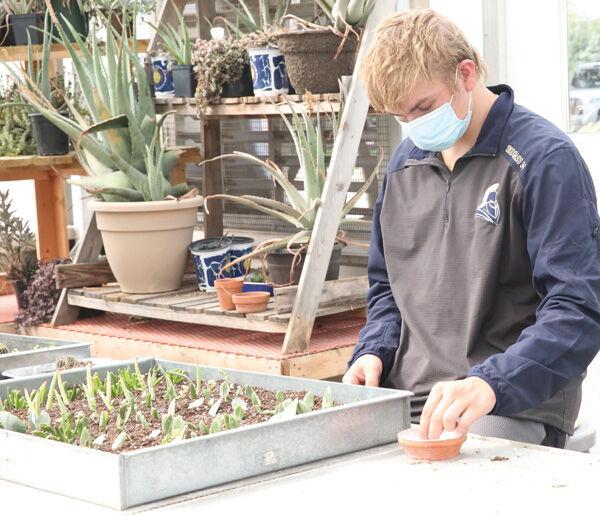 The year 2020 has — as most people know — brought about changes and more than a few major obstacles. One 2020 trend, however, his having its day in the sun — literally.
York FFA has jumped on the succulent plant trend, recently propagating cuttings from their own greenhouse plants into new ready-for-purchase succulents. Square trays of dirt were laid out across FFA greenhouse tables, as students dipped thick plucked leaves into a propagation chemical and gently poked the cut end into the dirt.
Cuttings typically establish roots and mini-leaves within three weeks.
"It's cool how much they've grown from scratch," said student Keeley Conrad, as she dipped a thick leaf in white propagation powder and placed the cutting into a tray of rooting humus soil.
"We plant them in the fall months so they will be ready for spring," said Rachelle Staehr, York FFA advisor.
As new leaves and roots develop, the original piece dies off leaving the thick, waxy new growth.
"It's good for the kids to learn about the anatomy of the plant," Staehr said.
The FFA greenhouse endeavor offers practical experience in addition to the propagation process itself.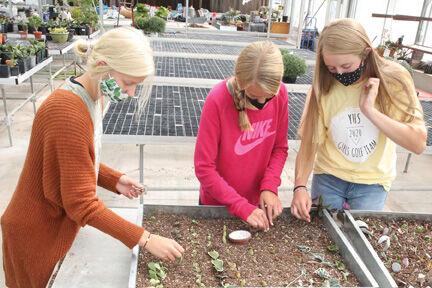 "It's a big part of learning nursery management — a good way to learn about the industry," she said.
Cuttings from the "mother plants" will eventually be transplanted from the square trays into 4-inch square pots — hundreds of them.
Part of the succulent plant trend could be attributed to the easy-to-minimal care of the plants. Websites and social media posts are flooded with creative ideas to display these nearly fool-proof plants, from vertical wall plantings in structures made of wood pallets to succulent rock gardens, to kitschy vintage planters.
The succulents will be ready for purchase at the York FFA's popular spring plant sale, Staehr said. In the meantime, the group is selling houseplants and taking orders for holiday-themed plants. Orders can be placed via the York FFA's website: https://yorkffa.com/. Proceeds raised go back into the program.