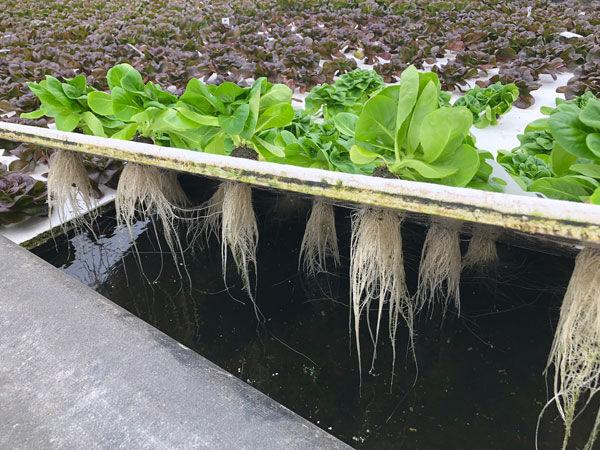 There's something new in the water.
While experimenting with oxidized H2O, scientists in America have given modern agriculture another boost into its technology-driven future. One such research project studying nanobubble technology in irrigation water shows promise for transforming the way farmers and ranchers use water for their crops and livestock — and it's also breathing new life into the term, "Space Age."
"What's unique about what we're doing, it's essentially driving two core benefits — enriching water with oxygen (causes water to) remain stable for a long period of time and remove biofilm from surfaces," said Warren Russell, co-founder and chief commercial officer of Moleaer Inc., a nanobubble technology company based in Carson, California. "We create, through enrichment of oxygen, an ideal environment for the root zone (that is) very effective at managing pathogens."
Since 2016, Moleaer has been investigating nanobubbles — microscopic, stable gas bubbles — as a way to improve water use in agriculture. At the same time, the National Atmospheric Space Administration (NASA) was attempting to solve its issues with growing plants in outer space.
"One of the limiting factors with growing plants in micro-gravities or space is that water doesn't drain from the root zone — there's no gravity to pull that water through the substrate," Russell explained. "Anytime you submerge a root zone into a water environment and there is not sufficient oxygen, you can starve the plants of oxygen."
Russell said nanobubbles are a promising solution to this predicament. As nanobubbles have little to no buoyancy due to their size and negatively charged surface, they float within water rather than rise to the top and burst.
This oxygen-saturated water can continuously provide oxygen to plant roots for months at a time, Russell said.
"It's almost like having a battery reserve of oxygen in your solution," he added.
In 2019, Moleaer and NASA joined forces on a pilot project to further both of their goals. Selecting Utah State University as the research hub, Moleaer provided its patented technology to the university's researchers, who will spend the next two years growing crops with nanobubbles in micro-gravity. The other part of the equation in which university researchers hope to solve during the project is designing a custom drainage system that will complement the nanobubble technology in space.
Russell said preliminary results from this project are anticipated later this year, with the final objective being construction of a fully integrated, space-ready system.
"To be able to potentially address this physical challenge that NASA has growing in space is very exciting," Russell said.
While the NASA project forges ahead with nanobubbles in outer space, Moleaer continues its own research on applying the same nanobubble benefits to commercial ag operations on dry land. Moleaer's ongoing projects in California, Mexico and Latin America have proven that oxygen-rich water improves the growth of plants regardless of where they're rooted.
Though the company originally began applying nanobubble technology to hydroponic agriculture, Russell said Moleaer had significant growth in the irrigated crop sector just this year and is now extending its reach into outdoor specialty crops.
"With the plant being able to utilize water more efficiently … the potential to apply nanobubbles has a much broader application than we initially conceptualized," Russell said.
This list of nanobubble uses is growing constantly.
Since the injection of nanobubbles adds a significant amount of surface area to water, Russell explained, the solution is then capable of preventing or eradicating biofilm — the matrix of bacteria that adheres to the surface of food and can cause illness. A deep cleaning of biofilm is ideal in the food safety industry, and Moleaer is already gearing up to fulfill contracts in that market.
The company has also set up nanobubble generators on numerous dairy systems to improve the cattle's drinking water.
"Some applications may emerge for (nanobubble use) in irrigation hygiene, even spraying row crops," Russell added. "The unique part — the fun, rewarding stuff for us — it's just incredible how many different industries this technology can touch. Everything from agriculture to mining. It's hard to think of another kind of platform technology that can have that kind of accessibility."
In Nebraska, similar work is underway to improve irrigation systems with oxygen.
Nebraska Extension Water and Irrigation Management Specialist Xin Qiao is experimenting with injecting air into subsurface drip irrigation systems at the University of Nebraska Panhandle Research and Extension Center in Scottsbluff.
Qiao noted that his system has significant differences than Moleaer's, as his project makes use of ambient air rather than pure oxygen, and doesn't reduce the bubble size. UNL's oxygen system doesn't control the amount of air that is delivered to the plants either — the injection line will continue to accept air until the pressure equalizes.
"These systems might have very different application scenarios," he said, adding that greenhouse farmers might favor the nanobubble technology for high value crops, whereas a row crop farmer could potentially find more benefit from UNL's injection system for outdoor crops.
"But the goal is similar, or some of the assumptions might be similar, in terms of helping plants roots get oxygenation, so they can breathe a little better," Qiao added.
Now in their second year of testing, Qiao said his team is testing the trial crops for improved production, better yields and overall quality. They hope to have preliminary results from the 2019 crop later this year, as hail damage in 2019 and COVID-19 issues this year have caused some unexpected delays.
If the research team concludes that the air injection system was a success, Qiao said it's production ready and will be lower cost in comparison to other similar systems.
Qiao added that he is encouraged to see research being conducted by numerous entities to improve the quality of modern farming and ranching techniques with regard to water, as they will shape the coming years of agriculture.
"In the future, if farmers are obligated to control for the environmental standard somehow, they will need relevant technology to do so," Qiao said. "If so, I think air injection or nanobubble technology would have a role to play in that."