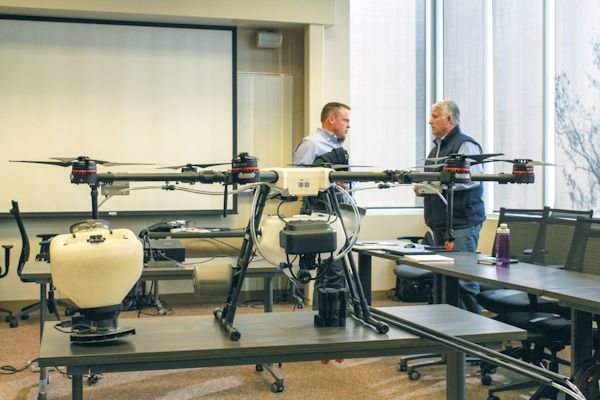 The days of swarming drones in Nebraska skies have just begun.
Rantizo — a relatively new player in the drone industry — is upping the game with its crop spraying technologies and bringing competition to the traditional aerial application business. Installing its custom plumbing package onto DJI Agras Mg-1P drones, Rantizo has shirked the spot treatment status quo, reaching full field capabilities with one drone covering 14 acres an hour. And they aren't done yet.
"Within the next two years, our goal is 100 acres per hour," said David Pieper, Rantizo director of sales, during a drone technology panel hosted by the Cornhusker Chapter of National Agri-Marketing Association (NAMA) Feb. 6 in Lincoln, Nebraska. "We've got the technology to do that."
The next step toward that goal is to release Rantizo's new manual mix-and-fill system, which will increase drone productivity to 23 acres per hour. Pieper said this feature will hit the market very soon.
Not only that, but Rantizo has filed with the Federal Aviation Administration for swarming rights, with hopes to see approval by late summer. Once swarming is permitted, Rantizo's time blanketing the fields will have a substantial bump to 60-70 acres per hour with three drones operating via one pilot.
To further improve spraying efficiencies, Rantizo is developing an electrostatic technology component for its drone sprayers. The product will receive a charge as it evacuates from the pump, compelling it to grab onto the plants and envelope each with an even, light coating, thereby improving its function and value.
There are two other major benchmarks on Rantizo's path toward that 100 acre per hour goal and a fully autonomous drone.
An autonomous mix-and-fill system, which could release as soon as late summer or early fall, will feature five valves capable of mixing or maintaining separation of five individual products.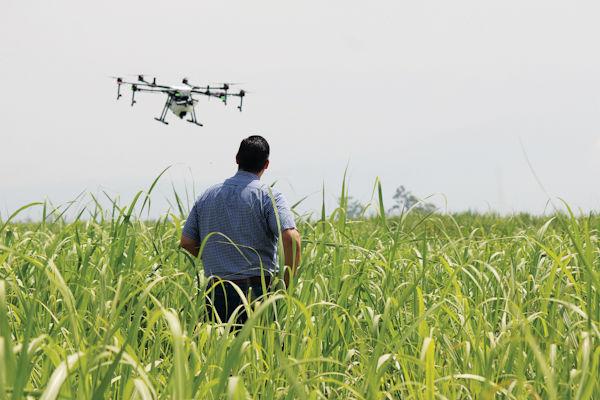 An automatic battery reloader will complete the company's autonomous drone package, eliminating the need for an operator to touch anything but the Rantizo app on their phone. 
In order to bring their vision of a "turnkey" drone operation full circle, Pieper said, Rantizo is also designing a trailer where all components will be housed. The prototype is a 16 by 8 foot enclosed trailer, with compartments near the rear door for drone storage and a side door near the front to access the water tank, generator, battery charging station, chemicals and a work station.
"The trailer, electrostatic tech, swarming — everything that we're talking about — we're moving forward," Pieper said.
Pieper noted that while manned aircraft application outperforms drones on output at the moment, once Rantizo drones reach 23 acres per hour, they will be fully competitive in both productivity and cost effectiveness. Additionally, he said there are unique advantages to using drones that factor into their rising demand.
With collision-avoidance and terrain-follow modes, DJI drones are able to apply chemicals and seeds more precisely onto cropland that has wind turbines and other obstacles, and they can operate in harsh atmospheric conditions. The advanced technology of drones enables farmers to use field mapping data alongside their aerial photography for an analytics-driven precision spraying tool — a powerful weapon in the escalating battle against herbicide resistance and new pests.
He added that drones are already more efficient than ground application in several ways.
"When you have muddy conditions and can't get into the field, drones can," Pieper said. "By being able to get out there when the plants are at a small stage, we have an advantage.
"It takes a fraction of chemicals to spray when the plants are smaller, which is saving farmers' money."
And, he said, it will only get better as the drone market improves each year. Battery life is getting longer, technology is expanding, drone applications are becoming more diverse, and federal regulations are adapting to make drone use in agriculture more practical and accessible.
"I think it's a very bright future," Pieper said. "This is the first new change in the application business since the first emergence sprayers came out in the 1990s."
Rantizo, based in Iowa City, Iowa, was formed two years ago by CEO Michael Ott, an entrepreneur with an executive background in the renewable energy and biotechnology industries. Rantizo won the 2019 Ag Tech Innovation Competition at Iowa Power Farming Show to the tune of a $20,000 grand prize, and later in July 2019 became the first legally authorized company in Iowa to use drones for commercial aerial application.
To learn more about Rantizo, visit https://rantizo.com/.