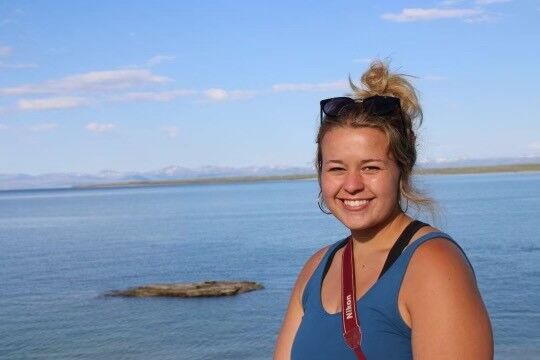 I've mentioned a couple of times before, how important interns are on our operation – not only for the extra assistance, but because it also lets us give back a little and help train the next generation of ag leaders. I'm proud of what they learn, and it always amazes me how fast they can grow in a short amount of time.
We are going to miss this one. She fit right into the craziness from the beginning and you can tell her future is very bright. Thanks, Allyse, for a job well done. Here's a word from her:
Like many things on the ranch, jobs pop up out of nowhere, and they often take priority over what was already planned for the day – whether that's a flooded electrical box while moving a chute, a stripped screw in a windmill tower that took far longer to fix than it should have, or an impromptu trip to Omaha to deliver a few boxes of beef.
In the same way, Jaclyn told me Saturday night that I need to have an article on her desk Monday morning. That changed my priorities for Sunday just a little bit.
Allow me to introduce myself, I am the "new intern" – also known as Allyse Marx, coming from a farm in Clinton County, Iowa, where I grew up on a purebred Limousin operation. Now my family dabbles more in hair sheep, chickens, horses, a couple of mules, and the occasional livestock guardian dog.
It's safe to say that there were many things to adapt to when coming to red cow country. Throughout all of the learning curves, I can say that I have been blessed with the opportunity to work here on Wilson Ranch for the last month and a half.
As I write this I am about to start my last week here, and I want to tell you a few things I've learned and how I will carry those things with me later in life. First, there's so much to gain from being involved in agriculture.
In my opinion, there's no better way than agriculture to become a well-rounded individual. When I look back at my time here and I see how many hats Jaclyn and her dad Blaine wear, how many hats each person in my family wears, and how they can excel at each of those roles and can teach it to others. That is how I want to live – with a heart that wants to learn everything I can and be able to teach it to anyone I come across.
Along with many physical skills you pick up while working in agriculture, you also are forced to learn responsibility, humility, business ethics, stewardship, and most importantly, how to care for something other than yourself. Those are things that I think many people in today's society are missing out on.
Something else I have noticed is that it takes just one heifer to go through the gate and the rest will follow. You can take that literally, but also metaphorically. I have noticed that this correlates to people, too. When one of us here on the ranch is excited about the task, it makes the rest of us realize that it's not as unbearable as we thought. A good attitude travels fast.
This past week the other two ranch hands and I were down in a pivot working on an old rusted water tank. It was full of dirt and weeds in the bottom and had been used only once in the last 10 years. Me, being the queen of before-and-after cleaning photos, I jokingly said how I would love to scoop this out and wash it before we fill it with water. Boss Man looked at me and said my wish might be granted later in the week. Well, a few days rolled by and sure enough, Lauren, Bodie and I got called down to the tank with scoop shovels.
Although in this instance I didn't get the before and after pictures I had hoped for, we cleaned it out, and oh goodness, was it satisfying! I was having the time of my life although it was the type of work that my dad would say "puts hair on your chest." We had a good time doing a job that wasn't fun. That's the difference a good attitude can make.
So, I want to challenge you. I am a 19-year-old girl that, honestly, doesn't really know much. But my only hope is that the next time you find yourself in a situation where you can either dwell on the hour it's going to take to scoop the tank or think about the awesome before-and-after pictures you will have, focus on the pictures – or whatever it is that changes your perspective. It makes life a lot more enjoyable.
Jaclyn Wilson is more than a rancher, raising Red Angus cattle at Wilson Ranch near Lakeside, Nebraska. She's an artist with a welder's torch. She holds leadership positions with several agriculture organizations. She can be reached at jaclyn@flyingdiamondgenetics.com. This column represents the views of one person and are not necessarily the opinion of the Midwest Messenger.