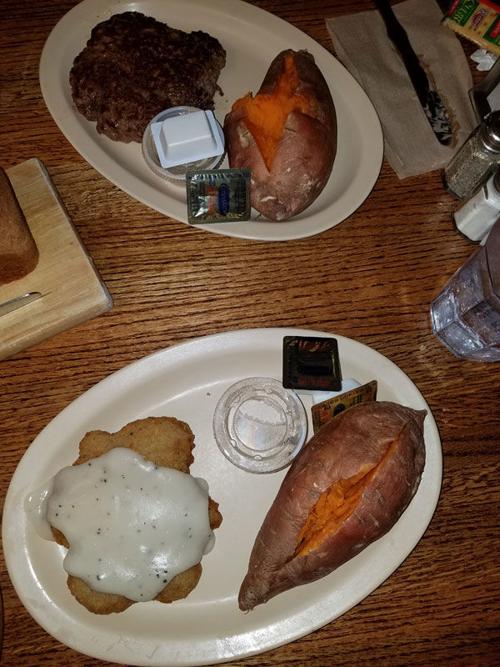 BELLEVILLE, Kan. — Tucked into the northwest corner of an intersection of two U.S. highways crossing Kansas, Bel-Villa Family Dining draws the locals as well as highway traffic and repeat customers from all over the country.
Owner Doug Parks knows what works in a restaurant. He's been in the business since the 1980s, including the Wagon Wheel in Marysville, Kan. He worked for National Cattle Services and also showed cattle in shows.
So Parks knows his beef.
"I had people who wanted me to open this up," said Parks, this evening wearing his black cowboy hat.
Bel-Villa has a full breakfast menu and a hefty lunch-dinner menu. It is open daily, 6 a.m. to 9 p.m. Monday through Saturday and 8 a.m. to 8 p.m. Sunday, including a Sunday buffet from 11 a.m. to 1:30 p.m.
Stop in shortly after 6 a.m. and the parking lot is busy with members of the breakfast coffee club at some of the 25 to 30 wooden tables. The walls are adorned with Western photos. The menus resemble old newspapers.
A quick look at the menus show plenty of beef, which Parks orders through Cashway Distributing in Omaha. Bel-Villa's steaks are all Certified Hereford Beef, he said.
"People tell me I have the best Tri-Tips in the country," Parks said.
Tri-Tips are premium cut beef, lightly crusted with salt, pepper and garlic, then smoked to medium rare and finished in the Charbroiler. With the choice of potato and a dinner side dish, the cost is $15.95. Tri-Tips also are on the sandwich menu, with crispy potato chips, for $7.95.
All steak entrees are charbroiled and seasoned with Creole spice, and are served with choice of potato and one dinner side. Steaks range in price from $12.25 for an 8-ounce pork chop, marinated, seasoned and grilled, to $25.25 for a 15-ounce prime rib.
Tips also show up on the appetizer menu, with ribeye tips for $8.50. Bel-Villa serves four salads plus catfish, shrimp and chicken strip baskets. Every restaurant has some homestyle favorites. There are five here: smothered chicken, chicken strips, hamburger steaks, chicken fried steak and hot beef sandwich.
The burger menu ranges from $4.75 for a third-pound hamburger to $8.75 for a pork bacon cheeseburger. Sandwiches include the ribeye steak, beef brisket and a Malibu (grilled chicken plus smoked ham and American cheese).
Featured on the breakfast menu is The Boss's Super Supreme Sandwich, with two meats, two eggs, and two cheeses on Texas toast for $7.80. Three-egg omelets, served with toast and hash browns, range from $5.75 for cheese to $7.95 for either chicken Philly or beef Philly.
In reference to the two highways that intersect just feet from Bel-Villa, the 36-81 Pile-Up features hash browns, gravy, two scrambled eggs, three meats and cheese for $6.25. Add a large biscuit and gravy for $4.25.
Parks says he gets business from the locals, the region and several repeat customers from long distances who chart their travels so they can stop at Bel-Villa.
Check out Bel-Villa Family Dining at www.belvilladining.com or call 785-527-8111.
As summer approaches, even if there is little or no spring, where do you look forward to eating on a hot, humid, sweaty day? What summertime treat do you like to eat, and where do you get it? Maybe it's an ice cream cone at a small town drive-in. Or a chocolate sundae. When I was a kid, it might have been a sloppy joe, for 20 cents and just as sloppy as the 5 cent ice cream cone.
My youth has disappeared, just like those prices.
Where are your favorite places to eat in the summer, and why. Send your comments to:
or
Terry Anderson
Midwest Messenger
Box 239
Tekamah NE 68061