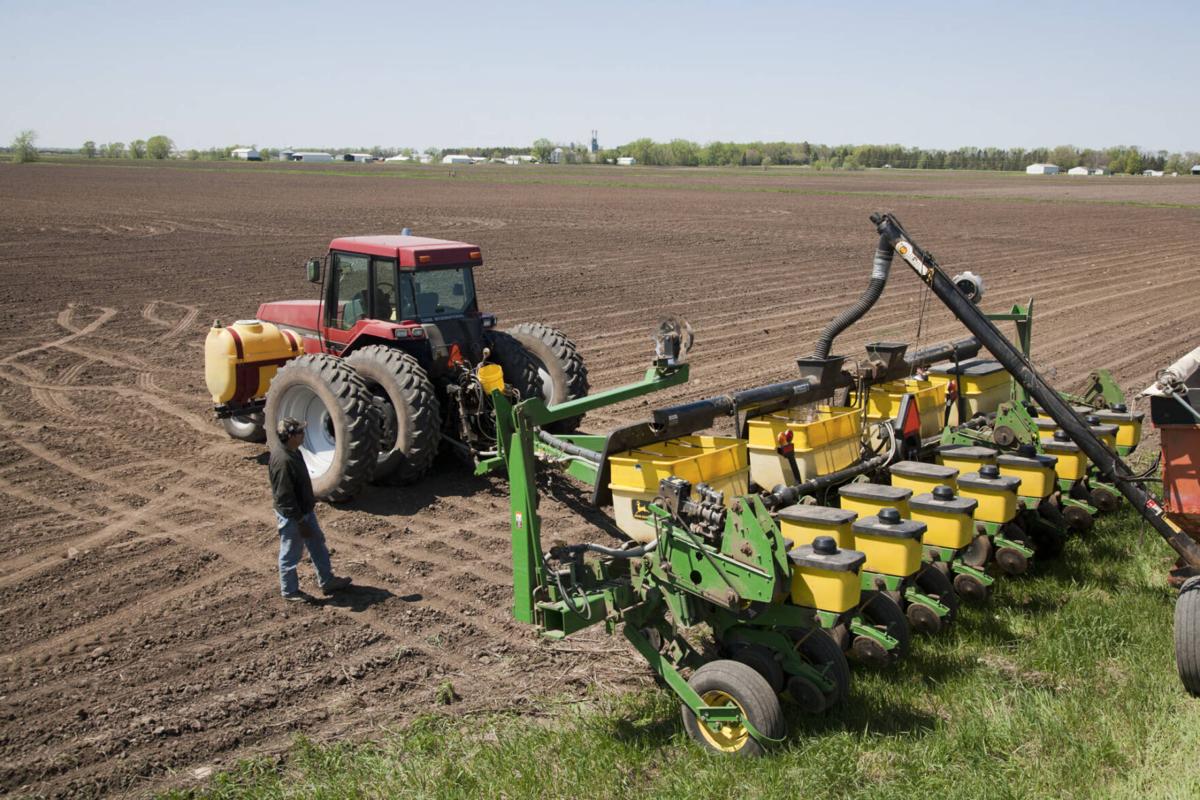 Minnesota had mostly beautiful soybean fields in 2020. The average yield was 51 bushels per acre – the second highest average yield ever and just below 2016's record 52 bushels.
Keeping those yields moving higher takes a long-term commitment to disease prevention and control. The three sides to the disease triangle are the right environment, the presence of the host (soybeans), and the presence of the pathogen.
New diseases continue to move into the area, said Dean Malvick, University of Minnesota plant pathologist, who recently highlighted some soybean diseases during the Prairie Grains Conference. Held virtually, the conference was sponsored by the Minnesota Wheat checkoff, the Minnesota Soybean checkoff and many other organizations and groups.
New information on white mold
Very difficult to manage, white mold has caused significant challenges for growers.
White mold is caused by the fungus Sclerotinia sclerotiorum. This fungus survives from year-to-year in soil or stems in the form of hard black masses of mycelium (sclerotia), according to the University of Minnesota soybean website.
Common symptoms of white mold are lesions that develop first at the stem nodes during or after flowering. The lesions can expand and kill stems, and leaves can turn gray-green before dying. White mold is often observed on the infected stems.
Using soybean varieties that are partially resistant is a good strategy if white mold is a concern, Malvick said.
There is information that some new herbicide-resistant varieties have expressed low resistance to white mold. He heard of some farms in southern Minnesota where this occurred over the past few years. Double-checking on white mold resistance ratings is important when selecting varieties.
"The disease is not necessarily associated with the herbicide, but it may be associated with pushing a variety forward without an adequate level of white mold resistance," he suggested.
Farmers may want to look at a new disease forecasting tool. The Sporecaster white mold "app" can be downloaded onto a smart phone. Information is put in by location to try to assess white mold risk.
Visit https://ipcm.wisc.edu/apps/sporecaster/ to download the app.
Malvick also encourages farmers to look for results from work completed by Angie Peltier of Crookston. She's been studying fungicide application methods for white mold. Her research looks at the effect of applying fungicides across the top of the plants vs. applying fungicides down between the rows.
Her report is available at https://mnwheat.org/council/wp-content/uploads/sites/3/2020/12/2020-MWCReport-FINAL-Web.pdf, page 10-12, "A New Way of Managing White Mold in Soybeans."
Due to hot and dry weather after the treatments, there was no significant white mold disease at the Northwest Research and Outreach Center in Crookston or at the Central Lakes College Ag and Energy Center of Staples. There were no differences in treatments for soybean yields in 2020.
A fungicide application when the rows are filling and the risk is high can help control white mold, Malvick added. That risk is greatest when a prolonged wet and cool stretch of weather occurs when soybeans are flowering in July.
Sudden Death Syndrome
Yield loss can exceed 50 percent in soybeans due to Sudden Death Syndrome (SDS), according to Malvick, although it is typically lower due to patchy disease development in fields.
The disease is caused by a soil-borne fungal pathogen that invades the roots and moves into the lower stem of the soybean plant.
Toxins are produced and are taken up into the leaves. When the disease develops early in the season, flowers and pods may be sloughed off. Development of SDS later in the season has less impact on the yield, according to the Minnesota Department of Agriculture.
The fungus survives by producing spores that remain in residue and in the soil. The spores germinate and infect young roots in the spring.
"At its heart, it is really a root disease," Malvick said.
Symptoms include chlorotic yellow mottling, as well as cupping of leaves. The symptoms can look similar to brown stem rot (BSR), but SDS doesn't have discoloration of the pith like BSR does.
SDS, first discovered in southern Minnesota in 2002, continues its travels north.
Within the disease triangle for SDS, risk factors include the presence of the pathogen and a field history of SDS, compacted soil with poor drainage, high SCN populations and susceptible soybean varieties.
The disease likes wet conditions – with 2-3 weeks of wet soil after planting, periodic heavy rain through mid-July, and moist soil through mid-August.
"Resistant varieties are effective, but the further north you go, there is less resistance available in many soybean varieties," he said. "Two fungicides, Saltro Seed Treatment from Syngenta and ILeVO Seed Treatment from BASF, are both effective for managing SDS."
Malvick will be presenting more data on his studies to control SDS with fungicides in January. A biological treatment, Heads Up Seed Treatment, from Plant Protectants Inc., was also included in his studies.
"Sometimes it shows an impact but has not been as effective as the two fungicides in the trials I have done," he said.
Brown stem rot
Widespread across the northern U.S., the BSR fungal pathogen infects the inner stem of soybeans. Yield reductions are up to 30 percent, but 10-20 percent is more common, according to the University of Minnesota.
BSR is enhanced by soybean cyst nematode and soil pH of less than 6.5.
The fungus infects through the roots and stem early in the growing season. Symptoms appear at the end of August and are associated with cool and wet weather during pod-fill followed by hot, dry weather in mid- to late August. The stems have to be split to see the brown pith that identifies the disease.
"It's a soil-borne fungal pathogen that causes this," Malvick said. "It tends to build up in soils with continued soybean production."
The disease is controlled by crop rotation and resistant varieties.
Pathologists are still trying to understand how many years of corn are needed to significantly reduce the risk of BSR, but Malvick thinks two years of corn should make a difference before rotating back to soybeans.
"Resistant varieties are also very effective in managing this," he said.
Frogeye leaf spot
From 2018-20, Minnesota and Dakota soybean farmers have observed increased frogeye leaf spot (FLS). The symptoms of FLS, that really do look like frog eyes, include spots on leaves that are brown/tan and surrounded by a brown/purple ring. There may be black specks in the lesions. When the spots grow together, large areas of the soybean leaves may be killed.
In the southern U.S., yield losses of up to 30 percent have been reported. It is favored by warm and humid weather, and the pathogen overwinters in infested soybean residue, according to Malvick.
"You can manage it with crop rotation, tillage and fungicides," he said.
For anyone who may be thinking about, or observing FLS, a concern surrounds the use of QoI fungicides, which are strobilurins. Malvick thinks the resistance of FLS to QoI fungicides is due to spread of resistant strains of FLS from other states.
Counties in Minnesota with FLS that is confirmed resistant to QoI (strobilurin) fungicide, include Faribault, Watonwan, Redwood, Dakota and Stearns in 2019.
"We haven't analyzed the data yet for 2020, but we believe there is widespread fungicide resistance in FLS across Minnesota," he said.
As farmers make their soybean variety selections for 2021, Malvick reminds them to study the disease resistant charts for each cultivar. Seed choice is just one factor in successfully fighting soybean disease, so farmers may want to find some webinars or presentations to learn more about ways to break the disease triangle throughout their fields.
About the cover: Planting soybeans on farm next to the University of Minnesota, Rosemount Research and Outreach Center. Photo by David L. Hansen, University of Minnesota, Minnesota Agricultural Experiment Station.