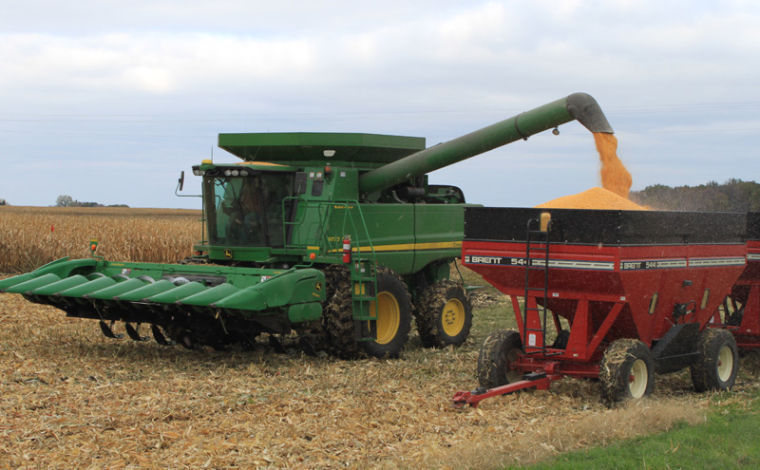 GLENCOE, Minn. – Mark and Gary Krcil took a few minutes away from corn harvest to talk about the 2013 crop. Like most of Minnesota, corn yields varied across McLeod County, which is about 45 minutes west of the Twin Cities.
"It's a little variable, but all in all pretty good given the weather we've been through," Mark said. "Very wet early, and a late planting, but then it dried out."
They met recently with Mark Querna, F.I.R.S.T. manager for southern and central Minnesota, corn and soybeans. Querna took yield and moisture data on Oct. 23 from the F.I.R.S.T. corn plot hosted by the Krcils.
Gary explained that McLeod County started out with a lot of rain, plus 3-4 inches rain right after planting.
"The soils stayed saturated for close to three weeks, and in the poorly-drained areas, we lost our plant populations in a lot of fields. We had to go in and 'interplant' because it stayed too wet and too cold for too long," Gary said. Well-drained fields yielded best in 2013, he added.
The Krcils completed most of their planting in May. A timely rain in late July helped the crop make it through dry conditions in August and September.
As of Oct. 22, McLeod County and the surrounding areas were considered in Moderate Drought, according to the U.S. Drought Monitor – although the situation was improving.
The Glencoe area received just over 2 inches of rain during the first 20 days of October. Although the rain was needed, cold temperatures didn't allow for much evaporating.
In Southwest Minnesota, Extension Educator Lizabeth Stahl reported that rain was helping with soil recharge, but it was slowing harvest.
Stahl said that soil moisture levels as of Oct. 25 were almost at historical averages.
"Measurements taken on Oct. 15 indicate the soil moisture level was at 4.01 inches, which is just 0.52 inch below the historical average of 4.53 inches," said Stahl in her Crops Update news release. "Contrast this to last year, where 0.02 inch of available soil water was available at this time – you can't get much lower than that!"
Stahl said the average temperature on Oct. 17 fell below 50 degrees at the 4- and 8- inch depth in Southwest Minnesota.
"Fall application of nitrogen in the southwest region carries less risk than areas further to the east, primarily due to differences in precipitation," she said. "Fall application of nitrogen is never recommended on coarse textured (sandy) soils."
At the Southern Research & Outreach Center, Waseca, nuisance rains kept farmers out of the fields Oct. 17-21. The rainfall only totaled 0.14 inch, but fell on four out of seven days.
As of Oct. 18, the Waseca site had 8.94 inches of available moisture in the top 5 feet of soil – very close to the historical average.
Tom Hoverstad, University of Minnesota scientist, said that temperatures averaged about 2.5 degrees cooler than normal, in his Weekly Crop and Weather Update.
"The cold cloudy conditions with occasional sprinkles meant that corn dried less than 1 point this week," he wrote on Oct. 23. "While 100-day hybrids planted by mid-May are under 20 percent moisture, late maturity hybrids are still in the mid-20 percent range."
Hoverstad added that early maturity corn planted on June 1 was 25 percent moisture, while full-season maturities were over 30 percent as of Oct. 23. An 80-day hybrid planted in mid-June remained at 25 percent moisture, while a full-season maturity was 35 percent moisture.
Farmers hoped that with a hard frost, moisture levels would finally drop. Corn dryers remained full and working across Minnesota.