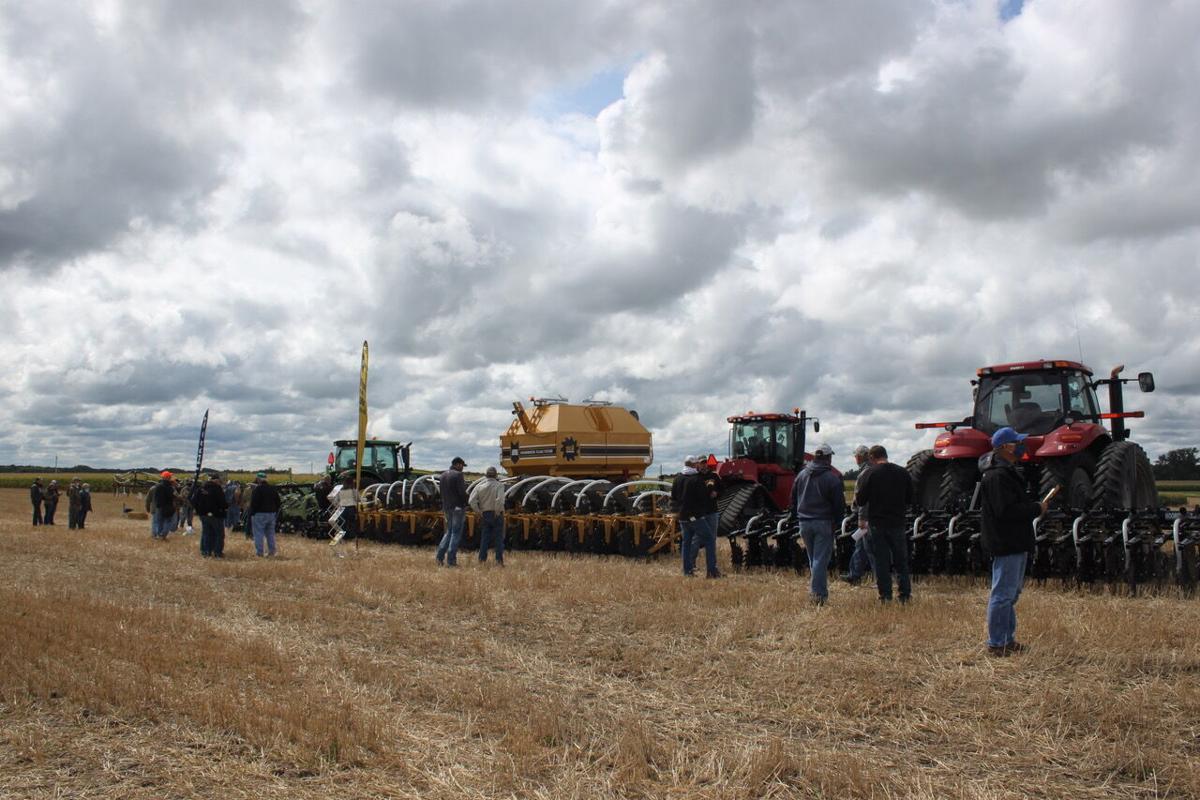 BARRETT, Minn. – Strip-till/no-till farmers have comparable bottom lines to farmers who use more aggressive tillage practices.
Back in the 1990s, that wasn't always the case. Farmers tried no-till soybeans, but cold and wet conditions made it difficult, if not impossible, to grow a successful crop.
Now, 30 years later, strip-till allows the sun to warm up the soil and seed for good germination and rapid early-season growth in northern climates. Nutrients are placed in the strips, as well, and while strip-tillage and some types of no-till are not common here yet, most farmers are familiar with both practices.
"The way we slow down erosion is by building the soil structure," said Jodi DeJong-Hughes, University of Minnesota Extension soil health specialist. "Soil structure makes a larger particle and that is harder for the wind and water to move it. The way you do that is by having living roots and reduce your tillage."
Many farmers now have enough experience and technology/equipment to successfully farm hundreds or thousands of acres using strip-tillage or no-till, she added.
At the Sept. 9 Soil Health Expo held at Chad Rollofson Farms in Grant County, five farmers talked about their transition to no-till or strip-till, and what they have planned for the future.
Greg Fynboh
Farming northwest of Morris, Minn., Fynboh strip-tills ahead of corn and no-tills his soybeans, along with raising some wheat, and trying some cover crops.
He puts down about 50 pounds of N, as well as P and K in the fall. He puts 10-34-0 on with the planter, and side dresses N later. The same field traffic patterns are used every year.
Since 2009, the first year he laid down strips in the fall, Fynboh has seen many types of weather conditions. The wet years have been challenging, he said, but he's also had success.
"I just made a commitment to do it, and it worked out pretty well," he said. "After about three years, I started to notice better infiltration rates on the water and in my soil. I was really happy with how it worked."
His goal for the future: To fence all of the farmland and find a good neighbor who wants to run cattle on it.
Tim Koosman
The Koosmans raise corn, soybeans and edible beans north of Appleton, Minn., in Swift County. They strip-till ahead of all of the corn; and use vertical tillage and incorporate sulfur ahead of soybeans and edible beans.
Their strip-till machine has two tanks on it for dry fertilizer. The front tank runs DAP or MAP, and the back tank runs a blend of potash, ammonium sulfate and zinc. Anhydrous ammonia is applied behind the strip-till unit on about half of the corn acres in the fall. The other half of the corn acres are side dressed with N in the spring.
Strip-tilling into soybean stubble, the Koosmans stay on the same strip as in the past. For corn on corn, the strip is moved over 15 inches to the middle of the 30-inch rows to get a cleaner strip. RTK is used for accurate auto-track.
"We definitely see a difference in soil structure," Koosman said. "Our fields and aggregation and probably the most obvious thing where you see a difference is in the wet fall like last year – our combine can go across the field without making tracks or ruts. Water infiltration too – you see an improvement there."
He noted that with less tillage, there is less annual weed pressure. They no longer use pre-emerge herbicides on all of the corn acres. They will go around the field borders and headlands with pre-emerge herbicide.
Rob and Kari Olson
Rob Olson farms with his two daughters, Kari and Nicole, near Hawley, Minn., in Clay County. They raise corn, soybeans and wheat using no-till and cover crops.
Fertility is a challenge with no-till, but the Olson's have developed ways to get the nutrients their crops need.
The Olsons apply 28 percent N with their planter, and 10-34-0 is put on with the seed. Their John Deere 1895 Air Drill has mid-row banders to put down P and K also. They inject hog manure and follow with a field finisher to level out the soil and plant radish, flax and/or oat seed as cover crops.
"We soil test every third year, and we are getting more to feeding the soil than just an individual crop," Kari said. "It seems like the consistency is better up and down the hills, and those spots are getting more consistent that way."
They have spread refined chicken manure on the surface for more P and K, but they still have some problems with flies and odor.
"We might go back to putting P and K down with the no-till drill," Rob suggested.
Corn is planted in 20-inch rows, and most of the equipment is 40 feet, except for their corn head. While the Olsons do not strip-till, they use auto-guidance on the tractor and a moveable hitch on the planter that is GPS controlled to minimize soil disturbance. They work very hard at keeping their seed bed soft and mellow. They purchased a large grain cart, but they generally only fill it half full and drive on the same tracks across the fields.
The Olsons started out planting no-till soybeans 17 years ago, and they moved to all no-till farming about 5-6 years ago. They've seen changes to their soil structure, with increased water infiltration. In 2019, they harvested all of their corn in the fall and they had no prevent planting acres this spring.
"We had hardly any ruts, " Kari said. "Trackability has been huge, and we didn't have any drown-out spots last year."
Over time, the weed spectrum has changed on the Olson farmland. Dandelions are a challenge. Planting Xtend beans has helped, as well as maintaining wheat in the rotation. According to the internet, Roundup Ready 2 Xtend soybeans have dicamba and glyphosate herbicide tolerance. Before Xtend was available, the Olsons used Roundup and 2,4-D in the fall that was absorbed by the perennial dandelion taproots as it died back in the fall.
They are also looking forward to using a strip header, which is ordered, for small grains next year. The stripper takes off the grain heads but leaves the stems/stalks standing.
"With no-till, we don't use a chopping head, and that's the same theory with the stripper head," Rob said. "The stalks are up high, so you don't get that mat on the ground, and the sun can warm the soil a little bit faster."
Scott Olson
Farming north of Appleton, Minn., Scott Olson uses strip-till and ridge-till to raise corn and soybeans.
When he makes his strips in the fall, he applies P and K, and once temperatures move below 50 degrees F in the fall, he will apply N.
"What we don't get done, we side dress, or top dress over the top," he said. "We have mostly ridge-till, so I am planting on the same ridge every year. We are going to do some strip-tilling this year, and we're just going to move over 3-4 inches off the soybean row and try that."
The rich clay loam soils of this region are needed for global food production, but weather extremes make it difficult to farm. Laid bare to gather heat and raise crops in a noncompetitive environment, the soil is often eroded and lost.
"We have to be really careful with our soil, because honestly, it's some of the best soil in the whole world," DeJong-Hughes said. "You cannot rebuild it, and you don't want to lose it."
About the cover: Soil Health Expo exhibitors included Environmental Tillage Systems, Kuhn, Orthman, Rantizo and StripTillForYou. Photo by Andrea Johnson.