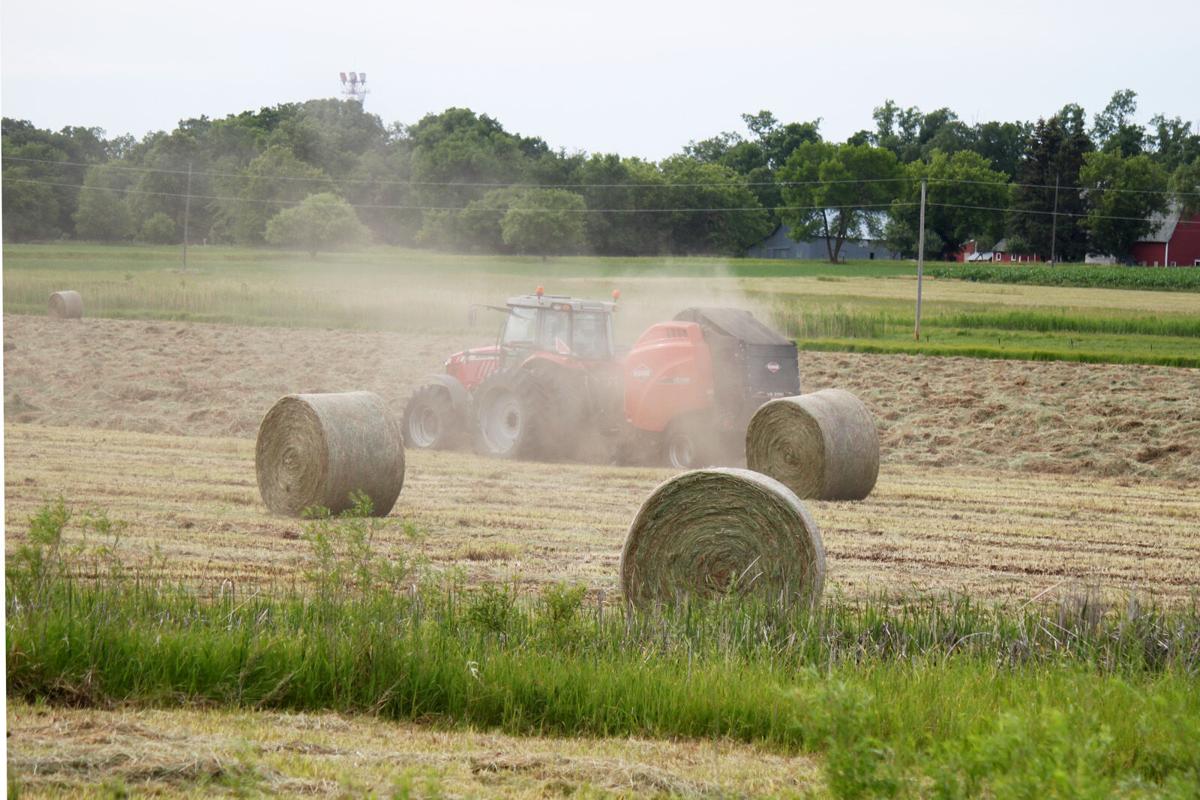 Big round bales of hay are being put up across the country, but there are not as many as in some years because of the 2021 drought. Farmers are scrambling to get enough hay and pasture to feed their livestock through the next 10-12 months.
With high grain prices, it may be difficult to find feed that can be substituted for hay/pasture at a reasonable price.
National Ag Statistics reported Minnesota alfalfa harvested acres are up 10,000 acres from 2020 to an estimated 750,000 acres. Other hay harvested acres are estimated at 480,000 acres, down 10,000 acres from last year.
In South Dakota, alfalfa acres are estimated at 1.6 million, down 11 percent from last year. Other hay acres to be cut for dry hay are estimated at 1.15 million acres, down 8 percent from a year ago.
In North Dakota, alfalfa acres to be harvested are estimated at 1.25 million acres, up 2 percent from a year ago. Other hay acres to be cut for dry hay are estimated at 1.15 million acres, up 15 percent from a year ago.
"So much of our hay for dairy farms comes from the Dakotas or Canada, and they have been really dry," said Jim Salfer, Regional Extension educator out of St. Cloud.
Salfer, who was reached for a phone interview, said it's difficult to quantify hay supplies because yields have been variable throughout the state. Many dairy, beef, sheep, or goat producers have specific suppliers for their hay needs.
"You should be checking with your suppliers now to determine if they will have enough inventory to meet your needs for next winter," Salfer said. "Now is a good time to assess hay inventory and your forage needs to determine how much you will need to buy, or if you will need to increase the amount of corn chopped for silage."
A lot of hay is sold on Craig's List, or at hay auctions, too, he said.
"First cutting (in Minnesota this year), I think overall, was pretty good," he said. "Second cutting is average to very little, and third cutting – we have to wait and see if we get rain."
Not all the hay ground was sprayed for insects after first cutting. Then aphids came in and hurt yields.
Livestock farmers are baling meadow hay from low lying areas that are usually too wet to bale. It's not the best quality grass, though.
"I've encouraged people to try to segregate your hay by quality if you can," he suggested.
On the positive side, many dairy farms, as well as livestock farms, entered 2021 with good hay inventories, he said. In addition, a lot of hay was put up dry without getting rained on.
Under certain provisions, USDA can authorize emergency haying and grazing on Conservation Reserve Program enrolled acres. Producers located in a county that is designated as D2 or greater before or after the last day of the primary nesting season, qualify for emergency haying and grazing on all eligible acres.
In Minnesota, the primary nesting season ends on Aug. 1.
As of early July, 28 Minnesota counties were designated as D2. Be sure to contact the local FSA office to see if your county remains eligible.
While CRP doesn't provide high enough quality hay for milking dairy cows, it does give options for other livestock species, as well as dry cows and heifers.
"A lot of our classes of livestock don't require really high-quality forage," Salfer said. "Growing heifers, beef cows – unless they are early lactation, they don't require it. So, save your good quality forage for the classes of animals that need it."
If producers are short of quality forage, one option is planting a short season grass after small grain harvest. Spring wheat is about 10 days ahead of average, according to the Minnesota Ag Statistics. Getting the small grains harvested quickly and then replanting sorghum/sudangrass or a short season cover crop seed mixture could offer more feed for the herd during the fall and winter months.
Another option Salfer thought of was chopping corn silage before Labor Day and replanting small grains like oats or barley.
"There are a lot of small grains that are drought-tolerant, so if you seed after chopping corn, and we get some rain, you could get forage and feed," he suggested.
Some graziers are experiencing challenges because of limited grass, Salfer added. Even rotationally grazed paddocks are not keeping up with the heat and dryness in many areas.
He recommends asking the local FSA office about the Livestock Forage Disaster Program. This program provides payments to eligible livestock owners and contract growers who have covered livestock, who are also producers of grazed forage crop acres, and have suffered a loss of grazed forage due to a qualifying drought during the normal grazing period.
The program is tripped when an area is in a D2 drought for eight weeks or hits a D3 or D4 drought.
Visit https://www.fsa.usda.gov/Assets/USDA-FSA-Public/usdafiles/FactSheets/livestock_forage_program_lfp-fact_sheet.pdf to learn about the Disaster Assistance Livestock Forage Disaster Program.
About the cover: A farmer in Wadena County bales hay in late June 2021. Photo by Andrea Johnson.