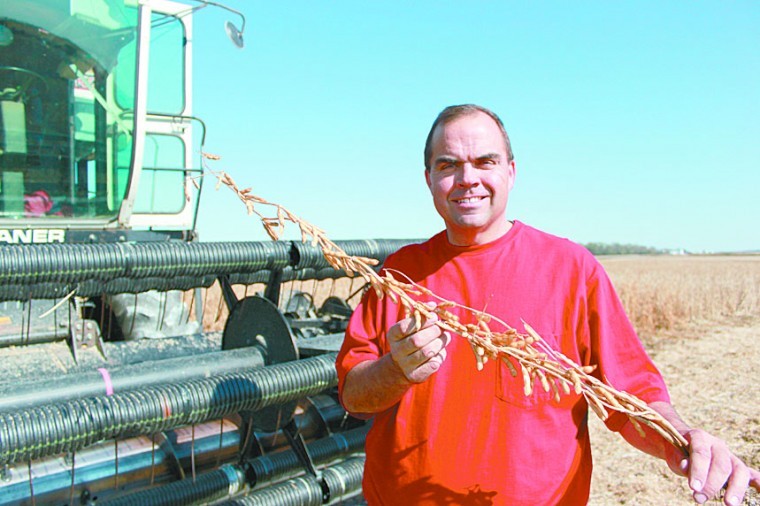 HECTOR, Minn. – Minnesota growers have a wealth of information to study in the F.I.R.S.T. 2011 trials.
Farmers Independent Research of Seed Technologies (F.I.R.S.T.) is the nation's largest independent corn and soybean seed testing program.
In southern and central Minnesota, F.I.R.S.T. Manager Mark Querna completed research-style planting, growing season documentation and harvest data collection at farmer-member plots.
The 2011 data includes 360 corn hybrids at 18 locations across southeast, southwest and west central Minnesota regions.
The Minnesota 2011 F.I.R.S.T. data also includes 204 soybean varieties at 12 locations in southern, south central and central Minnesota.
Detailed information from the 30 highest yielding cultivars at each location will be included in F.I.R.S.T. corn and soybean books published by "Minnesota Farm Guide" in November and December.
Last winter, each participating seed company decided on and applied seed treatments prior to sending their seed entries to Querna.
Treatments in 2011 included Allegiance, Acceleron, ApronMaxx, Apron XL, Avicta, CruiserMaxx, Excalibur, Inovate, Gaucho, Optimize, Trilex, Trilex 2000, Trilex 6000 or Votivo. In some cases, the companies did not apply seed treatment.
Companies generally entered soybeans with soybean cyst nematode resistance or moderate resistance.
Each F.I.R.S.T. farmer cooperator fertilized and sprayed the plot in the same fashion as the rest of the field.
Similar to 2010, Querna harvested the 2011 F.I.R.S.T. soybean trials during the first two weeks of October. In 2009, the F.I.R.S.T. soybean harvest occurred Oct. 11-Nov. 10.
The 2011 soybean yields were mostly lower than 2010, due to wet conditions early on. Dry conditions began in July and continued across the region until the killing frost in mid-September.
White mold and soybean aphids were lesser concerns this summer due to the dryness.
In 2011, soybean yields were as low as 15 bushels per acre in some regions, with a few fields yielding as much as 60 bushels per acre.
"By and large, the low- to mid-40 bushels per acre is going to cover much of the southern two-thirds of Minnesota," Querna said. "The producers who got more than a 50-bushel-per-acre average should be happy."
Querna noted the highest F.I.R.S.T. soybean yields were recorded at the Madison Lake soybean plot in Blue Earth County. The top soybeans yielded 61.7 bushels per acre, with the top 30 varieties coming in above 55 bushels per acre.
"This plot received a 0.38-inch rain on Aug. 13, and another 0.4-inch in late August and early September," said Querna. "A frost occurred on Sept. 15, but was not as severe as in other areas."
In corn F.I.R.S.T. trials, early yield results ranged from 160 to 180 bushels per acre, with a few hybrids over 200 bushels per acre.
Despite several windstorms across Minnesota, the corn fields stood well.
"It was amazing to be so wet early, and be so dry now, and the winds caused some green snap. But it wasn't as bad as I thought, and most of the corn has stood perfectly," he said. "My hat is off to the seed industry for breeding better corn and better soybeans varieties.
"Farmers are disappointed about lower yields because prices are so high. We all wanted to hit a home run, but this year is more like a double or a triple. It's still pretty good."
For more information, watch for the "F.I.R.S.T. MnSoybean Report" and the "F.I.R.S.T. MnCorn Report" published by "Minnesota Farm Guide."