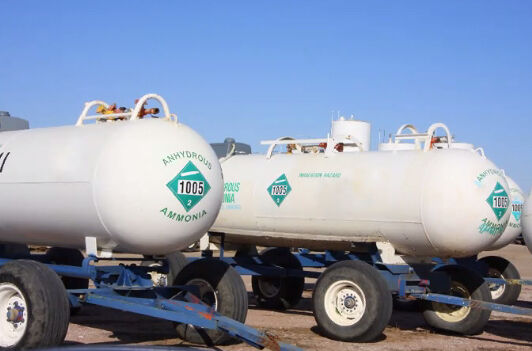 Applying anhydrous ammonia in the fall can save valuable time in the spring, but there are many requirements to complete this task correctly.
The Minnesota Department of Agriculture has an updated 2021 "Fall Nitrogen Fertilizer Application Restrictions" map that shows restrictions based on a quarter section grid.
This information is available by searching online for the Minnesota Department of Agriculture (MDA), Vulnerable Groundwater Area Map. The interactive Vulnerable Groundwater Area Map asks for an address and the map "zooms" in to show if a Low Vulnerability Exemption is present.
For more information on the restrictions outlined in the Groundwater Protection Rule, visit www.mda.state.mn.us/nfr.
"The MDA advises farmers and commercial applicators to check soil temperatures and wait for cooler conditions," according to an MDA news release on Sept. 1.
"Research shows that delaying fall application of anhydrous ammonia and urea fertilizer, as well as manure, until the average soil temperatures reaches 50 degrees or cooler helps prevent nitrogen loss, protects water quality, and ensures more nitrogen will be available for next season's crop."
Stay safe when using anhydrous
There are many potential dangers with the handling of anhydrous.
Anhydrous ammonia is attracted to moisture. Anything with moisture includes the 70 percent moisture that makes up a human.
Eyes, nose, mouth, throat, and sweat glands are all places that can attract anhydrous, so the National Education Center for Agricultural Safety (NECAS) recently gave an online workshop on safety for farmworkers.
NECAS is located at Northeast Iowa Community College, in Peosta, Iowa.
"Anhydrous ammonia must be stored and handled under high pressure, requiring specifically designed and well-maintained equipment. In addition, to assure worker safety, workers must be adequately educated about the procedures and the personal protective equipment required to handle this product," said Dan Neenan, NECAS director.
He gave the following points regarding using anhydrous legally and safely:
• Farm vehicles must conform to state regulations.
• Vehicles should carry a can containing 5 gallons or more of water.
• All trailers will be securely attached to the vehicle drawing it by means of drawbars supplemented by suitable safety chains.
• Hoses used for ammonia service must conform to the joint Agricultural Ammonia Institute-Rubber Manufacturers Association. There is a five-year lifespan on the hoses from the date of manufacturing.
• The employer must ensure that unloading operations are performed by reliable people properly instructed and given the authority to monitor careful compliance.
"When we are shifting that anhydrous, that's where a lot of the issues that we have with anhydrous comes from," Neenan said.
• Personal Protective Equipment (PPE) needs to be provided, used, and maintained.
"If you are a worker and your gloves are starting to get old and starting to crack, it would be much better off for your employer to spend for new gloves than have you burned," he said. "Never be afraid to go to your employer when your PPE is getting worn and needs to be replaced."
Neenan also said it's important to remember that anhydrous means without water. The clear, colorless gas is stored under pressure to prevent vaporization, but you can tell it is present because of the characteristic strong odor.
"At the release point, we can go from a very small concentration to a large concentration very quickly," he said. Anhydrous ammonia is toxic and corrosive and classified as a hazardous substance.
He reminds farmers that the toolbar or applicator coupler needs to be inspected for debris, and all moving parts and valves need to be inspected for smooth operation.
"Close the valve flow before you connect the hoses," he said. "Make sure the hoses are the proper length so they don't drag, get pinched, or get torn during a turn or pulled out of a fitting."
The caustic nature of anhydrous occurs because when anhydrous ammonia contacts water, it forms ammonium hydroxide. That causes living tissue to dehydrate quickly and destroy cells. Any tissue that contains moisture is chemically burned.
If an uncontrolled release occurs, turn and run/drive away and into the wind. Call 911. To treat exposure of the skin, flush with large quantities of water. Carefully remove contaminated clothing if not frozen to the skin. Any clothing that is frozen to the skin should not be removed. Salves, creams, and ointments should not be used. For more information on dealing with exposure to anhydrous, visit https://ag.ndsu.edu/publications/crops/anhydrous-ammonia-managing-the-risks/ae1149.pdf.
"It's going to be a very painful burn that we're dealing with," he said. "We need to take a look at what we need to do to work with anhydrous safely. First of all, of course, is the proper training. Folks need to have a respect for the product. Things can go wrong quickly. We need to be wearing protective gear."
For much more information on anhydrous ammonia safety, please visit https://ag.ndsu.edu/publications/crops/anhydrous-ammonia-managing-the-risks/ae1149.pdf, as well as The National Education Center for Agricultural Safety at necasag.org.