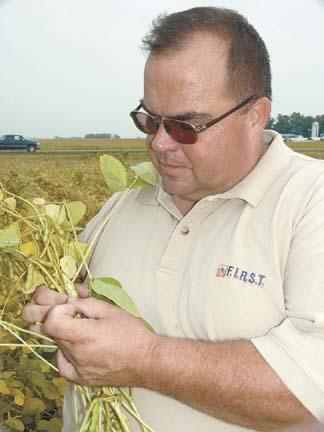 NEW RICHLAND, Minn. - A combination of factors led to phenomenal corn yields in 2009, and F.I.R.S.T. documented it throughout the upper Midwest and beyond.
Farmers Independent Research of Seed Technologies (F.I.R.S.T.) continued as the nation's largest independent corn and soybean seed testing program.
The organization tested 2,737 corn products at 144 locations and 831 soybean products at 80 locations using standardized methods.
States with test sites include North Dakota, South Dakota, Minnesota, Nebraska, Iowa, Wisconsin, Illinois, Michigan, Indiana, Ohio, Pennsylvania, Delaware and Maryland.
Mark Querna, owner of IMQ, LLC, manages the F.I.R.S.T. trials in North Dakota, South Dakota, Minnesota and Nebraska.
While the yields were great, Querna said getting the test plots harvested and collecting the data was challenging.
Querna and his crew started harvesting soybeans on Oct. 11 and finished on Nov. 10. They started corn harvest corn on Nov. 5 and finished the last corn plot on Nov. 27.
"Everything was finally wrapped up across Minnesota, South Dakota, the Red River Valley and in Nebraska," he said. "This is by far the latest I have harvested the plots. We've gone into early November a lot of years to finish up the corn plots, but this is the first time I've started harvesting corn in November."
While Querna harvested in Minnesota and Nebraska, Mark Tollefson and Payden Peterson harvested the plots in South Dakota and the Red River Valley of the North. Ed Dahle also assisted Querna through the harvest in Minnesota and Nebraska.
Querna said the vast majority of soybeans were harvested at 15-20 percent moisture. Two or three killing frosts had occurred, but the stems stayed green.
The last soybean plot was harvested at Madison Lake, Minn. on Nov. 10 at less than 12 percent moisture.
"That was the only soybean plot that would have passed an elevator's moisture requirement," Querna said.
He noted that both soybeans and corn stood surprisingly well through October's wet and wintry conditions. Fortunately, November didn't have high winds, because the roots were weakened by the October rains.
He observed very little lodging with the corn throughout harvest, but the Gleaner test combine struggled to pull the wet and still green corn stalks into the corn head. He ran his combine at a slower speed to get through the product.
Today's hybrids are designed for stalk strength, corn borer resistance and rootworm control, and that helped the corn plant stand much better.
"Twenty years ago most of the corn would have been highly lodged by Thanks-giving," he said, adding that some corn will remain in the fields throughout the winter months.
He also noted that the ears stayed well attached via the shank, with very few ears on the ground.
There were hybrid differences in how well the husks opened to allow the corn kernels to dry. Mold was more of a concern on the ears with tight husks.
Querna noted soybean yields averaged in the mid-50 bushels per acre in southern and south central Minnesota, and in the mid-40 bushels per acre in central Minnesota.
He started out harvesting corn in southern Minnesota before traveling to Nebraska to harvest. One dry land plot in Nebraska averaged 240 bushels per acre, and the F.I.R.S.T. plot located near Columbus, Neb. averaged 285 bushels per acre.
"It was irrigated ground, but they hadn't used much irrigation either," he said. "Everyone had the cool growing season, but they had just the right amount of moisture."
Corn yields in central Minnesota were surprisingly good. Conditions were dry over the summer, but apparently the roots tunneled deep to get nutrients and moisture.
"I was surprised to find that Glencoe, Nicollet, Litchfield, Hector, Granite Falls and Clinton had very good yields," he said. "Every plot averaged over 210 bushels per acre, with Litchfield's early season test averaging 234 bushels per acre - the top yielding site in the Minnesota F.I.R.S.T. trials."
Querna was very thankful for his great employees that did a super job of collecting F.I.R.S.T. data. He was also thankful for all of the farmer cooperators that teamed up with him to get good test results.
"They were very willing to let me harvest at a plot site for up to nine hours while they were trying to harvest their own crop. That's a big sacrifice to make - to tie up a grain truck for eight or nine hours," Querna said. "They value the data and I am very thankful for that."
To learn more about all of the F.I.R.S.T. trials, visit www.firstseedtests.com.
(Thanks to Mark Querna, IMQ, LLC, for allowing Minnesota Farm Guide to follow along with all of your testing during the 2009 growing and harvesting season!)