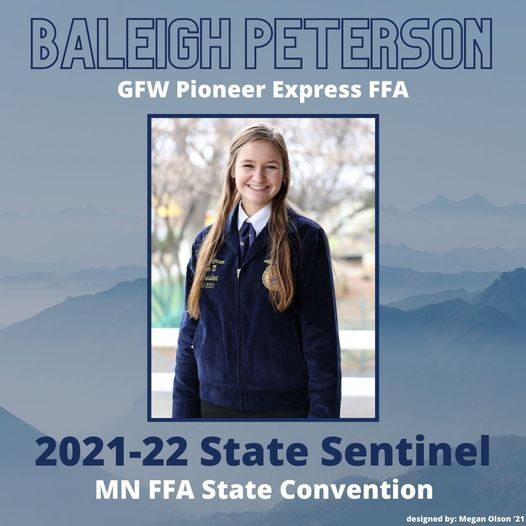 With an outgoing personality, Baleigh Peterson loves meeting new people and setting off on a common path with others. She was just named the Minnesota FFA State Sentinel – a prestigious office that focuses on making guests feel welcome.
Long before this senior at Gibbon-Fairfax-Winthrop High School was selected for the State FFA Officer Team, she developed her knowledge, skills, and confidence through beef/livestock production.
"Most of us know Baleigh from her leadership and achievements in 4-H and youth livestock activities," said Kent Thiesse, farm management analyst and senior vice president of MinnStar Bank. He added that Baleigh is a junior leader member of the Minnesota 4-H Beef Show Committee. She's shown beef cattle from a very young age at the Minnesota State Fair, the Minnesota Beef Expo, and other beef shows. She also won livestock bowl competitions through the Minnesota State Fair and the Minnesota Beef Expo.
Thiesse announced Baleigh was recently selected as one of two recipients of a Minnesota State School Board Association $3,000 scholarship.
"It has been a joy for many of us to watch her grow and develop through her youth livestock programs and as a community leader," he said.
Baleigh says that her parents, Daryl and Marilee Peterson, have always encouraged her to be involved. Their family moved to the Peterson Century Farm in 2014.
"I am involved in FFA and 4-H – those are probably my two favorite activities that I am involved in," she said. "My parents got me involved when I was as young as possible – kindergarten."
Along with her siblings, Baleigh started showing beef cattle, "because my parents wanted me to learn responsibility and time management," she said.
"They wanted something for me to do with my time, and to grow up and develop a passion for it. I am very, very thankful that was agriculture, so that's where it all started," she added.
Along with showing cattle and also pigs, the Petersons began competing in livestock quiz bowls. Marilee started a livestock quiz bowl team for Sibley County, and Baleigh has been competing in quiz bowls for 11-12 years. She took part in the National Stock Show Quiz Bowl contest in Denver, Colo., (January 2020) as well as several Minnesota Quiz Bowl contests.
"Things I have learned through quiz bowl have also been relatable to science or math in school," she said. "It is surprising how many things relate, and how many concepts you understand when participating in quiz bowl."
Along with showing Simmental cattle, Baleigh served as the 2019 Minnesota Simmental Queen, and she is currently the Minnesota Simmental Junior Association President.
Additional activities include working with her Simmental cattle and part-time at Bode Dairy of Gibbon. She earned her Minnesota FFA State Degree in 2021; and is the Gibbon-Fairfax-Winthrop FFA Chapter President; National Honor Society Chapter Vice President, basketball team member, softball team co-captain, cross country member, choir member, and student school board representative.
Being a people person, she loves being involved in as many activities as possible.
"My mom has always told me that when I'm older, I'm going to know how to handle a lot on my plate," she said. "I have learned so much about time management from being in so many activities."
Her plans for next year include attending the University of Minnesota, St. Paul, and studying agriculture communications, with a minor in animal science. Someday, she hopes to move back to the Gibbon area, and find a career as a public relations manager for a large swine or beef operation.
The hard work and patience it takes to show beef helped Baleigh develop skills for her new role as a Minnesota FFA officer.
The process of running for a state office included completing an application, as well as participating in seven live and virtual rounds of interviews.
"I have learned so much through this process alone," she said. "Every time I'm involved with something, I meet someone new, and I learn something new. Along the way, I'm learning lessons of responsibility and time management."
A perfect day for Baleigh is attending the Sibley County Fair.
"That is where everything started for me," she said. "To spend time with many other kids my age, my peers, to be with everybody, is very fun."