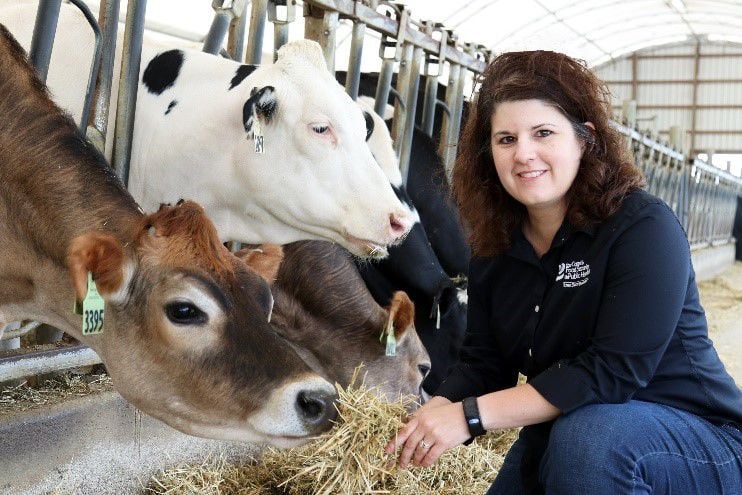 AMES, Iowa – Merck Animal Health is adding to their Dairy Care 365TM online training program. To help producers protect their cattle and prevent disease, a segment on biosecurity was added and Merck Animal Health is introducing a concept they are calling "bioawareism."
"The focus is on prevention, helping producers keep ahead of disease," said Dr. Danelle Bickett-Weddle, DVM with Iowa State University, during a recent phone interview.
Bickett-Weddle is an expert in dairy biosecurity, and her research has focused on managing disease risk on dairies and why it is important. She worked with Merck Animal Health to develop the bioawareism training modules.
"My research showed that producers who paid more attention to detail tended to be the ones with higher milk production and lower somatic cell counts," she said. "The bioawareism modules focus on the same attention to detail approaches, giving producers the tools they need to take that extra step."
Merck Animal Health offers their Dairy Care 365TM program free to all dairy producers, regardless of size or location. The producers do not need to be a Merck Animal Health customer to access the information.
"They have quite a few modules in their library and one of the things I appreciate about Merck Animal Health is that there is not a product advertisement in any of this," she said. "There are disease challenges facing dairy cattle every day. The bioawareism modules helps producers learn ways to improve disease prevention and train their team members."
Bickett-Weddle and Merck Animal Health started working on the bioawareism module about two years ago. The first portion is available on the website at: https://training.dairycare365.com/lms/. A second part will be added later.
"There are three aspects of bioawareism. First is exclusion, keeping disease out or removing it completely from the herd. Second is separation, preventing spread of a contagion already on a farm. Cleanliness or sanitation is the last piece," she said.
The training module walks producers through these different areas and helps them become more aware of these aspects. It also gives practical ways to address challenges.
"Exclusion can be hard and costly because there are some diseases that would require testing the whole herd and removing positive cows," she said.
Producers can take steps to reduce the risk of bringing diseases into their operation and prevent them from spreading throughout the whole herd. Quarantining new animals for a period of time prior to mixing with the rest of the herd is one way.
"Another example of separation focusing on the traffic flow through a farm. How do we make sure that nothing is introduced into a farm knowingly or unknowingly? The module talks about the importance of high risk traffic patterns," she said.
Examples include where does the feed truck drive before it gets to the cattle? Does it bring manure into the feed alleys? Does it cross by sick pens before going to healthy cattle?
The placement of young calves is also important. Calf huts located close to the road can leave them exposed to passing traffic. Other producers hauling livestock or the rendering truck going by can introduce new pathogens to calves with weaker immune systems.
"The bioawareism modules focus on what producers can do to make sure diseases are not introduced or spread. Sanitation is another focus area. Making sure boots are clean before going working with calves. Also, if we are working with sick animals, we need to clean our equipment before working with healthy animals," she said.
Producers can use the Dairy Care 365TM module to help better their operation and to train their employees. Each of the modules includes quizzes following the training. Once a user passes the quiz, they earn a certificate saying they have been trained in that area.
"Producers and consumers place importance on animal care. The bioawareism module is another opportunity for dairy producers to increase their attention to detail and continue to improve animal health. They can document what they know, showing their customers all the areas their employees are trained on when it comes to caring for animals," said Bickett-Weddle.