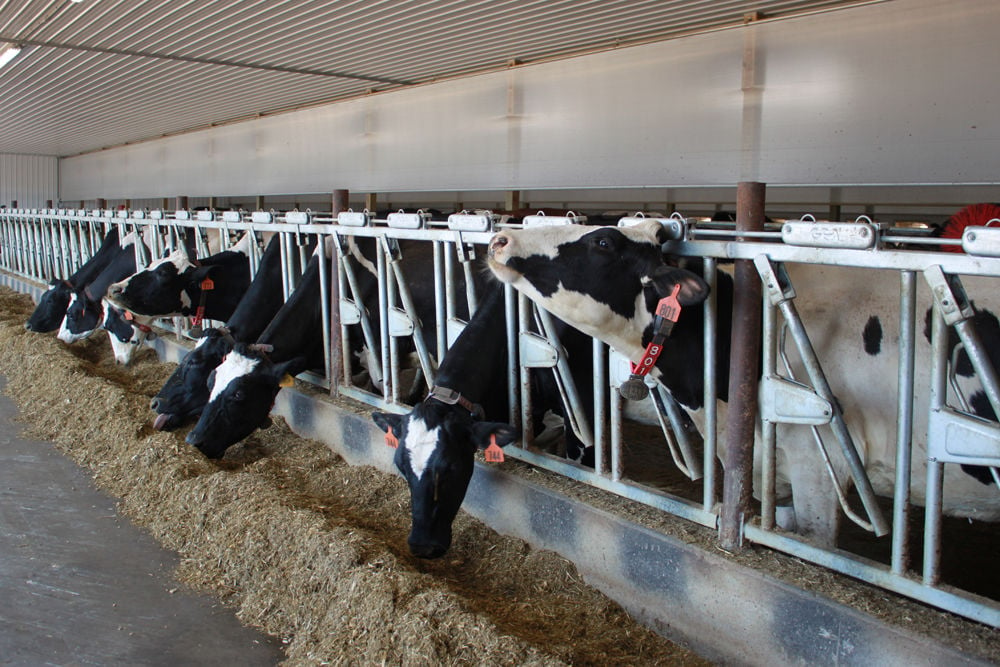 For eight of the last nine months, Minnesota's 2017 milk production has been stronger than in 2016.
February was the outlier with lower milk production this year than last year.
Milk production in Minnesota during September 2017 reached 795 million pounds, up 3 percent from a year ago, according to the Oct. 20 National Ag Statistics Service report.
Surprisingly, the increase in Minnesota milk production was accomplished with 4,000 fewer milk cows. Minnesota's milk cows numbered 457,000 in September of 2017, compared with 461,000 cows in September of 2016.
Minnesota milk cow numbers rank seventh in the U.S., and milk production ranks eighth in the nation.
September production per cow in Minnesota averaged 1,740 pounds, up 70 pounds from a year ago. Production per cow in the major dairy states averaged 1,851 pounds.
U.S. milk production in 23 major states during September totaled 16.2 billion pounds, up 1.2 percent from September 2016. Total number of milk cows on these farms was 8.74 million head – 73,000 head more than one year ago, but down 3,000 head from August 2017.
Monthly milk production across the U.S., as in Minnesota, has followed standard trends, with lowest production in February and highest production in May. Milk production dropped precipitously from August to September across the U.S.
Milk production in September 2017 was lower than in September 2016 in California, Florida, New York, Oregon and Vermont.
The drop, in production, may have led to some higher prices on the CME Group Class III October milk future.
The nearby future reached a low of $15.60 back in mid-September, before gaining over $1 per hundredweight by early October. Prices on the nearby contract traded in the 20-cent range for two weeks ahead of the Oct. 20 Milk Production report.
Class III milk futures quotes on Oct. 20 ranged from a low of $15.16 for the January 2018 contract to the October contract high of $16.60. November offered $15.72 and December $15.50 before backing down 34 cents for the January contract. Prices were back to $15.73 for the June 2018 futures.
Milk is classified depending on its use – Class III milk is used for hard cheeses and cream cheese, while Class IV is used for dry milk products and butter.
Class I refers to beverage milk, and Class II is used for soft manufactured products such as yogurt, cream and cottage cheese.
"With the lower whey price forecast more than offsetting the higher cheese price forecast, the Class III price forecast for 2018 is $16-$16.90 per hundredweight, a 10 cent decrease from last month's forecast at the upper end of the range," according to the USDA "Livestock, Dairy, and Poultry Outlook," published Oct. 18, 2017, and edited by Mildred Haley, of the USDA Economic Research Service. USDA authors of the dairy forecast are Jerry Cessna and Jonathan Law.
The 2018 yield-per-cow across the U.S. is forecast at 23,335 pounds, with total milk production forecast for 2018 at 220.4 billion pounds.
The U.S. continues to increase its milk production – the 2016 National Ag Statistics reported average milk production measured in pounds per head of 22,774. This suggests that from 2016 through 2018, U.S. milk production per head could increase by 561 pounds. Minnesota's average milk production per head in 2016 was 20,967 pounds, but 2018 forecast numbers for the Land of 10,0000 Lakes were not available at this time.
The dairy forecast for 2018 indicates "higher butter exports, stemming from expectations that domestic prices will remain competitive with international prices." Strong butter imports are also expected to continue.
Cheese demand is expected to remain strong in 2018, while butter prices are forecast to remain weaker, leading to more butter consumption by U.S. consumers.
The all-milk price forecast for 2018 is $17.45-$18.35 per hundredweight, a reduction from a $17.55-$18.55 forecast released in September.
The next Outlook Report release is Nov. 16, 2017.